Le matin du vendredi 22 juin 1956, Marilyn Monroe parvient à se faufiler par une sortie de service de son appartement de Sutton Place à New York, et ainsi échapper aux journalistes, pour se rendre à son rendez-vous avec son psychanalyste le Dr. Hohenberg. Ceux qui l'apercoivent ce matin là, découvrent une Marilyn défaite, portant des lunettes de soleil masquant à peine son visage bouffi, non maquillée, les cheveux emmêlés et non lavés; certains disent qu'elle ne s'est même pas lavée alors qu'il fait déjà chaud à New York ce matin là. Il semble qu'elle ait passé une mauvaise nuit. Quand les photographes l'accostent, elle leur répond: "Laissez-moi tranquille les gars. Je ne suis pas très bien." D'ordinaire, les photographes l'auraient laissée tranquille, surtout avec une star habituellement aussi coopérative que Marilyn, mais pas ce jour là. Ils la photographient, elle se cache le visage avec sa main, s'énerve et se précipite à l'intérieur jusqu'à l'ascenceur.
On the morning of Friday, June 22, 1956 , Marilyn Monroe managed to sneak out in a service entrance of her apartment in Sutton Place in New York, and thus avoids journalists, in order to go at her appointment with her psychoanalyst Dr. Hohenberg. People who see her that morning, discover a bedraggled Marilyn, wearing sunglasses not conceal her puffy face, with no makeup, hair tangled and unwashed; some people say she hasn't bathed while the day is already hot in New York this morning. It seems she has passed a bad night. When photographers accost her, she answers "Leave me alone, boys, I'm a mess". Usually , photographers would have left her alone, especially with a star usually as cooperative as Marilyn, but not that day. They photograph her, she hides her face with her hand, gets upset and rushes inside to the service elevator.
> Marilyn photographiée le matin du 22 juin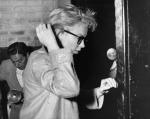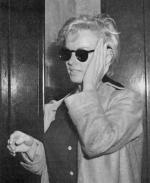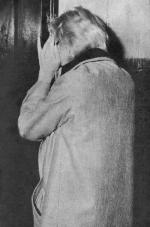 Arthur Miller, arrivé depuis la veille au soir de Washington, découvre les gros titres de la presse: le New York Times écrit "Arthur Miller admet aider des groupes communistes dans les années 1940s", le New York Daily News: "Miller admet aider les Rouges, au mépris des risques" et le Chicago Tribune de titrer "Le fiancé de Marilyn admet aider les Rouges". Ni la presse, ni l'opinion publique ne semble apprécier Miller, qui, par ses déclarations, se montre suffisant, présomptueux et égocentrique: "Je vous mentirai si je dis que je ne pense pas qu'un artiste appartient, dans un certain degré, à une catégorie de classe spéciale".
Entre-temps, Francis Walter, président de l'HUAC (Commission des Activités Anti-Américaines), change d'avis sur Miller: "Je suis certain que le comité va discuter sur l'opportunité de le faire comparaître pour outrage très prochainement (...) cet homme sera traité comme tout à chacun qui apparaît devant le comité". "Je ne pense pas qu'il y ait beaucoup d'endroits dans ce pays où il ne pourrait pas profiter d'une lune de miel de miel avec Marilyn Monroe. Et sans son passeport".
Arthur Miller, who arrived the night before from Washington, discovers the headlines in the press: The New York Times wrote "Arthur Miller Admits Helping Communist-Front Groups in '40s", the New York Daily News: "Miller Admits Aiding Reds, Risks Contempt", and the Chicago Tribune's headline "Marilyn's Fiancé Admits Aiding Reds." Neither the press nor the public seems to appreciate Miller, who, by his statements, proves he's sufficient, arrogant and self-centered: "I would be lying to you if I said that I didn't think the artist was, to a certain degree, in a special class."
Meanwhile, Francis Walter, president of HUAC (House Un-American Activities Committee) changes his mind about Miller: "I am quite certain the committee will discuss the advisability of citing him for contempt very shortly. (...) this man will dealt with just as everybody else who appears before this committee." "I don't suppose there are too many places in this country where he wouldn't enjoy a honeymoon with Marilyn Monroe. Without passport."
---
Des rumeurs courent sur un imminent mariage de Miller et Monroe, planifié avant le 13 juillet et la journaliste à potins Hedda Hooper de réveler que la cérémonie aura lieu à la maison de Spyros Skouras. Après cette matinée difficile autant pour Marilyn que pour Arthur, le couple décide d'organiser une conférence de presse dans l'après-midi, à 16h30, devant l'immeuble de Sutton Place où vit Marilyn, leur permettant ainsi de donner une meilleure image d'eux dans la presse qui paraîtra le lendemain. C'est Marilyn qui, en fin de matinée, a fait contacter toutes les salles de rédaction.
There are rumors of an upcoming marriage of Miller and Monroe, planned before July 13, and gossip columnist Hedda Hopper reveals that the ceremony will take place at the home of Spyros Skouras. After a difficult morning for the both -Marilyn and Arthur- the couple decides to hold a press conference in the afternoon at 4:30 p.m., before the building of Sutton Place where Marilyn lives, allowing to give a better vision of them in the press to be published the next day. This is Marilyn, who, in the late morning, makes contact all the newsrooms.
En début d'après-midi, des reporters, photographes, journalistes de la presse et de la télévision, des caméramen, et de nombreux passants, dont une cinquantaine d'enfants, et des fans forment une foule devant l'immeuble de Sutton Place. Les locataires de Sutton Place, furieux, empêchent les reporters d'accéder à l'immeuble. Il y a tellement de monde, que les forces de l'ordre envoient douze policiers pour mantenir l'ordre et régler la circulation. La chaleur est oppressante. Un marchand de glaces ambulant vient s'installer au coin de la 57ème Rue et fait ainsi de bonnes affaires. Les habitants des immeubles voisins sont pendus à leur fenêtre. Tout le monde attend Marilyn. Plus d'une heure et quinze minutes après, la police envoie un émissaire la chercher car la circulation de la rue est bloquée, et les locataires se plaignent du tumulte. A 18 heures, Marilyn arrive enfin, au bras d' Arthur Miller. Elle ôte une paire de gants, la même qu'elle portait lors de son annonce de divorce d'avec Joe DiMaggio. Marilyn se montre très affectueuse envers Miller, le serrant fort dans ses bras, levant la tête et lui portant un regard d'admiration et d'amoureuse transit. En fait, elle le protège, et montre au monde entier un Miller que personne n'a jamais vu. Elle l'embrasse si fort qu'il lui demande d'arrêter sous peine de s'évanouir.
En réponse aux déclarations de Francis Walter sur la lune de miel, Arthur Miller répond: "Ce sera plutôt compliqué d'être en lune de miel ici, puisque Miss Monroe part en Angleterre". Et Marilyn d'ajouter: "Je ne serais pas aux Etats-Unis. Je dois y aller qu'il puisse venir ou non. J'éspère qu'il viendra avec moi." Marilyn est en effet attendue en Angleterre pour le tournage du "Prince et la Danseuse". Ils concluent la conférence de presse par un baiser.

Quelques déclarations de Marilyn:
> "Je n'ai jamais été autant heureuse de ma vie".
> "Nous avons tellement de choses en commun. C'est la première fois que j'aime vraiment. Arthur est un homme sérieux mais il a aussi un merveilleux sens de l'humour. Nous rions et plaisantons beaucoup. Je suis folle de lui."
Quelques déclarations de Miller:
> " C'est une bonne chose que nous allons nous marier qu'une fois. C'est tout ce que je peux vous dire".
In early afternoon, reporters, photographers, journalists of press and television, cameramen, and many people, including fifty children and fans, form a crowd in front of the building of Sutton Place. The tenants of Sutton Place, furious, prevent reporters to access the building. There are so many people that the police send twelve policemen to mantain order and regulating the flow. The heat is oppressive. An ice-cream wagon just sit at the corner of Est 57th Street and thus does brisk business. The neighbors are hanging out of windows. Everybody wait Marilyn. Over an hour and fifteen minutes later, the police sends an emissary to search her because the traffic on the street is blocked and tenants complain about the uproar. At 6 p.m., Marilyn finally arrives, on the arms of Arthur Miller. She takes off her pair of gloves, the same she wore the day she announced her divorce with Joe DiMaggio. Marilyn is very loving towards Miller, shaking strongly him in her arms, lifting her head and wearing him with a look of admiration and love transit. In fact, she protects him and shows to the world a Miller that nobody has never seen before. She embraces him so much that he asked her to stop or he is going to fall over. Answering to Francis Walter's statement about the honeymoon, Arthur Miller answers: "It would be rather difficult to honeymoon here, since Miss Monroe is going to England" and Marilyn adds: "I won't be in the U.S. I've got to go whether he can or not. I hope he'll go with me". Marilyn is indeed expected in England for the filming of "The Prince and the Showgirl". They conclude the press conference by a kiss.
Some Marilyn's statements:
> "I've never been happier in my life".
> "We have so much in common. This is the first time that I really love. Arthur is a serious man, but he also has a wonderful sense of humor. We laugh and joke a lot. I'm crazy about him."
Some Miller's statements:
> "It's a good thing that we'll only be getting married once. That's all I can tell you."

---
> photographies de Herb Scharfman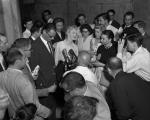 > photographies de Sam Schulman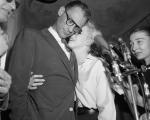 ---
---
> video 1


> video 2

> video 3


---
>> sources:
Marilyn Monroe, Les inédits, de Marie Clayton.
Marilyn Monroe, biographie de Barbara Leaming
Marilyn Monroe et les caméras, Georges Belmont
Paris Match, n°378, du 7 juillet 1956
---
© All images are copyright and protected by their respective owners, assignees or others.
copyright text by GinieLand.