Some Like It Hot! Stunning rare photos of Marilyn Monroe relaxing on movie sets can be seen in new travelling exhibition
Article published on 26 May 2014
by Iona Kirby
online on dailymail.co.uk
More than 50 years after her death, fans of Marilyn Monroe can see rare and some never-before-seen photos of the actress in a new exhibition.
Taken between 1952 and 1956, the images give an intimate look at the star, capturing her vivacious nature and beautiful smile.
The photos can be viewed as part Limited Runs' collection and travelling exhibition, which launches in Los Angeles in June and will then go on to San Francisco and New York City.

True beauty:
Marilyn Monroe is seen just before Gentlemen Prefer Blondes
in a rare photo from Limited Runs' Travelling Exhinition
One of the more recognisable images shows Marilyn just before 'Gentlemen Prefer Blondes', lounging around in a cream bikini and displaying her famously voluptuous and gorgeous figure.
A photo from the following year, 1953, has not been seen before and shows the iconic actress cuddling up to a horse.
In the snapshot Marilyn is wearing a low-cut frilly top and jeans, while on the set of 'The River of No Return'.

Horsing around:
The actress cuddles up to a furry friend on set of The River Of No Return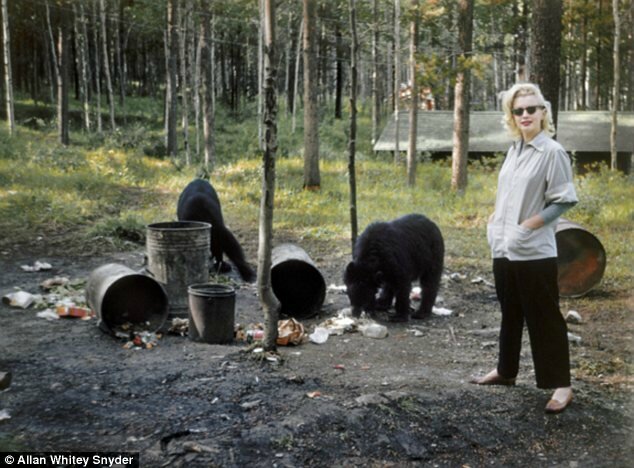 In her natural state:
One photo from the same movie set shows Marilyn
make-up free and dressed casually, which was rarely seen.

Another photo from the same film set shows the star in a very rare casual state with no make-up and her platinum locks unstyled, although she wears sunglasses over her bare face.
Marilyn is pictured alongside two black bears while dressed down in a grey jumper and baggy black trousers, but of course still looks stunning.
The 'Some Like It Hot' star relaxes against some rocks in front of a lake while wearing a grey pencil skirt, red top and matching lipstick in one of the shots, taken on set of 'Niagara' in upstate New York.

Catching some sun:
The star rests on a rock in between takes for 'Niagara' in this gorgeous image.

Vivacious:
Marilyn's famous smile and gorgeous figure
can be seen in the pictures, such as this one from 1952
The more recent of the collection of images were taken on the snowy set of Bus Stop.
Marilyn is wrapped up warm in a grey fur coat and boater hat in one photo and a black coat and green scarf in another.
The star, whose real name was Norma Jeane Mortenson, was 36 when she died of a barbiturate overdose in 1962.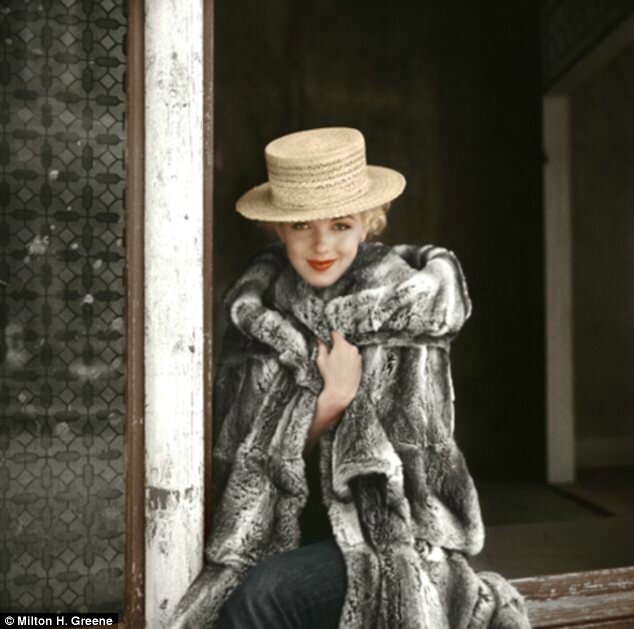 Bundled up:
Marilyn wrapped up warm
in a grey fur coat while filming scenes for 'Bus Stop' in 1956.

Lights, camera, action:
The exhibition, which will travel from Los Angeles to San Francisco and New York,
contains another photo from the set of 'Bus Stop'.