Hollywood's 100 Favorite Films
article publié sur lemonde.fr
le 25 juin 2014
Who better to judge the best movies of all time than the people who make them? Studio chiefs, Oscar winners and TV royalty all were surveyed as THR publishes its first definitive entertainment-industry ranking of cinema's most superlative.
Le magazine américain The Hollywood Reporter a établi un questionnaire envoyé au "tout" Hollywood afin de déterminer les 100 plus grands films du 7ème Art par "ceux qui les font". Plus de 2100 réalisateurs, techniciens, oscarisés, agents ou responsables de studios ont répondu.
Les cinq premiers:
1/ Le parrain (1972)
2/ Le magicien d'Oz (1939)
3/ Citizen kane (1941)
4/ Les évadés (1994)
5/ Pulp Fiction (1994)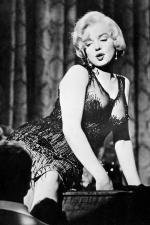 Marilyn Monroe est présente avec le film Certains l'aiment chaud (Some Like it Hot) à la 47ème place.
Director: Billy Wilder
Cast: Marilyn Monroe, Tony Curtis, Jack Lemmon
Domestic lifetime gross (adjusted for inflation, 2014): No numbers available
Famous quote: "I'm a boy. I'm a boy. I wish I were dead. I'm a boy. Boy, oh boy, am I a boy. Now, what am I gonna do about my engagement present?" — Jerry
"Everybody quotes me as saying kissing Marilyn was like kissing Hitler," Curtis told a reporter a few years before his death. "I never said that. I said that kissing Marilyn was like f--ing her, the way she would grind against me."