15 août 2014
Styling the Stars:
Lost Treasures from the Twentieth Century Fox Archive
Authors: Angela Cartwright, Tom McLaren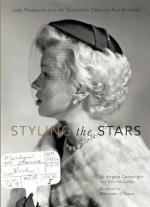 Date de sortie: 2014, October
Relié 320 pages
Langue: anglais
Éditeur: Insight Editions, Div of Palace Publishing Group, LP
Prix éditeur: 58,02 Euros
Dimensions: 21 x 15 x 2,2 cm
ISBN 10: 1608872572
ISBN 13: 978-1608872572
Ou le commander ? sur amazon.fr
Description -Revered for their indisputable sense of style, classic Hollywood films continue to inspire today's fashions. But the carefully crafted appearances of the timeless characters personified by the likes of Clark Gable, Julie Andrews, and Audrey Hepburn came as the result of meticulous hairstyling, makeup, and costume design. In Hollywood's trendsetting world of glamour and glitz, continuity photographs ensured that these wardrobe elements remained consistent throughout the filming process. Now, decades later, these shots provide a striking record of the evolution of Hollywood fashion from the 1930s to the early 1970s. Written by Angela Cartwright and Tom McLaren, with a foreword by Maureen O'Hara, this collection of candid rarities offers a glimpse into the details of prepping Hollywood's most iconic personalities, plus revelatory stories about Twentieth Century Fox classics. Here readers find images of Shirley Temple as she runs a brush through her trademark curls, Marilyn Monroe as she's fitted for an elegant evening gown, Cary Grant as he suits up for a swim, and Paul Newman donning a six-shooter. The result is a stunning collector's volume of film and fashion photography, as well as an invaluable compendium of movie history.
---
Vous avez le livre ? Do you have the book ?
Apportez votre critique, votre avis ou votre note (/10)
Gives your opinion, review or note (/10)
L'actrice américaine Lauren Bacall meurt à l'âge de 89 ans
article publié sur lemonde.fr
- le 13 août 2014
L'icône américaine du cinéma Lauren Bacall, surnommée « the Look » (« le Regard ») au sommet de sa carrière pendant l'âge d'or d'Hollywood, est morte mardi 12 août 2014 à l'âge de 89 ans.
Les représentants de la succession Bogart ont confirmé sur un compte Twitter officiel, des informations du site TMZ, de même que des membres de sa famille au Los Angeles Times et au Washington Post.
D'après TMZ, l'actrice a été victime d'un « accident vasculaire cérébral ».
Née le 16 septembre 1924 à New York, Lauren Bacall (Betty Joan Perske de son vrai nom) est la fille unique d'immigrants juifs roumano-polonais, de la famille de l'ancien président israélien Shimon Peres.

A 15 ans, la jeune fille s'inscrit à l'Academie des arts dramatiques de New York mais, faute d'argent, ne suit les cours que pendant un an. Vivant de petits rôles au théâtre et d'un emploi d'ouvreuse, elle se décrit alors comme « une perche sans poitrine et avec des grands pieds » – mais est élue « Miss Greenwich » en 1942.

Devenue mannequin, elle fait, en 1943, la couverture du magazine de mode Harper's Bazaar, où elle est remarquée par la femme du cinéaste Howard Hawks. L'année suivante, Hawks devient son mentor et lui fait adopter une voix grave pour jouer avec Humphrey Bogart dans Le Port de l'angoisse.

Lors d'une scène culte, elle lui intime : « Vous n'avez pas à jouer avec moi, Steve. (...) Si vous avez besoin de moi, vous n'avez qu'à siffler. Vous savez siffler, Steve ? Vous rapprochez vos lèvres comme ça, et vous soufflez ». Dans le même film, elle chantait d'une voix grave dans un long fourreau noir « How little we know » devant un Bogart sourire aux lèvres.

Sa rencontre avec l'acteur de 44 ans se transforme rapidement en histoire d'amour dont raffolera Hollywood. Lauren Bacall épouse Bogart l'année suivante, et sera sa compagne au cinéma comme à la ville jusqu'à la mort de l'acteur.
C'est de nouveau à côté de Bogart qu'elle joue dans un autre grand film noir d'Hollywood en 1946, Le Grand Sommeil, puis dans deux autres réalisations de la même veine (Les Passagers de la nuit de Delmer Daves en 1947, et Key Largo de John Huston en 1948).

Avec Jean Negulesco, l'actrice découvre ensuite le registre de la comédie dans Comment épouser un millionnaire (1953), aux côtés de Marilyn Monroe et Betty Grable, et Les femmes mènent le monde (1954).

Lorsque « Bogie » meurt d'un cancer de l'œsophage, en 1957, la jeune veuve de 32 ans se tourne vers les planches de Broadway. Son talent sera récompensé par deux Tony Awards (l'Oscar du théâtre), pour Applause en 1970 et Woman of the Year en 1981.

L'actrice charmera aussi ses fans au cinéma dans Le Crime de l'Orient-Express de Sydney Lumet (1974), Le Dernier des géants, de John Wayne (1976), et Prêt-à-porter de Robert Altman (1994).

Son jeu dans Leçons de séduction de Barbra Streisand est récompensé, en 1996, par une nomination pour l'Oscar du meilleur second rôle et, en 1997, par un Golden Globe dans la même catégorie.

Elle s'illustre encore dans Manderlay de Lars von Trier, nommé en 2005 au Festival de Cannes. En 2009, un Oscar d'honneur est décerné à Lauren Bacall pour sa contribution essentielle à l'âge d'or du cinéma.
---
>> Marilyn et Lauren Bacall <<
> En 1953, Lauren Bacall fait partie du trio d'actrice qui se partage l'affiche de "Comment épouser un millionnaire" ("How to marry a millionnaire") aux côtés de Marilyn Monroe et de Betty Grable.
> Le 13 mars 1953, pendant le tournage du film, Lauren Bacall remet le prix Look à Marilyn.
> Le 4 novembre 1953 , lors de la première du film, Marilyn Monroe traverse le tapis rouge avec Lauren Bacall, Humphrey Boggart et le scénariste Nunnally Johnson.

>> Sur le blog: Marilyn et Lauren Bacall