15 novembre 2014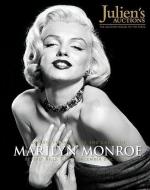 Vente aux enchères 'Property from the life and career of Marilyn Monroe' le 6 décembre 2014 par Juliens Auction à Beverly Hills, aux Etats-Unis.
Le catalogue (photo ci-contre) est en vente au prix de 100 $ sur le site de juliensauction
Le catalogue est à consulter en ligne en animation flipbook .
La vente aux enchères contient 991 lots consacrés à Marilyn Monroe: de nombreux tirages photographiques, des planches contact, des lettres et documents signés, un film sur le tournage des Misfits, bijoux, vêtements et autres effets personnels; un visuel et une description des lots est en consultation libre sur julienslive.
---
> Sur le blog:
Lots André De Dienes
Lots Joe Jasgur
Lots Some Like It Hot
Lots Let's Make Love
Lots The Misfits
Lots Photographies
Lots Documents
Lots Divers