21 novembre 2014
Le permis de conduire de Marilyn Monroe est expiré depuis le 1/09/1954. C'est seulement le 29 février 1956 qu'un nouveau permis temporaire valable 60 jours lui est délivré à Los Angeles, avec les indications suivantes:
Nom: Marilyn Monroe
Rue: 595 Beverly Glenn
Ville: Los Angeles, 24 Californie
Sexe: F
Taille: 1,66 m
Date de naissance: 01/06/1926
Poids: 54,5 kg
Couleur des yeux: bleu
Couleur des cheveux: blonds
Age: 29 ans
Marriée: non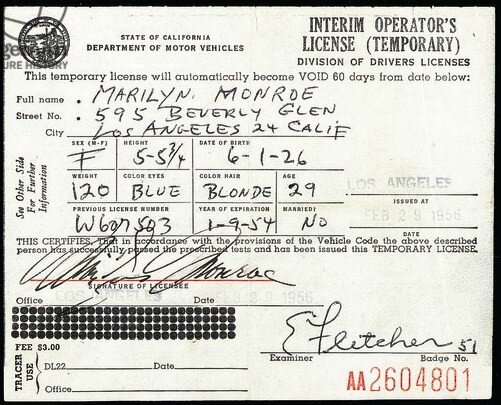 The Marilyn Monroe's driver's license is expired since 09/01/1954. It's only in February 29, 1956 that a new temporary license available 60 days is delivered in Los Angeles, with the following informations:
Name: Marilyn Monroe
Rue: 595 Beverly Glenn
City: Los Angeles, 24 California
Sex: F
Height: 5,5 3/4
Date of Birth: 06/01/1926
Weight: 120
Color Eyes: blue
Color Hair: Blonde
Age: 29
Married: No
---
© All images are copyright and protected by their respective owners, assignees or others.
copyright text by GinieLand.