30 novembre 2014

Lundi 1er Décembre 2014
dès 20h50 sur HD1
Série: Smash
SAISON 1
Episode 4: Les ficelles du métier
Episode 5: Encanaillons-nous !
Episode 6: Sans voix


La saison 1 de la série américaine est en rediffusion sur HD1,
tous les lundis. La Saison 1 contient 15 épisodes.
>> Sur le web: la série sur hd1.tv
Durée d'un épisode: 45 minutes
Saison 1
Année: 2012
Créé par: Theresa Rebeck
Co-producteur: Steven Spielberg.
Pays: Etats-Unis
Acteurs: Debra Messing (Julia Houston), Jack Davenport (Derek Wills), Katharine McPhee (Karen Cartwright), Christian Borle (Tom Levitt), Megan Hilty (Ivy Lynn), Anjelica Huston (Eileen Rand), Raza Jaffrey (Dev Sundaram), Brian d'Arcy James (Frank Houston), Jaime Cepero (Ellis Boyd), Phillip Spaeth (Dennis), Savannah Wise (Jessica)...
Episode 4 - Les ficelles du métier - Karen vit difficilement le fait d'être reléguée dans le choeur qui accompagne Ivy. La situation est d'autant plus difficile que la jeune vedette fait tout pour l'évincer des scènes principales. Heureusement, elle peut compter sur le soutien de ses amis. Derek organise une grande fête en l'honneur d'une étoile montante, Lyle, devenu millionnaire grâce à une émission de télévision. Eileen tente de lui faire financer le spectacle.
Episode 5 - Encanaillons-nous! : Derek souffle le chaud et le froid avec son actrice-vedette, ce qui la déstabilise complètement. Il demande même à Karen de travailler avec elle sa technique vocale. A bout, Ivy vient lui demander des comptes. En accompagnant Dev à un dîner professionnel, Karen découvre qu'user de ses charmes peut être très utile. Toujours très troublée par Michael, Julia ne sait pas comment gérer sa relation avec lui.

Episode 6 - Sans Voix - Ivy panique quand elle découvre que ses cordes vocales sont fatiguées et qu'elle doit renoncer à chanter pendant quelques jours. Derek et Tom pensent alors sérieusement à la remplacer pour la présentation de l'atelier aux investisseurs potentiels. Julia tente d'éviter Michael mais, devant son insistance, finit par tomber dans ses bras. Eilleen et Ellis se rapprochent de plus en plus et sortent ensemble dans un bar.
Le film Eve sort sur les écrans américains le 4 octobre 1950. Pour en promouvoir la sortie, le célèbre restaurant Stork Club de New York offre à Marilyn Monroe le parfum Sortilege. Marilyn porte une robe noire de Ceil Chapman.

The movie All About Eve is released in the US screen on October 4, 1950. To promote the movie, the famous Stork Club from New York offers to Marilyn Monroe the perfume Sortilege. Marilyn wears a black Ceil Chapman's dress.

---
- Publicités -
---
- Dans la presse -
article de magazine - USA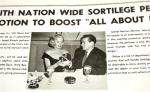 ---
Plus d'informations sur la robe:
More information about the dress:
article Robes de cocktail noires de Ceil Chapman

---
© All images are copyright and protected by their respective owners, assignees or others.
copyright text by GinieLand.