Le 29 novembre 1953, la presse américaine rapporte que des photographies de Marilyn Monroe ont été publiées dans un magazine communiste en Allemagne de l'Est. Le Red Editors insinue que Marilyn a aidé le sénateur McCarthy (dans le Wisconsin) dans ses actes, sans apporter le moindre détail. Ils disent que "l'intoxication Monroe" était supposé à faire oublier aux américains pourquoi Tom et Joe devaient mourir en Corée. On donne aussi crédit à Marilyn "d'engourdir les électeurs américains dans la stupeur" avant les élections présidentielles de 1952. Les images de pinups de Marilyn ont été placées sur un champ de bataille pour montrer qu'elle est simplement "l'opium du peuple américain".
In November, 29, 1953, American press tells that pictures of Marilyn Monroe were publiched in a Communist magazine in East Germany. The Red Editors implied Marilyn aided Sen. McCarthy (Wisconsin) in his actions, but failed to go into detail. They said "the Monroe intoxication" was supposed to make Americans forget why Tom and Joe had to die in Korea. Marilyn was given credit, too, for "numbing Americans voters into a stupor" before the presidential election in 1952. The pinups of Marilyn were placed over a battle scene to she she merely is the "opium of the American people".
article de la presse allemande intitulé "Die Monroe Invasion".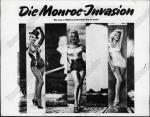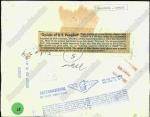 ---
© All images are copyright and protected by their respective owners, assignees or others.
copyright text by GinieLand.