02 avril 2015
I have always felt comfortable in blue jeans. I have found it interesting, however, that people also whistle at blue jeans. I have to admit that I like mine to fit. There's nothing I hate worse than baggy blue jeans.
Je me suis toujours sentie à l'aise en blue-jeans. J'ai trouvé cela intéressant, cependant, que les gens sifflent aussi un blue-jeans. Je dois admettre que j'aime porter le mien. Il n'y a rien que je déteste le plus que des jeans larges.
source: Modern Screen, July 1952.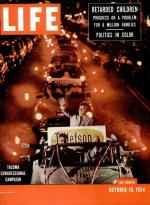 Le magazine américain Life du 18 octobre 1954 consacrait un article d'une page et demie sur l'annonce du divorce de Marilyn d'avec Joe DiMaggio, intitulé "Last scene: exit unhappily".
Marilyn Monroe achète une paire de bas - en 1952
Marilyn Monroe buys a pair of stockings - in 1952
---
© All images are copyright and protected by their respective owners, assignees or others.
copyright text by GinieLand.