25 avril 2015
En avril 1952, Marilyn Monroe est interviewée par Dick Whittinghill à la Southern California Radio.
In april 1952, Marilyn onroe is interviewed by Dick Whittinghill to the Southern California Radio.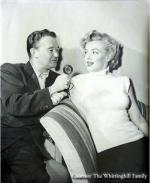 ---
© All images are copyright and protected by their respective owners, assignees or others.
copyright text by GinieLand.
Marilyn Monroe, Confession Inachevée
pièce de théâtre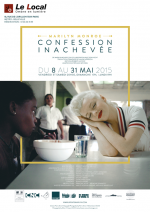 mise en scène:
adaptation théâtrale:
interprétation :

Speech: Deux comédiens sont sur scène. Le comédien interprète les personnages marquants de la vie de Marilyn. La comédienne fait entendre la voix d'une femme à la sensibilité étonnante. Elle n'incarne pas la star qu'Hollywood a érigée en objet de désir, créature fascinante qui est devenue une véritable légende, bien au contraire, elle nous montre une femme dans toute sa complexité : impulsive, intelligente, mélancolique, timide, solitaire, mais surtout affamée de vie.
Le texte résonne avec les projections des photographies de Milton Greene réinventées par Pierre Alivon,
artiste qui invente une nouvelle vie à Marilyn en la faisant voyager à travers notre monde.
Mêlant composition personnelle et documents d'archives, acoustique et électronique, la musique de Daniel Yvinec, ancien directeur artistique prolifique de l'Orchestre National de Jazz, accompagne cette confession.
Un spectacle aussi envoûtant que son sujet !

Cette pièce s'inscrit dans le projet transmédia UPDATE MARILYN. À travers une installation, une pièce de théâtre, un site internet et deux webséries, UPDATE MARILYN, propose une relecture du « mythe Marilyn » dans notre monde d'aujourd'hui.
www.updatemarilyn.com
Informations complémentaires
Du 8 au 31 mai 2015
Vendredi et Samedi 20h30,
dimanche 17h, lundi 19h
Plein tarif : 14 € - Demi-tarif : 7 € - RSA : 3 €
Réservations: Tél au 01 46 36 11 89 - Mail à contact@principe-actif.org
Adresse: 18, rue de l'Orillon 75011 Paris - Métro : Belleville
Sur le web: site updatemarilyn.com
Avec le soutien de la DRAC- île de France,
Du CNC pour les nouveaux médias
Du Prix Orange Beaumarchais SACD – Formats Innovants
Aide au développement d'Orange
Coproduction scène nationale de l'Oise , en préfiguration, Espace Jean Legendre- Maison du théâtre et de la Danse d'Epinay-sur-Seine.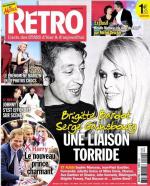 Le magazine Retro n°4, paru le 14 avril 2015, contient un article sur Marilyn Monroe, présente en couverture: "Le phénomène Marilyn en 10 photos choc".
prix: 1,50 €