10 mai 2015
Icon: The Life, Times, and Films of Marilyn Monroe
Volume 2 - 1956 to 1962
Auteur: Gary Vitacco-Robles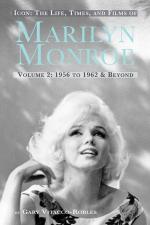 Date de sortie: 11 novembre 2014
Broché (existe aussi en relié) 892 pages
Langue: anglais
Éditeur: BearManor Media
Prix éditeur: 39,30 Euros (broché) / 47,07 E. (relié)
Broché ISBN 10: 159393775X
Broché ISBN 13: 978-1593937751
Relié ISBN 10: 1593937784
Relié ISNB 13: 978-1593937782
Ou le commander ? broché sur amazon.fr / relié sur amazon.fr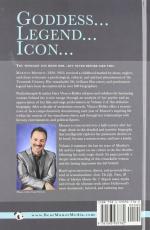 Description - Goddess... Legend... Icon... You thought you knew her... but never like this. Marilyn Monroe (1926-1962) survived a childhood marked by abuse, neglect, and chaos to become a psychological, cultural, and spiritual phenomenon of the Twentieth Century. Her remarkable life, brilliant film career, and posthumous legend have been deconstructed in over 600 biographies. Psychotherapist & author Gary Vitacco-Robles reframes and redefines the fascinating woman behind the iconic image through an analysis of her psyche and an appreciation of her film and stage performances in Volume 2 of this definitive biography. After a decade of meticulous research, Vitacco-Robles offers a treasure trove of facts comprehensively documenting each year of Monroe's inspiring life within the context of her tumultuous times, and through her relationships with literary, entertainment, and political figures. Monroe is resurrected a half-century after her tragic death in this detailed and sensitive biography that intelligently explores her passionate desires: to be loved, become a serious actress, and have a family. Volume 2 examines the last six years of Marilyn's life and her impact on our culture in the five decades following her early tragic death. Its pages provide a deeper understanding of this remarkable woman and the lasting impression she left behind. Based upon interviews, diaries, and personal files-void of sensationalism-Icon: The Life, Times, & Films of Marilyn Monroe Vol. 2 dispels many myths and reveals the ultimate truth about Hollywood's most charismatic, beloved, and enduring star.
---
> sur le blog: Volume 1
Vous avez le livre ? Do you have the book ?
Apportez votre critique, votre avis ou votre note (/10)
Marilyn Monroe et Arthur Miller se promenant dans New York en 1958.
Photographies de Janice Sargent.
Marilyn Monroe and Arthur Miller strolling in New York in 1958.
Photographs by Janice Sargent.
> dans la presse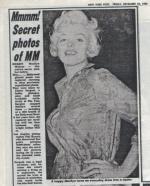 ---
© All images are copyright and protected by their respective owners, assignees or others.
copyright text by GinieLand.