Lundi 1er juin 2015 - sur Cherie 25
- à 20h50 -
Film - Sept ans de réflexion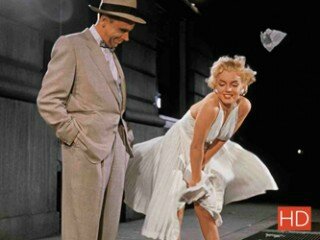 Durée : 112 minutes
Année et origine : 1955, USA
Réalisateur: Billy Wilder

Acteurs: Marilyn Monroe, Tommy Ewell, Evelyn Keyes, Sonny Tufts, Robert Strauss, Oscar Homolka, Marguerite Chapman, Victor Moore...
L'histoire: Une fois femme et enfants envoyés en vacances, Richard Sherman a les mains libres pour séduire la jeune et jolie voisine qui vient de s'installer à l'étage du dessus. C'est sans compter sur sa mauvaise conscience et quelques trouble-fêtes imprévus. Le film où l'on peut admirer la robe blanche de Marilyn Monroe voler sous le coup de souffle d'une bouche d'aération.

* * * * * * * * * *
- à 22h55 -
Film Biopic:
My week with Marilyn
Durée : 1h42min
Année et origine : 2011, USA
Réalisateur: Simon Curtis
Acteurs: Michelle Williams, Eddie Redmayne, Julia Ormond, Kenneth Branagh, Pip Torrens, Geraldine Somerville, Michael Kitchen, Miranda Raison, Karl Moffatt...
L'histoire: Au début de l'été 1956, Marilyn Monroe se rend en Angleterre pour la première fois. En pleine lune de miel avec le célèbre dramaturge Arthur Miller, elle est venue tourner LE PRINCE ET LA DANSEUSE, le film qui restera célèbre pour l'avoir réunie à l'écran avec Sir Laurence Olivier, véritable légende du théâtre et du cinéma britanniques, qui en est aussi le metteur en scène. Ce même été, Colin Clark, 23 ans, met pour la première fois le pied sur un plateau de cinéma. Tout juste diplômé d'Oxford, le jeune homme rêve de devenir cinéaste et a réussi à décrocher un job d'obscur assistant sur le plateau.
> Sur le blog: fiche du film My week with Marilyn
* * * * * * * * * *
- à 00h40 -
Documentaire: Eternellement Femmes
Marilyn Monroe, entre lumière et ténèbres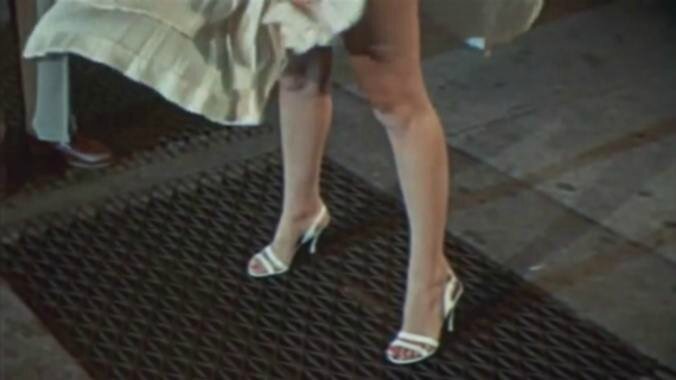 Durée : 52min
Année et origine : 2012
Réalisateur: Bertrand Tessier
Avec les témoignages de: Bernard Comment, Philippe Labro, Anne Plantagenet, Lois Banner, Larry Schiller, Adrien Gombaud, Agnès Michaud, François Forestier, John Gilmore, John Strasberg, Michel Shneider.
Résumé: D'un côté, l'image d'une réussite parfaite, celle de l'icône des icônes -une femme qui allie la beauté, le talent, le charisme, le succès. De l'autre, le désastre d'une vie qui s'achèvera de manière prématurée dans la nuit du 4 au 5 aout 1962 alors qu'elle n'avait que trente-six ans, comme si la gloire était le deuil éclatant du bonheur. Née Norma Jean Baker, Marilyn Monroe aura cherché toute sa vie à exorciser une enfance fracassée : elle n'a jamais connu son père et a grandi de familles d'accueil en orphelinat, loin de sa mère, atteinte de trouble mentaux. Taraudée par l'inquiétude et l'angoisse, elle parviendra à s'imposer comme la star la plus emblématique de sa génération avec des films comme Les hommes préfèrent les blondes ou Sept ans de réflexion. Mais la célébrité ne lui suffit pas : étouffant dans son personnage de blonde volcanique, elle s'enfuit à New York et s'inscrit aux cours de l'actor's studio comme une débutante. Plus que tout, elle cherche l'amour, mais ses mariages avec le joueur de base-ball Joe Di Maggio et le romancier Arthur Miller tournent court. Confrontée à ses démons, elle sombre lentement dans une dépression dont elle ne sortira jamais. De Los Angeles à New York, Bertrand Tessier suit Marilyn Monroe à la trace. Entre documents d'archives et témoignages -dont celui de Larry Schiller, son ami photographe, qui l'a vue le matin même de sa mort-, il mène une enquête intime sur la plus mythique des stars : Marilyn Monroe, dans toute sa complexité.