12 juillet 2015
Le vendredi 13 juillet 1962, dernier jour de la séance photos de Marilyn Monroe avec le photographe George Barris pour le magazine Cosmopolitan, sur la plage Will Rogers State Beach à Santa Monica, non loin de la maison de Peter Lawford. Série "gilet mexicain".
On Friday, July 13 1962, last day of the Marilyn Monroe's photo shoot with photographer George Barris for the Cosmopolitan magazine, on the Will Rogers State Beach in Santa Monica, near the Peter Lawford's house. "Mexican Jacket" Sitting.

**** Mexican Jacket Sitting ****
Série Gilet Mexicain

---
Dernière photo: un baiser au photographe
Last picture: a kiss to the photographer
Après le bain de mer, Marilyn a froid. Vers 19h30, le photographe lui dit: "Marilyn, c'est la dernière photo que je prends de toi." Se penchant vers lui, elle répond: "D'accord, George. Celle-là est juste pour toi." Elle fronce les lèvres et lui envoie un baiser, en ajoutant: "Pour toi et pour le reste du monde. C'est avec cette photo que je veux qu'on se souvienne de moi."
After to have swimmed in the sea, Marilyn has cold. At around 7:30, the photographe says to her: "Marilyn, this is the last picture I'm going to take of you." Leaning forward him, she answers: "Alright, George, this is just for you." She puckers her lips and throws a kiss to him, adding: "This is for you and the world and this is the picture I want to be remembered by."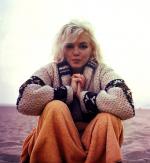 Source:
L'assassinat de Marilyn Monroe, par Jay Margolis, Richard Buskin
The Murder of Marilyn Monroe: Case Closed, by Jay Margolis, Richard Buskin
---
© All images are copyright and protected by their respective owners, assignees or others.
copyright text by GinieLand.