Le 13 juillet 1962, dernier jour de la séance photos de Marilyn Monroe avec le photographe George Barris pour le magazine Cosmopolitan, sur la plage Will Rogers State Beach à Santa Monica, non loin de la maison de Peter Lawford. Série "serviette".
On July 13 1962, last day of the Marilyn Monroe's photo shoot with photographer George Barris for the Cosmopolitan magazine, on the Will Rogers State Beach in Santa Monica, near the Peter Lawford's house.

---
Marilyn confie à Barris: "C'est vraiment moi, avec même mes tâches de rousseur. La "vraie" moi."
Marilyn confides to Barris: "It's really me, even with my freckles. The "real" me."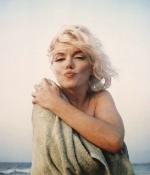 ---
> video film footage

---
© All images are copyright and protected by their respective owners, assignees or others.
copyright text by GinieLand.