Robe de cocktail en satin noir
Black Satin Cocktail Dress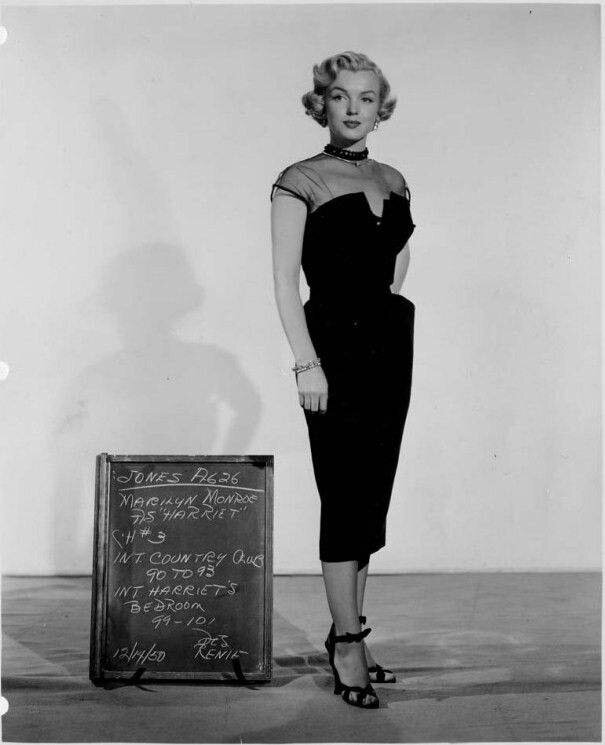 Cette robe a été conçue par la créatrice américaine Renie Conley, dîtes Renié, qui créa de nombreuses tenues pour le cinéma -pour près de 188 films- de 1937 à 1981, dont des tenues pour Elizabeth Taylor dans Cléôpatre en 1964, qui lui a valu l'Oscar de la meilleure création de costumes.
This dress was designed by the American designer Renie Conley, known as Renié, who created numerous outfits for the cinema - for nearly 188 films - from 1937 to 1981, including outfits for Elizabeth Taylor in Cleopatra in 1964, which earned her the Oscar for best costume design.
---
Marilyn et la robe
Marilyn and the dress
---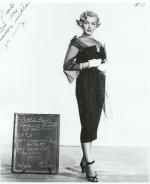 Marilyn Monroe porte cette longue robe noire satinée aux manches courtes, au décolleté transparent et à la forme de bustier fermé par une cocarde, pour le film As young as you feel (Rendez-moi ma femme) en 1951. Elle en fit les essais costumes le 14 décembre 1950 (voir photo ci-contre). C'est une robe de coupe droite simple et glamour, qui dessine les courbes du corps sans être moulante, ressérée à la taille par une fine ceinture noire, chic et classique, aux aspects intemporels qui reste encore aujourd'hui moderne. Marilyn la porte avec des sandales ouvertes noires. Dans le film, elle accessoirise la robe d'un foulard de mousseline de soie transparent et pailleté, d'un collier noir ras de cou, de deux fins bracelets au poignet droit et d'une paire de gants blancs.
Marilyn Monroe wears this long satin black dress with short sleeves, a transparent neckline and the shape of a bustier closed with a cockade, for the film As young as you feel in 1951. She did the costume tests in December 14, 1950 (see photo opposite). It is a simple and glamorous straight cut dress, which draws the curves of the body without being tight, tightened at the waist by a thin black belt, chic and classic, with timeless aspects that remains modern today. Marilyn wears it with black open sandals. In the film, she accessorizes the dress with a sheer, sequined chiffon scarf, a black choker necklace, two thin bracelets on the right wrist and a pair of white gloves.
---
Marilyn emprunte la robe pour la porter à diverses sorties pendant l'année 1951;
elle porte toujours les mêmes boucles d'oreilles pendantes et le collier noir ras de cou:
Marilyn borrows the dress to wear it to various outings during 1951;
she always wears the same dangling earrings and the black choker necklace:

Le 21 février 1951 à la fête des LOOK awards au Beverly Hills Hotel
Marilyn porte de longs gants noirs en velours;
February 21, 1951 at the LOOK awards party at the Beverly Hills Hotel
Marilyn wears long black velvet gloves;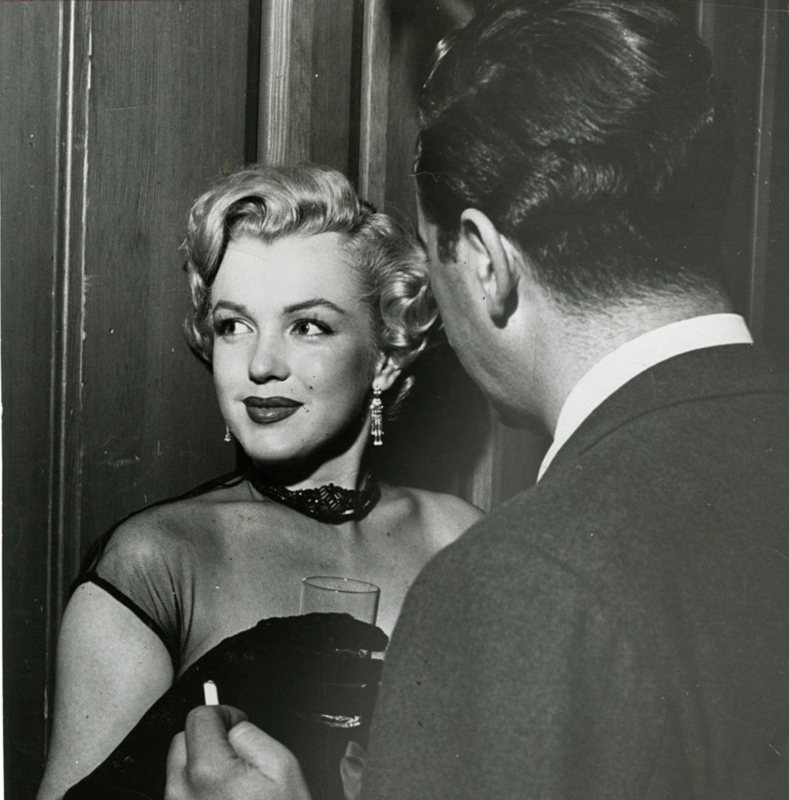 Le 28 février 1951 à la soirée et cérémonie du "Hollywood Foreign Press"
Marilyn porte ses petits gants noirs en satin et une étole en fourrure;
February, 28, 1951 at the Hollywood Foreign Press party and ceremony
Marilyn wears little black satin gloves and a fur stole;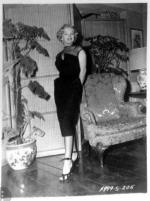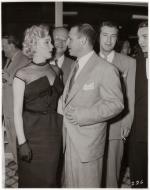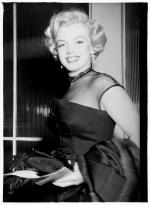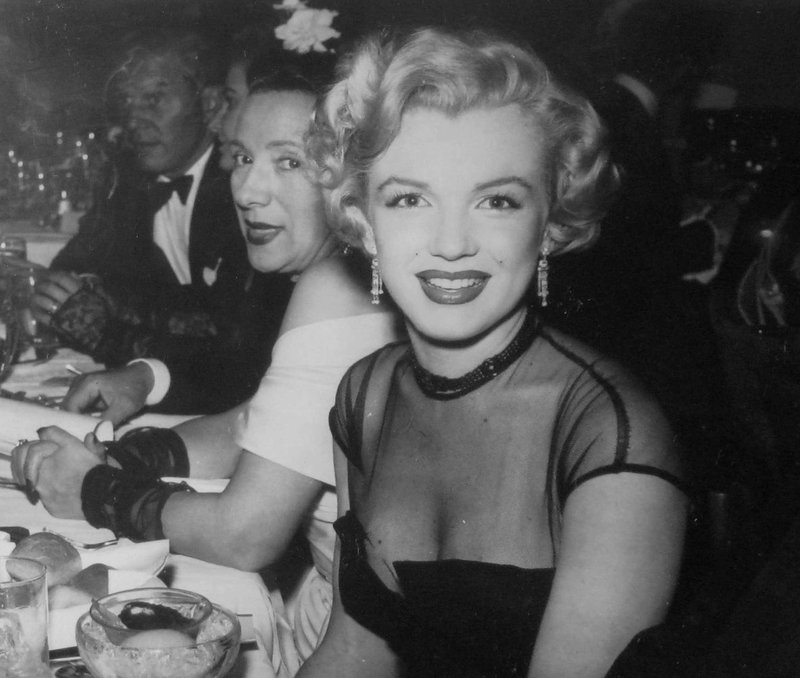 Le 7 juin 1951 au club Cocoanut Grove, à la fête d'anniversaire de Lester Crown;
June 7, 1951 at the Cocoanut Grove club, at Lester Crown's birthday party;

Le 12 juin 1951 en soirée au Ciro's où elle danse avec l'acteur Craig Hill
Marilyn porte de petits gants noirs en satin;
June 12, 1951 in the evening at Ciro's where she dances with actor Craig Hill
Marilyn wears little black satin gloves;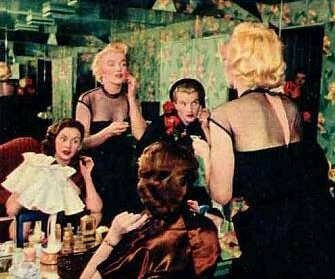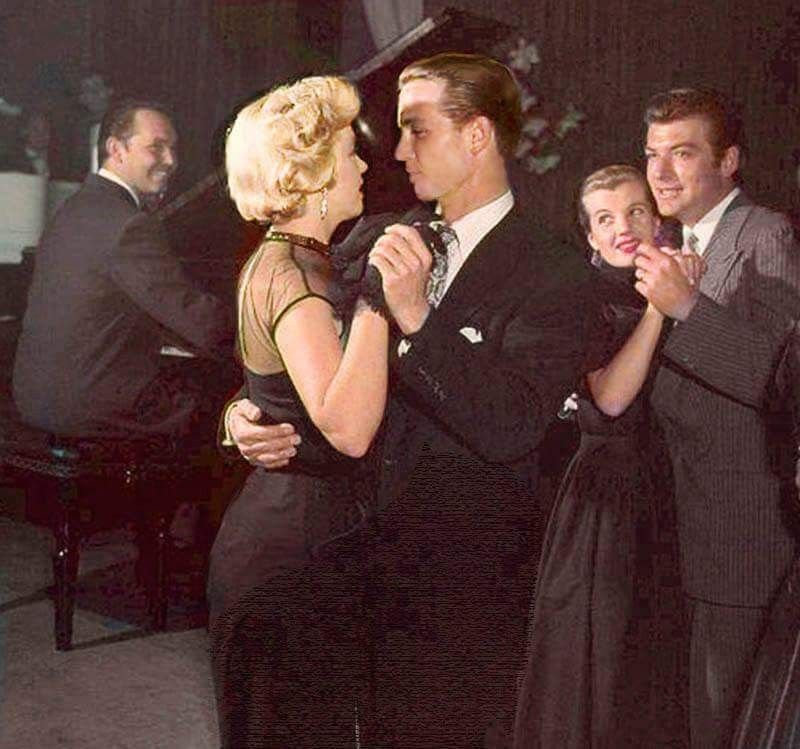 Le 19 juin 1951 pour la visite du navire USS Benham à Long Beach
Marilyn porte encore les petits gants noirs en satin;
June 19, 1951 for the visit of the ship USS Benham to Long Beach
Marilyn wears again the little black satin gloves;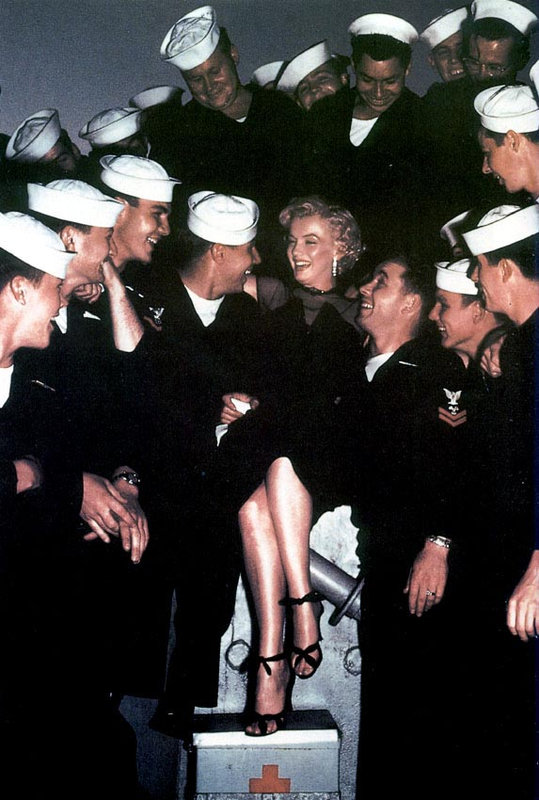 En 1951 à une soirée au Club Mocambo
1951 at a party in Mocambo club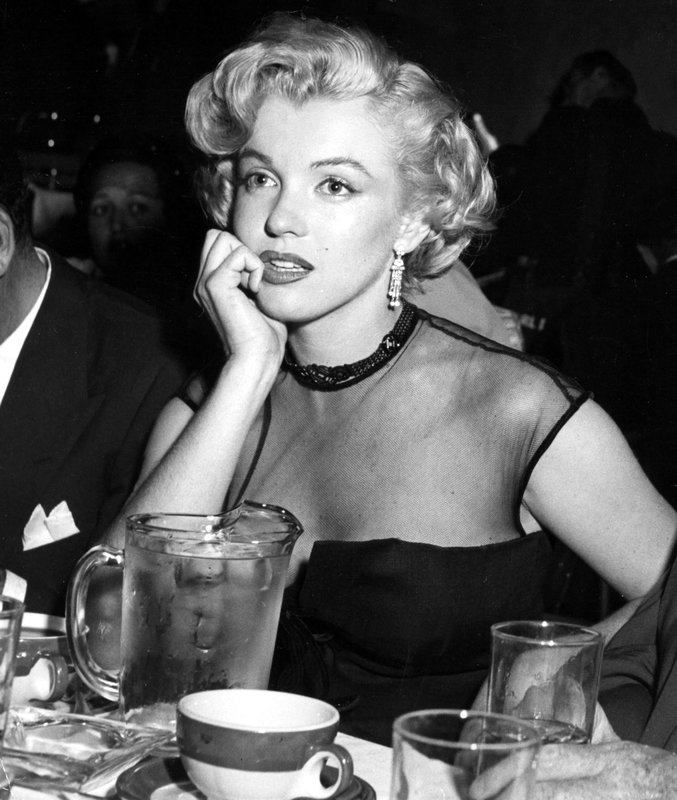 ---
La Robe portée par d'autres
The Dress worn by others
---
On retrouve la robe portée par une autre grande actrice des années 1950s: la brune Ava Gardner, qui porte elle aussi un collier ras de cou mais serti de diamants, et trois bracelets au poignet gauche:
We find the dress worn by another great actress of the 1950s: the brunette Ava Gardner, who also wears a choker necklace but set with diamonds, and three bracelets on the left wrist:

---
Inspirations
- Susan Hayward - 1940s -
robe aux manches longues portée avec un collier ras de cou
dress with long sleeves worn with a chocker necklace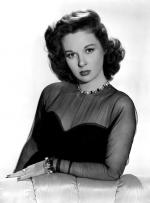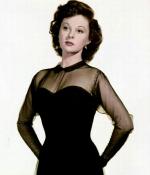 - Jean Peters - 1953 - film Blueprint for murder
robe aux manches longues portée avec un collier de perles
dress with long sleeves worn with a pearl necklace
Styliste: Charles Le Maire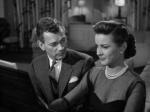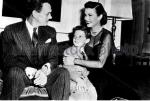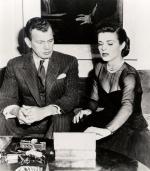 - Jayne Mansfield - 1957 -
robe aux manches longues portée avec un collier de perles ras de cou
dress with long sleeves worn with a chocker pearl necklace

- 10/01/1957: Chrysler's Show of Stars, Jayne & Jack Benny -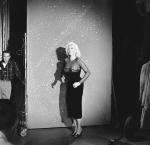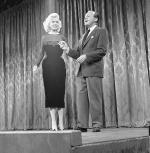 - 13/04/1957: Fête avec acteurs français à Los Angeles -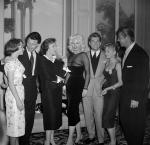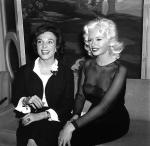 - Romy Schneider - 1970s -
Dans les années 1970s, les longueurs se raccourcissent:
Romy dans sa robe noire d'Yves Saint Laurent dont la longueur atteint les genoux
et le décolleté prononcé, très profond
In the 1970s, the lengths got shorter:
Romy in her black Yves Saint Laurent dress whose length reaches the knees
and the pronounced neckline, very deep

- 1970: première "Choses de la vie" / 1971 portrait d'Eva Sereny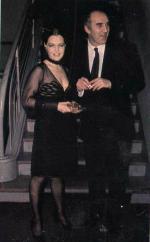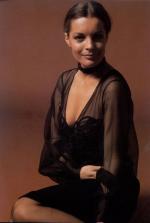 - 1969 / 1970: publicité pour "Lux" / 1972: film "César et Rosalie"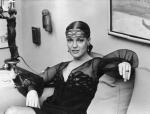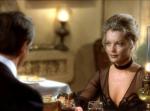 - Catherine Laborde - 2015 -
même notre présentatrice météo nationale (de TF1) arbore régulièrement
sa petite robe noire au décolleté transparent:
even our national weather presenter (from TF1) Catherine Laborde regularly wears
her little black dress with a transparent neckline: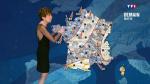 ---
Même style
Same style

Robe noire au décolleté transparent en dentelle noire
Robe de Ceil Chapman que Marilyn porte en 1958
Black dress with transparent neckline in black lace
Ceil Chapman'a dress that Marilyn wears in 1958

- Robe de cocktail en soie noire de Ceil Chapman -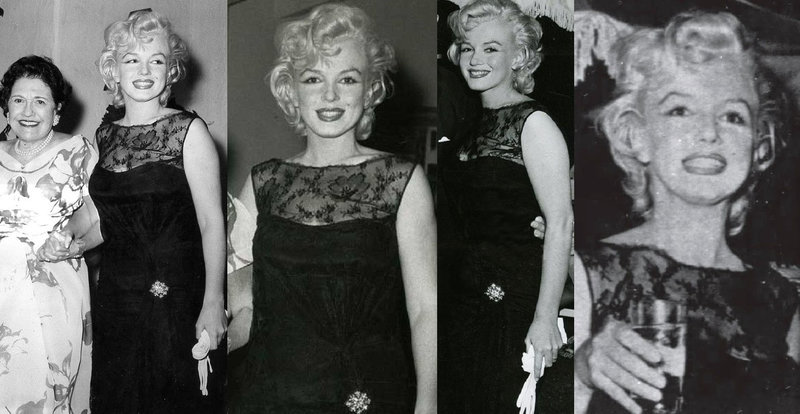 ---
© All images are copyright and protected by their respective owners, assignees or others.
copyright text by GinieLand.
Enregistrer
Enregistrer