How Norma Jeane, filing cabinet model, became Marilyn Monroe
Published on November, 21, 2015
By Michelle Morgan and Astrid Franse
online nypost.com

Marilyn Monroe is seen in an airline advertisement through Blue Book Models.
One day, while shopping for vintage items for their shop, Bennies Fifties in the Netherlands, Astrid and Ben Franse bought a box of old Marilyn Monroe memorabilia from a dealer in Los Angeles. They didn't know what they really had: a treasure trove. In the box were letters and never-before-seen photos from Miss Emmeline Snively, who had run the Blue Book Modeling Agency — the agent who had signed a young Norma Jeane Dougherty. In the new book "Before Marilyn," Astrid Franse and co-author Michelle Morgan reveal for the first time this archive and how Snively helped turn Norma Jeane into Marilyn Monroe.

In early August 1945, a photographer friend took Norma Jeane Dougherty from her home in West Los Angeles to be introduced to Miss Emmeline Snively, owner of the Blue Book Modeling Agency.
Norma Jeane was married, bored — and beautiful. Raised an orphan, she wed at 16 to escape a series of foster homes. But her husband shipped off with the Merchant Marines, and she worked an exhausting shift at the local defense plant.

Her face was her escape. She was noticed by propaganda photographers in the factory and after the war went looking for a job at Blue Book.

Snively, who had seen every kind of girl the profession had to offer, did not think there was anything too out-of-the-ordinary about the girl standing in her office at the Ambassador Hotel. She noted in her file: "Norma Jeane had been brought to the hotel by photographer Potter Hueth, wearing a simple white dress and armed with her modeling portfolio, which offered no more than a few choice snaps . . . You wouldn't necessarily wear a white dress to a modeling job, and it was as clean and white and ironed and shining as she was."
Norma Jean, then 19, was staring at the magazine covers and publicity photos gracing the walls.

"Those are the prettiest girls I've ever seen," she muttered, almost to herself, before turning to Miss Snively. "Do you think I could ever get my picture on a magazine cover ?"
Snively looked her up and down. "Of course," she smiled. "You're a natural."

Wiggle and quiver

Marilyn poses alongside another Blue Books Models girl.
Snively noted her statistics on an agency card: "Size 12, height 5.6, 36 bust, 24 waist, 34 hips. Blue eyes, perfect teeth and blonde, curly hair." "Actually," she later wrote, "her hair was dirty blonde. California blonde which means that it's dark in the winter and light in the summer. I recall that it curled very close to her head, which was quite unmanageable. I knew at once it would have to be bleached and worked on."
It cost $100 for a three-month modeling course, to teach her presentation, grooming and coordination — or how to sell yourself to the public. Snively noted that Norma Jeane was wonderful when it came to learning techniques such as makeup, hand positions and body posture, but she had concerns over other aspects. One problem was the way she walked, which went against everything a fashion model was trained to do. In short, she wiggled.

"When Marilyn walks, her knees lock," Snively wrote. "She's double-jointed in the knees, so she can't relax and that is why her hips seem to sway when she walks into a room. Her walk is a result of that locking action every time she takes a step. This she turned into an asset."
As Marilyn would later explain: "When you walk, always think UP in front and DOWN in back."

Another "problem" was her smile, which the agency (and several magazine editors) felt made her nose look too long. This was easily rectified, as Snively later recalled. "She smiled too high, that's what was wrong, and it made deep lines around her nose. We taught her how to bring her smile down and show her lowers."

This resulted in the famous lip quiver that would often be seen in Marilyn's film roles.

Conventional model
Norma Jeane's first official assignment was as a hostess at an industry show being held at the Pan Pacific Auditorium. Described as "America's annual tribute to the working man," the Industry on Parade exhibition began on Labor Day weekend, 1945, with a motorcade traveling through downtown Los Angeles.

She found herself on a stand taken by Holga Steel Company, talking to visitors, giving out leaflets and showcasing one of the company's items — a steel filing cabinet.

Described as "absolutely terrified" by Snively, Norma Jean traveled to the Pan Pacific Auditorium day after day. When she returned to the agency, Norma Jeane handed over all her earnings. "She gave me the whole $90," Snively wrote. "Took nothing out for car fare or meals or clothes or anything. 'This,' she said, 'will take care of most of my tuition.' I knew at once she was a fair and honest and very fine girl, and I decided to get her as much work as I possibly could."

Norma Jeane appeared in ads for Douglas Airlines and some magazine shoots. But when photographer Raphael Wolff hired her for a shampoo advertisement, it let Snively do what Norma Jeane had always resisted — change her hair.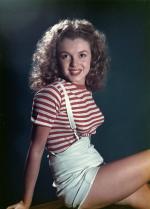 "Look darling," Snively told her, "if you really intend to go places in this business, you've just got to bleach and straighten your hair because now your face is a little too round and a hair job will lengthen it."
Norma Jeane acquiesced, and Snively was thrilled with the results.

"She emerged a truly golden girl . . . From this point she went into her bathing-suit stage, and the demand for her was simply terrific. She averaged, I should say, $150 a week, and men began talking about getting her into the motion-picture game."

One photographer paid to fix one bad front tooth. Another suggested Norma Jeane "eat more hamburgers." But they didn't need to teach her how to look sexy; she was a natural.

Later, Marilyn Monroe would reminisce about how most of the photos used of her were for "men's" magazines.
"I was in See four or five months in a row," she said. "Each time they changed my name. One month I was Norma Jeane Dougherty; the second month I was Jean Norman."

Snively hustled to promote her. When Howard Hughes, who was recovering from a plane crash, called to ask who the girl was on the cover of Laff magazine, Snively promptly called columnist Hedda Hopper, who picked up the item and gave Norma Jeane her first coast-to-coast publicity.

The nude bomb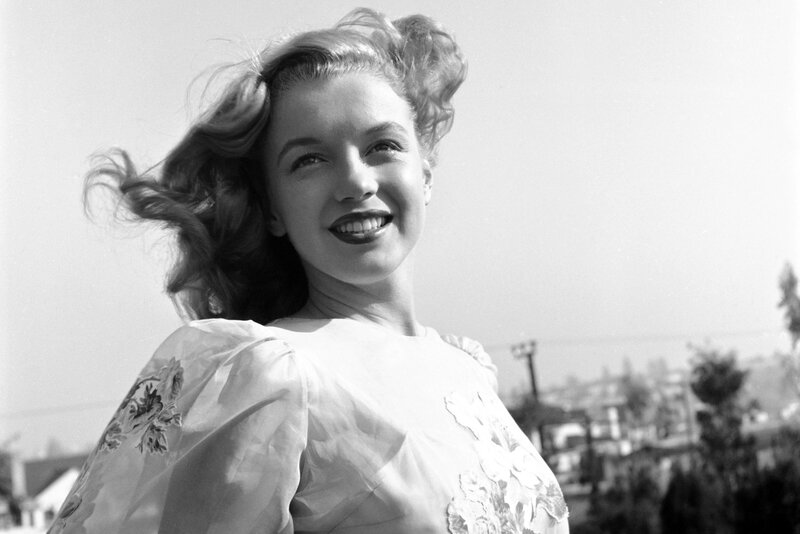 Marilyn in 1947, as a newly signed 20th Century-Fox contract
girl–though the studio eventually dropped her.
In July 1946, Norma Jeane got a screen test at 20th Century Fox, where she was signed to a starlet's contract for a salary and training in the studio workshops.

Executive Ben Lyon took an interest, choosing the name Marilyn for her. "When he asked her if there was a last name she particularly liked, she said yes — her grandmother's name had been Monroe," the studio's archives read.
"Mmmmarilyn Mmmmonroe, yes I like the way that sounds," Marilyn said.

But Fox eventually dropped her, as did Columbia, after only a few background roles. By May 1949, she had returned to convention modeling, showing off antiques at the Pan Pacific Auditorium.

Marilyn was broke. One day, a man called to offer money and other luxuries in exchange for certain favors.
"For a dizzy moment, I had visions of being able to pay my rent," she later recalled, "but as he went on giving the details of what I would be expected to do, my visions vanished. He was brutally frank, and all I could think of to say was that he shouldn't talk that way over a public telephone. I didn't realize how silly that sounded until I hung up, and then I started to laugh."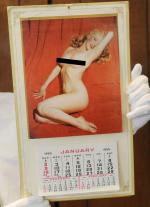 At the time of the call, she was late with her rent at the Hollywood Studio Club and threatened with eviction. Something had to be done.
She called photographer Tom Kelley, who had used her in the past for a beer ad. He had asked her several times to pose nude and she always refused, but this time her home was on the line and she felt she may not have much choice. Marilyn did have a particular requirement — she would only take her clothes off for him if accompanied by his wife, Natalie.

In May 1949, she posed nude on a blanket of red velvet. "I decided I'd be safer with [Kelley] than with some rich old guy who might catch me in a weak moment when I was hungry and didn't have enough to buy a square meal," Marilyn explained. "Kelley told me he'd camouflage my face, but it turned out everybody recognized me."

When later asked what it felt like to be photographed in such a way, she answered, "It was drafty."

Kelley later told biographer Maurice Zolotow that he paid Marilyn $50 for her services and then sold the rights to a calendar maker for $500. It would be years before the calendar maker's secretary realized who the girl was. "He made a fortune on it," Kelley said. "Sold close to 8,000,000 calendars."

Marilyn got some promising film roles in a Marx Brothers movie ("Love Happy") and "The Asphalt Jungle." But like the Kim Kardashian of her day, it was the nude photographs surfacing in 1952 that made her a star. Instead of destroying her career, as the studio thought it would, the scandal won the actress much sympathy after she announced that the reason she had posed in the first place was because without the money she would have been evicted.

In the next year, she would make "Gentlemen Prefer Blondes" and "How to Marry a Millionaire." The transformation from Norma Jeane to Marilyn was complete.

How to make it…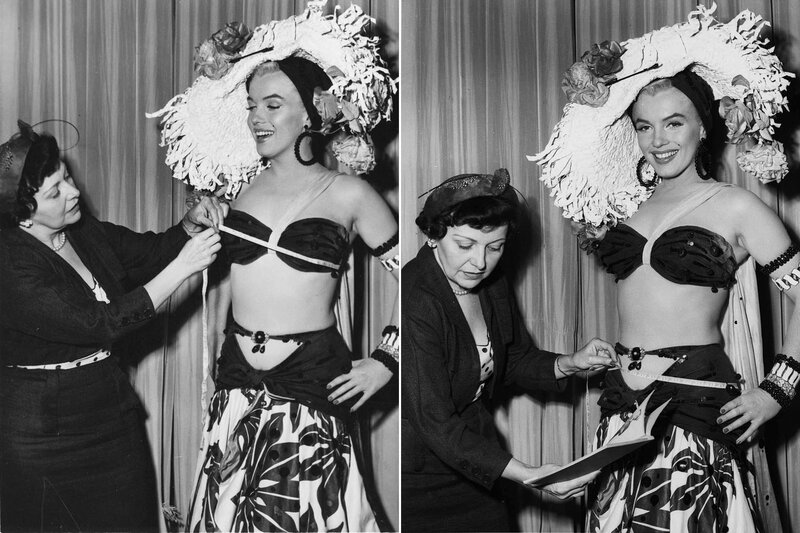 Marilyn with Miss Emmeline Snively
on the set of "There's No Business Like Show Business" in 1954.
Marilyn was famous, but her insecurity never went away. In 1954, Snively learned Marilyn was making "There's No Business Like Show Business." She called the studio to see if Marilyn would pose for some publicity photos for Blue Book Models. Marilyn quickly agreed.
The pictures taken on the set that day show Marilyn in costume to perform a song and dance number called "Heat Wave." The actress wasn't a huge fan of the song, and her new husband, baseball star Joe DiMaggio, wasn't an admirer of the outfit, considering it too revealing for his wife to wear. However, neither seemed to bother Snively, and photos show there is no doubt that Marilyn enjoyed meeting up with her old mentor once again.

Snively later recalled having a private word with Marilyn off set.
"She didn't feel she was a qualified actress, [but] how could she have felt any different ?" Snively later wrote. "She'd signed her first contract before she had her first acting lesson.
"God I wanted to cry for her then. This can be the loneliest town in the world, and it's even lonelier for you if you're on top of the heap."

Excerpted from "Before Marilyn: The Blue Book Modeling Years" by Astrid Franse and Michelle Morgan. Out now from St. Martin's Press.