Robe en dentelle rouge
Red Lace Gown

Cette longue robe très sexy, serrée près du corps (au buste jusqu'aux cuisses) et qui se termine en queue de poisson évasée dans le bas, a été conçue par le créateur américain John Moore. D'un rouge vif, brodée de dentelles aux motifs floraux, de fines bretelles soutiennent un profond décolleté, dessinant les contours de sa poitrine par le tissu moulant le buste. Marilyn Monroe a porté cette robe à trois reprises, toujours avec de longs gants noirs en cuir. C'est une robe qui accentue le côté "pin-up", contribuant un effet "ooh-la-la" comme disent les américains, traduisant ici l'ultra-féminité provocatrice et diablement sexy, qui semble être inspiré du personnage de Betty Boop.
> Marilyn Monroe est vue publiquement avec cette robe pour la première fois le 8 février 1956 où elle se rend à la première de la pièce de théâtre Middle of the night de Joshua Logan (qui la dirigera dans Bus Stop), au Anta Theater de New York. En plus des gants noirs, Marilyn porte un long manteau de fourrure blanc. Ses cheveux sont bouclés et sa coiffure est structurée, avec beaucoup de mouvements par l'effet wavy relevés en arrière, mettant en valeur le contour de son visage et ses longues boucles d'oreilles pendantes:
> Le deuxième moment où Marilyn est aperçue dans la robe, est lors d'une séance photo prise probablement fin février 1956 dans la maison qu'elle louait au 595 North Beverly Glen Boulevard, à Los Angeles, au moment du tournage de "Bus Stop". Sous l'objectif du photographe Gene Lester, Marilyn pose lascivement telle une vamp, allongée par terre. On y retrouve d'ailleurs son manteau de fourrure blanc au sol. Et Marilyn d'arborer le même look: coiffure, boucles d'oreilles et gants:
Et l'une des photographies de cette séance de Gene Lester sera publiée dans la presse: le 5 mai 1956 dans le Saturday Evening Post: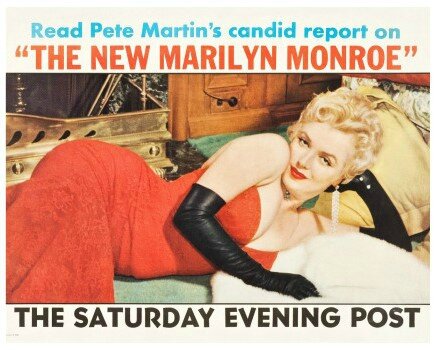 > C'est lookée de la même façon que pour la séance de Gene Lester (cheveux bouclée en boule, longs gants de cuirs noirs) qu'elle est photographiée en sortant d'un théâtre à New York (date/année inconnues) par ses fans: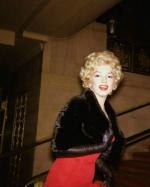 > Il faudra attendre deux années plus tard pour revoir Marilyn porter la robe: le 10 juillet 1958 où elle assiste à la première de la pièce de théâtre Gigi au Paramount Theater, sur Hollywood Boulevard, à Los Angeles. L'été 1958, Marilyn a des cheveux plus courts et une coiffure gonflée (pour les besoins du tournage de "Some Like It Hot"). Elle porte encore des boucles d'oreilles pendantes, mais elles sont différentes (plus courtes que celles portées en 1956). Marilyn est enveloppée dans une étole d'organza noire, faisant échos aux longs gants noirs.
---
© All images are copyright and protected by their respective owners, assignees or others.
copyright text by GinieLand.
Enregistrer
Enregistrer
Enregistrer
Enregistrer