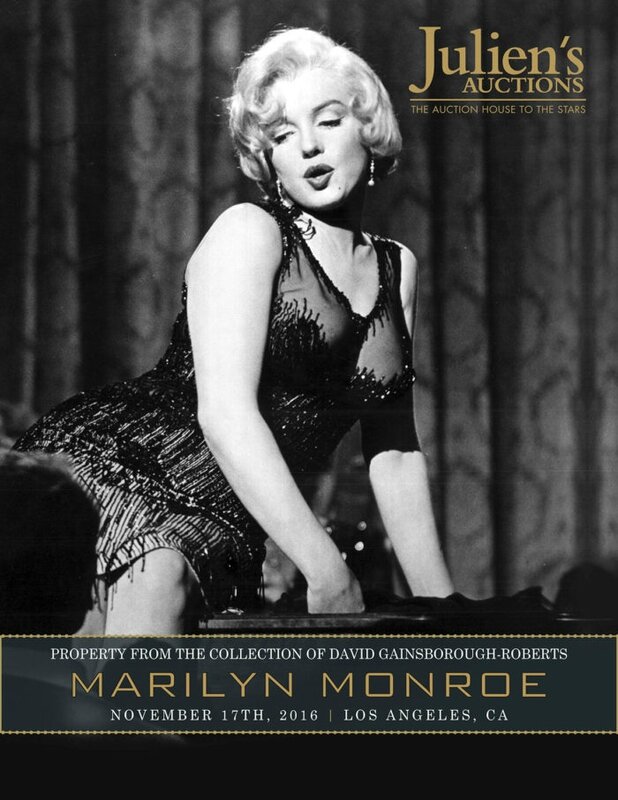 Catalogue "Marilyn Monroe Property from the collection of David Gainsborough-Roberts" issu de la vente aux enchères le 17 novembre 2016 par Julien's Auction à Los Angeles, aux Etats-Unis.
Le catalogue de 96 pages présente les lots (n°01 à n°69) du collectionneur et fan de Marilyn Monroe, David Gainsborough-Roberts: des vêtements, objets personnels, bijoux, photographies...
Présentation du site web de Julien's: Highlights from Marilyn Monroe Property From The Collection of David Gainsborough-Roberts include a sheer black beaded and sequined dress worn by Monroe in her Golden Globe winning role Sugar Kane as she crooned "I'm Through With Love" in the award winning 1959 film Some Like it Hot; an elaborate embellished stage gown worn by Monroe as she sang "After You Get What You Want You Don't Want It" in the 1953 comedy There's No Business Like Show Business which was designed by one of Marilyn's all-time favorite designers, William Travilla; a pink linen halter wiggle dress designed for Monroe by Dorothy Jenkins for the 1953 thriller Niagara; a green satin one-piece with black sequins and gold fringe worn by Monroe as she sang "That Old Black Magic" in the 1956 film Bus Stop; a lilac satin leotard worn by Monroe as Lillian Russell in the 1958 photo series by Richard Avedon and featured in Life magazine in 1958. Additional film pieces offered include costumes from Gentlemen Prefer Blondes and Let's Make Love, along with a pair of rhinestone earrings worn by Monroe in How To Marry A Millionaire and a pair of sequin embellished opera gloves from the Rachmaninoff scene of The Seven Year Itch.
Monroe's personal style is represented by a figure-hugging black cocktail dress by Ceil Chapman, a favorite of Monroe; a slender fitting bias cut crepe evening gown worn by Monroe to the 1955 premiere of The Rose Tattoo; an embellished Lanvin gown; and rhinestone jewelry. Personal items include prescription pill bottles, Victoria and Albert museum exhibited high heels, a plastic doll in the likeness of Monroe given as a souvenir at her 34th birthday party; documents and correspondences; household items; and Monroe's Detroit Free Press "New Faces Award" from 1952.
> Extrait article Collector David Gainsborough-Roberts :
Julien's Auctions, the world record breaking auction house to the stars, has announced the auction of the David Gainsborough-Roberts Marilyn Monroe Collection. Comprising film costumes, personal gowns and clothing, jewelry, and property owned by Marilyn Monroe, together with original photographs and film posters, this prolific and historic collection is undoubtedly the most important Marilyn Monroe archive of combined professional and personal property to hit the collecting market in decades. Collector David Gainsborough-Roberts is known to have amassed the world's largest collection of Marilyn Monroe memorabilia which he has carefully and lovingly curated for years.
---
© All images are copyright and protected by their respective owners, assignees or others.
copyright text by GinieLand.