Catalogue "Happy Birthday JFK Dress and related Property" issu de la vente aux enchères le 17 novembre 2016 par Julien's Auction à Los Angeles, aux Etats-Unis.
Le catalogue de 52 pages présente les lots (n°70 à n°84) se rapportant à la soirée de gala d'anniversaire du Président John F. Kennedy: le programme, le ticket d'entrée, une bobine d'un film couleur de la soirée, des photographies, des lettres et dépenses, des esquisses de la robe, et le plus attendu des lots, la fameuse robe créée par le couturier Jean-Louis, dont la valeur est estimée entre 2 et 3 millions de dollars.
Une première fois mise en vente par Christie en 1999, la robe couleur chair et brodée à la main de 2500 cristaux a ensuite été vendue à l'homme d'affaires Martin Zweig, aujourd'hui décédé, pour près d'1,3 million de dollars. Ce sont les gestionnaires de son héritage qui la mettent aujourd'hui aux enchères.
> Extrait article Happy Birthday Mr. President :
New York, New York – (September 7, 2016) – On Saturday, May 19, 1962, at a Democratic fundraiser and early 45th birthday celebration, President John F. Kennedy took his seat in Madison Square Garden anticipating what has now become one of the most iconic moments in entertainment and political history. In front of 15,000 guests, many of them celebrities, actor Peter Lawford was about to make an introduction that would change the course of pop culture and Presidential folklore forever. Under a bright spotlight, the legendary Marilyn Monroe walked on stage and peeled away her white ermine fur coat, revealing a skintight, sheer, flesh-colored dress that sparkled with over 2,500 handstitched crystals. The custom Jean Louis creation was so tight fitting that Marilyn wore nothing underneath and had to be sewn into it last minute. Original sketch illustrated by Bob Mackie. When Marilyn appeared and the dress was finally revealed, the entire audience gasped.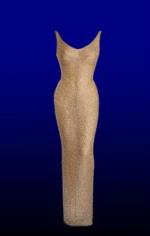 After Peter Lawford introduced her as the "LATE" Marilyn Monroe, she flicked the microphone and began to sing "Happy Birthday Mr. President" in her trademark sultry, sexy voice with original lyrics she wrote herself. However, it was her intimate tone and projection of the words "Mr. President" that would stun the audience, excite the press and become a milestone in popular culture. The song and performance were remembered for many reasons, not the least because it was one of her last public appearances before her untimely death less than three months later. Sadly, President Kennedy died a year later and that infamous night at MSG was the last known time they saw each other. The rendition by Marilyn remains one of the most famous, delivered in her halting, breathy tone. All in all, it lasted approximately 30 seconds, but more than five decades later, it remains the most famous version of "Happy Birthday" ever. The dress, the performance, Jacqueline Kennedy's absence and photographs from the evening would spark ravenous rumors of an affair between the President and Marilyn.
In fact, it was Marilyn's death in 1962 that prompted American artist Andy Warhol to create "Marilyn's Diptych" — one of the most famous art homages to her, permanently securing Marilyn's place in contemporary art history.
"Marilyn Monroe singing 'Happy Birthday Mr. President' is certainly one of the most famous impromptu performances in American history," said Darren Julien, President & CEO of Julien's Auctions. "That rendition has lived on for decades as one of the most remarkable events in her career and certainly one of the most storied tales in popular culture history — a moment in time squarely at the center of the 1960s, Hollywood and Camelot. We are incredibly privileged to have the opportunity to offer this amazing dress to collectors, fans and contemporary art enthusiasts around the world."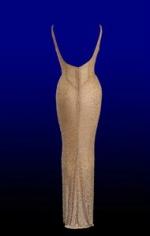 On November 17, 2016, Julien's Auctions, the world-record breaking auction house to the stars, will once again make history when it exclusively offers the Marilyn Monroe "Happy Birthday Mr. President" Jean Louis creation at auction. Julien's Auctions will give collectors and fans from around the globe one of the most awe-inspiring moments in auction history when the gavel comes down on the final bid for this remarkable object.
Prior to the auction, the "Happy Birthday Mr. President" dress will go on an exclusive world tour. The dress will exhibit at MANA Contemporary in New Jersey as part of the Exhibition "Marilyn: Character Not Image" followed by the Newbridge Silverware Museum of Style Icons (MOSI) in Kildare, Ireland before making its way back to the Julien's Auctions Gallery in Los Angeles.
"We have had remarkable opportunities to offer unique objects related to Marilyn Monroe in the past," said Martin Nolan, Executive Director of Julien's Auctions. "To be part of the continued interest and excitement around this legend is always thrilling. This dress, this story, this momentous occasion represents a defining moment in history. This auction will remind the world why Marilyn Monroe remains an icon."
The dress will be presented on the custom-made mannequin that was designed to match Marilyn Monroe's exact body measurements.
---
© All images are copyright and protected by their respective owners, assignees or others.
copyright text by GinieLand.