11 novembre 2016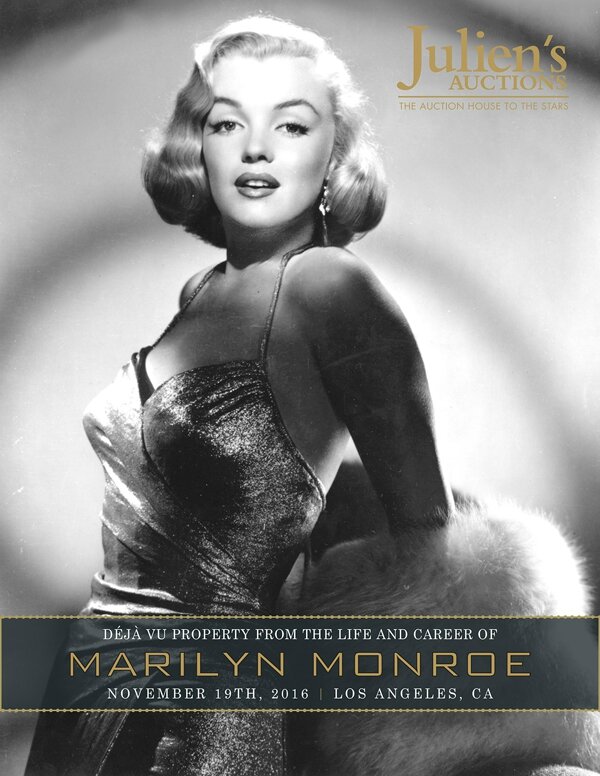 Catalogue "Déjà Vu Property from the Life and Career of Marilyn Monroe" issu de la vente aux enchères le 19 novembre 2016 par Julien's Auction à Los Angeles, aux Etats-Unis.
Le catalogue de 250 pages présente les lots (n°605 à n°1015) composés de collections de Frieda Hull (fan de Marilyn, faisant partie de la bande des "Monroe Six"), Bob Mackie (couturier de mode), Allan Rich (acteur): de nombreuses photographies prises sur le vif dans la rue ou lors de sorties en public (soirées, galas, premières), lors d'un tournage; des photographies officielles de films, de photographes (André De Dienes, Joe Jasgur, Cecil Beaton, Milton Greene, Douglas Kirkland,George Barris, Bert Stern...) des autographes et photos dédicacées; des magazines d'époque; des effets personnels (vêtements, bonnet, foulards, livres, chèques et factures, lettres, notes, tableaux, maquillage et produits de beauté ...), des esquisses de costumes de films...
> article Press Release: Frieda Hull :
Unprecedented Frieda Hull Collection and Archive Contains Never Before Seen Color and Black & White Candid Snapshots, Photographs and Slides, Movie Stills, Publicity Photos, Lobby Cards, Home Movies, and Autographs.
Frieda Hull was a member of the now famous "Monroe Six," a New York City based group of teenagers who photographed Marilyn whenever and wherever they could. As an airline employee, Hull was in the enviable position of being able to photograph Marilyn also on the West Coast. Much to Marilyn's surprise and delight, the group learned of her whereabouts from various sources, including movie magazines and her hairdresser. Many times the team simply waited for Marilyn outside of her hotel, her home, or events she was attending. Over time, Marilyn came to know each member of the group, even inviting them to the Roxbury, CT home she shared with then husband Arthur Miller for a picnic. Marilyn frequently autographed the photos the group had taken of her and also was known to give them gifts.
The extraordinary Frieda Hull Marilyn Monroe Photo Archive spans nearly the entirety of Monroe's career, from the late 1940s through to 1962. The collection includes photographs she and other members of the Monroe Six took of Marilyn, along with photographs she personally collected through the years. Rare items from the archive include unseen color photos of Marilyn as she sang "Happy Birthday" for President John F. Kennedy at Madison Square Garden on May 19, 1962, never-before-seen slides of Marilyn on location as she filmed the now famous subway skirt-blowing scene for The Seven Year Itch, a large collection of many unpublished photos of Marilyn at the 1955 premiere of East of Eden, rare photos of Monroe on the set in Phoenix while filming Bus Stop in 1956, and a photo of Marilyn with her dog Maf that is very likely a photograph never seen before.
Other rare highlights include eleven color slides which show Marilyn and Arthur Miller following the premiere of Some Like It Hot in 1959, some of which have likely never been seen. One slide in the collection shows Monroe sitting in the back of a vehicle with a bird in a cage on her lap, likely "Butch," the Millers' pet parakeet. Home movies in the archive show remarkable footage of Marilyn departing her apartment in New York on May 30, 1958. Other footage shows Marilyn attending an event at the Italian Consulate on May 13, 1959, where she received the David di Donatello Award for her work in The Prince and The Showgirl. The movie still and publicity photos in the Frieda Hull collection are unparalleled, with photographs from twenty-seven of Marilyn's thirty films, ranging in years from 1947 through 1962. The impressive Bus Stop archive includes approximately 150 movie stills, 30 publicity photographs, and 18 lobby cards.
The Frieda Hull Marilyn Monroe Photo Archive includes over 550 color and black & white candid snapshots and photographs, over 150 color slides, nearly 750 movie stills, publicity photos and lobby cards, and personal home movies.
Additional items from the Frieda Hull Marilyn Monroe Collection being offered at Julien's Auctions include autographed photos and snapshots, Frieda Hull's original ticket and program to a 1962 JFK Madison Square Garden gala, a Marilyn Monroe and Arthur Miller autographed Gladstone Hotel menu, Frieda's "Monroe Six" badge, a scarf Marilyn gifted to Frieda, a Marilyn Monroe calendar, and vintage Marilyn Monroe albums.
---
© All images are copyright and protected by their respective owners, assignees or others.
copyright text by GinieLand.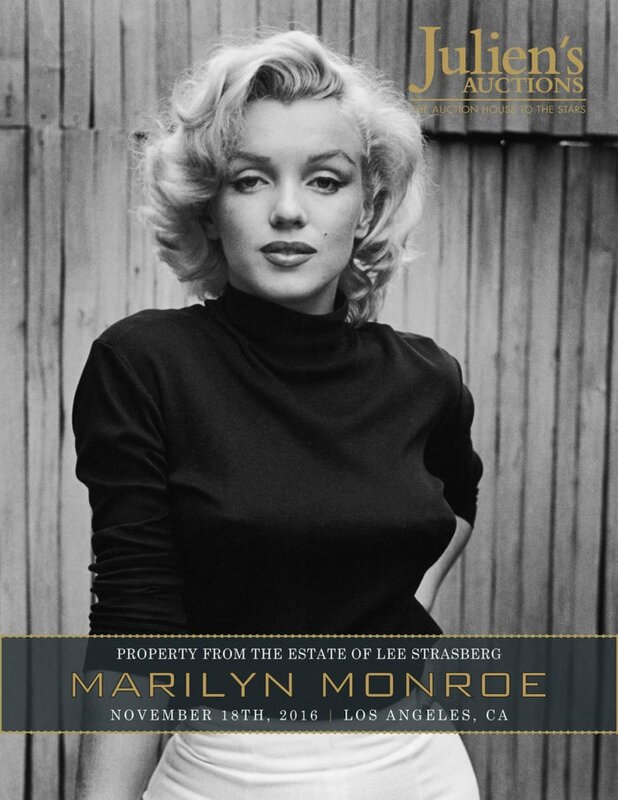 Catalogue "Property From The Estate Of Lee Strasberg" issu de la vente aux enchères le 18 novembre 2016 par Julien's Auction à Los Angeles, aux Etats-Unis.
Le catalogue de 426 pages présente les lots (n°85 à n°604) composés de nombreux effets personnels que Marilyn Monroe avait légué à Lee Strasberg: photographies de son enfance, photographies personnelles; lettres, esquisses et écrits personnels (dont certains ont été publiés dans le livre Fragments); chèques et chéquiers, reçus et factures, carnet de finances; répertoires téléphoniques; scénarios; chaussures, chapeaux, accessoires, vêtements et vestes; bijoux, montres et maquillage; valise, sacs et pochettes de soirée; livres; ustensiles de cuisine; meubles et objets de décoration; machine à écrire; appareil photo etc...
> article Press Release: Lee Strasberg :
Julien's Auctions, the world record breaking auction house to the stars, has announced on offer one of the most personal collections of Marilyn Monroe from the estate of Lee Strasberg. The auction will include a wide variety of documents and personal items once owned by Marilyn Monroe and represents the largest collection of Marilyn Monroe artifacts ever offered at auction.
Besides being an actor and director in his own right, Strasberg is considered the father of method acting in America. Strasberg revolutionized the art of acting by having a profound influence on performance in American theater and movies. A myriad of actors and directors from the United States and around the world gave Lee Strasberg credit for his influence on them, including Mike Nichols, Richard Harris, Dustin Hoffman, Jack Nicholson, Al Pacino, Jane Fonda and Robert DeNiro." Stars of Hollywood's silver screen era who trained under Strasberg include Montgomery Clift, James Dean, Jean Stapleton and of course, Marilyn Monroe. Marilyn developed a close personal relationship with Lee and his wife Paula, and she ultimately bequeathed all of her personal effects and clothing to Lee in her will.
"No one person ever really knew every facet of Marilyn Monroe, though countless books have attempted to piece together every first, second and third hand account of each encounter, often embellished through passage of time. Marilyn was a complex and beguiling figure in her lifetime, leaving generations of adoring fans to speculate, infer and debate about her life. What has resulted is a prismatic kaleidoscope image built upon both fact and fantasy." – Anna Strasberg
"This is one of the most important and historic auctions of Marilyn Monroe ever. This diverse collection gives us a most intimate glimpse of the screen legend. Never before have there been so many important artifacts from the life and career of the much loved global icon Marilyn Monroe as in our Nov 19th and 20th auction." – Martin Nolan, Executive Director of Julien's Auctions.
Perhaps the highlight of the items is one of just a few pieces of fine jewelry ever owned by Monroe: a ladies platinum and diamond cocktail watch with face reading "Blancpain, and the movement is signed Rayvill Watch Co. 17 Jewels, Unadjusted Switzerland." The sale includes other pieces of costume jewelry, compacts, cosmetics and a few pieces related to Joe DiMaggio. A DiMaggio highlight is an alligator men's accessory case with custom "JDim" initial in brass on lid with a combination lock closure set to "555" — a repetition of DiMaggio's Yankee number 5.
The sale will also include a beautiful 1950's brown alligator ladies handbag from I. Magnin & Co. with matching accessories, a grey pony handbag from Mexico still containing three one peso bills, and a number of other handbags, fur coats and stoles.
Of particular interest is a stunning ladies minaudière with the original box, featuring three compartments including one for loose powder with cotton buffer, mirror, comb, two mercury dimes, eight Phillip Morris cigarettes and a tube of used Revlon lipstick in "Bachelor's Carnation" with a date of 1947, a virtual time capsule of one of the star's nights out on the town.
The items in this collection also include documents that represent signposts containing unbiased factual information placing the star in a certain place on a certain day, the only tangible things left behind to mark simple and remarkable moments in her life and career, from a taxi receipt dated February 2, 1960 listing the trip details as simply "From: 904 To: 20th Century" to a check dated July 25, 1952 written in Monroe's hand to her mother Gladys Eley in the amount of $150.00 endorsed by her mother signed, "Mrs. Gladys P. Eley." In addition to household, food, fur, books, beauty, and clothing receipts, there are tax documents listing the star's expenditures in great detail, a collection of recipes given to her by friends, and of certain interest is her 1962 checkbook containing the filled out stubs of every check written from her account in the final year of her life as well as the checks written from her account immediately after her death.
The items provide an unprecedented look at the daily details of her life, offering yet another perspective of Monroe.
In addition to these extraordinary highlights from the screen icon's life are documents, correspondence, poems and intimate notes featured in the appropriately titled 2012 book Fragments. The book helped to piece together a more even-handed view of the icon, demonstrating her intellectual curiosity, vulnerability and humanity. The poems included in the book offer a deeply personal look into Monroe's thoughts, such as this excerpt: "Only parts of us will ever touch parts of others — one's own truth is just that really — one's own truth…" Many of the writings featured in the book are contained in notebooks that are included in the sale as well as lighter material like her now famous recipe for stuffing scrawled on a sheet of "City Title Insurance Company" notepaper.
---
© All images are copyright and protected by their respective owners, assignees or others.
copyright text by GinieLand.
Enregistrer
Enregistrer
Enregistrer
Enregistrer
Enregistrer