29 janvier 2017
Les clins d'oeils à Marilyn au Cinéma
- Tiré à Part -

Dans le film "Tiré à Part", pour vérifier ses soupçons sur le manuscrit de Fabry (Daniel Mesguich), Lamb (Terence Stamp) se rend en Tunisie. Il rend visite à Yasmina (Huguette Maillard), qui lui confirme que tous les faits décrits concordent avec le viol puis le suicide de sa sœur Farida. La jeune Farida (Amira Casar), fille de Yasmina, ressemble prodigieusement à celle qu'il a tant aimée. Elle le conduit dans la chambre de sa défunte tante, où l'on remarque quelques posters : un portrait de Marilyn Monroe (photographie de "The Last Sitting" de Bert Stern), une affiche du film "Géant", et une affiche du film "Fenêtre sur Cour".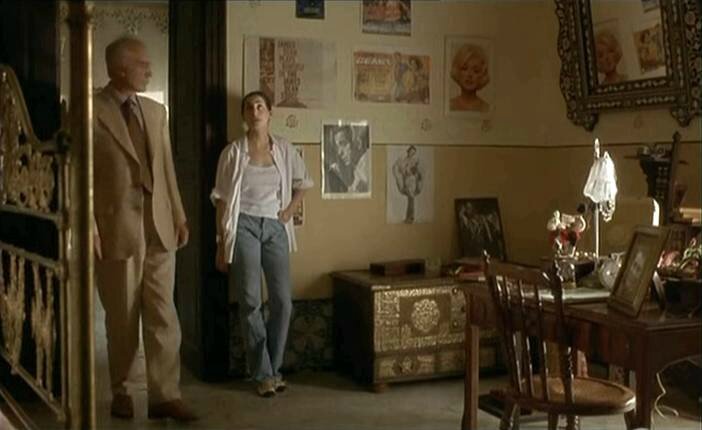 ---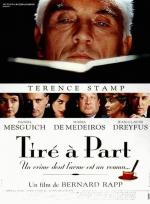 Film: Tiré à part
Année: 1996
Pays: France
Réalisateur: Bernard Rapp
Scénario: Bernard Rapp et Richard Morgiève d'après l'œuvre de Jean-Jacques Fiechter
Genre: drame
Distribution: Terence Stamp (Edward Lamb), Daniel Mesguich (Nicolas Fabry), Maria de Medeiros (Nancy Pickford), Jean-Claude Dreyfus (Georges Récamier), Frank Finlay (John Rathbone), Hannah Gordon (Doris), Amira Casar (Farida)...
L'histoire: Nicolas apporte son dernier manuscrit à son ami Edward. Si le style séduit Edward, l'histoire lui rappelle étrangement un crime dont il fut l'un des acteurs 30 ans auparavant...
---
© All images are copyright and protected by their respective owners, assignees or others.
copyright text by GinieLand.
Enregistrer
Chanel n°5, crème Nivea et huile d'olive : les secrets de beauté de Marilyn Monroe
Article publié le 21/12/2016
en ligne sur Madame Figaro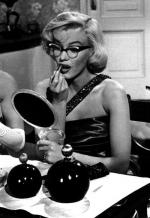 Dans les années cinquante, les stars avaient des habitudes beauté plus ou moins déroutantes. Zoom sur la routine soin et maquillage de Marilyn Monroe.

Si la légende retient que Marilyn Monroe dormait seulement avec quelques gouttes de Chanel n°5, l'actrice avait d'autres habitudes beauté beaucoup moins connues. Pour préserver son teint laiteux, l'actrice se protégeait du soleil et ne s'exposait jamais aux rayons UV sans protection. De plus, Norma Jeane Mortenson était obsédée par l'hydratation, afin d'obtenir un teint glowy qui accroche parfaitement la lumière, notamment au cinéma. C'est pourquoi, comme l'explique un article de Vogue us, elle utilisait la célèbre crème Nivea comme base de maquillage pour se concocter un teint pâle. La star soignait également sa peau avec de l'huile d'olive et était une amatrice de la crème très riche de huit heures d'Elizabeth Arden. Son habitude quotidienne plutôt originale ? Plonger son visage dans de l'eau très chaude chaque soir. Une astuce surprenante héritée du dermatologue star de l'époque, le docteur Erno Lazlo.

Le contouring avant l'heure

Pour sa mise en beauté, Marilyn Monroe était d'une grande exigence. Son maquilleur attitré, Allan "Whitey" Snyder, avait coutume d'utiliser de la vaseline ou de l'huile de coco en guise d'enlumineur sur les pommettes et les tempes de l'actrice. Cette dernière voulait également qu'on lui en applique sur les paupières afin qu'elles soient brillantes. La star était, de plus, une adepte du contouring, une technique de maquillage qui n'appartient donc pas à Kim Kardashian. Comme le rapporte le site du magazine américain Marie-Claire, Marilyn demandait à son maquilleur d'appliquer cinq teintes différentes de rouges à lèvres et de gloss pour se créer une bouche plus charnue. Le sombre s'appliquait sur les coins extérieurs et le contour, les teintes clairs au milieu de la bouche. Enfin, pour un regard de biche, l'héroïne de Certains l'aiment chaud utilisait un recourbe cils, le mascara de Helena Rubinstein et des faux cils. Un make-up qui n'a finalement pas pris une ride.
Les produis de beauté cultes de Marilyn Monroe
En images
-- NIVEA --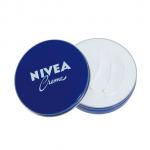 Crème multi-usages, Nivea, 4,99 € le pot de 250 ml,
disponible dans les points de vente de la marque.
-- MAX FACTOR --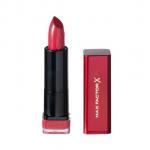 Rouge à lèvres teinte « Marilyn Berry Red »,
collection « The Marilyn Monroe Lipstick Collection »,
Max Factor, 9,95 €, disponible dans les points de vente de la marque
-- ELIZABETH ARDEN --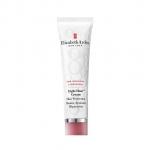 Baume apaisant réparateur sans parfum « Crème de huit heures »,
Elizabeth Arden, 35,50 € le tube de 50ml,
disponible dans les points de vente de la marque.


-- MAKE UP FOREVER --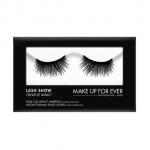 Faux cils « Lash Show »,
Make Up Forever, 17,50 €, en vente sur sephora.fr.


-- AROMA-ZONE --

Huile végétale d'olive bio, Aroma-Zone,
5,90 € le flacon de 200ml, en vente sur aroma-zone.com.


-- REVLON --

Vernis à ongles rouge "Nail Enamel",
Revlon, 9,90 €, disponible dans les points de vente de la marque.


-- HELENA RUBINSTEIN --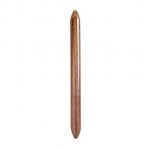 Mascara "Long Lash", Helena Rubinstein,
42 €, en vente sur helenarubinstein.com.

-- RMS BEAUTY --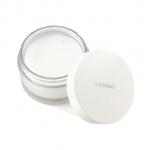 Crème à tout faire d'huile de noix de coco pure « Raw Coconut Cream »,
RMS Beauty, 17 € le pot de 70 g, en vente sur ohmycream.com.


-- THE BODY SHOP --

Recourbe-cils, The Body Shop,
5,50 €, en vente sur thebodyshop.com.


-- VASELINE --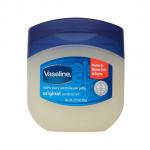 Vaseline pure, Vaseline,
5,10 € le pot de 106 g, en vente sur biovea.net.