29 juillet 2018

Dimanche 29 juillet 2018 - 14h30 - Arte
A revoir en replay sur arte.tv

Documentaire: Frank Sinatra
all or nothing at all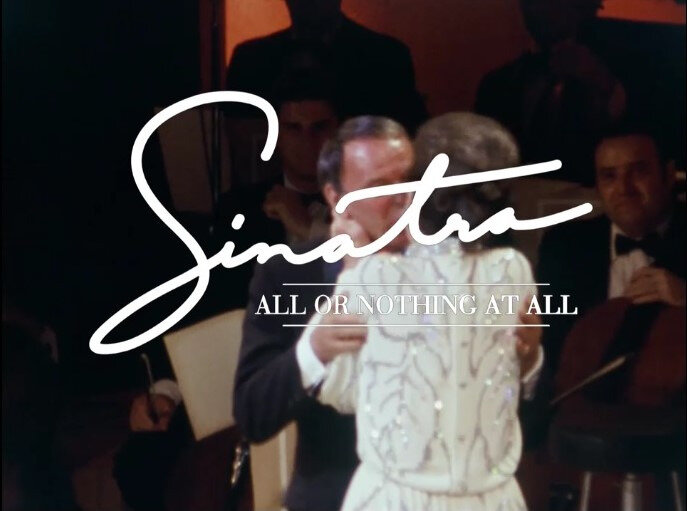 Réalisation: Alex Gibney
Pays: Allemagne
Année: 2016
Documentaire en 2 parties
Durée partie 1: 113 min
Durée partie 2: 121 min
De sa jeunesse miséreuse dans le New Jersey à son ascension au rang de star internationale, le portrait fleuve et intime de Frank Sinatra. Des extraits rares du concert de ses "premiers adieux", en 1971, constituent le fil rouge du film. L'occasion de réécouter ses plus grands succès : "My way", "Fly me to the moon", "That's life", "New York, New York"...
Partie 1
Enfant unique, Frank Sinatra naît en 1915 à Hoboken, une ville extrêmement pauvre du New Jersey. Élevé par des parents italiens qui crurent farouchement au rêve américain, il doit lutter pour manger à sa faim. Tout jeune, il se met à jouer du piano et à chanter dans le bar familial. Un déclic. Sinatra n'a désormais qu'un objectif : devenir le nouveau Bing Crosby. Porté par une ambition démesurée, le crooner rend folles les jeunes femmes, amasse des sommes considérables, se marie et devient père pour la première fois. Mais cela ne lui suffit pas. Il s'engage dans la lutte contre la pauvreté et l'intolérance puis se lance dans une carrière d'acteur. Les années 1940 sont pourtant loin d'être idylliques pour celui que l'on surnomme "The Voice" : il est détesté par une partie des Américains, qui lui reproche son absence sur le front. On l'accuse d'être lié à la mafia et ses incartades conjugales nuisent à son image. La MGM le congédie et il finit par perdre sa voix au début des années 1950. Au fond du gouffre, Sinatra quitte sa femme pour Ava Gardner et obtient (grâce à la mafia ?) le rôle qui changera sa vie : celui d'Angelo Maggio dans Tant qu'il y aura des hommes.
Partie 2
Le phénix Sinatra renaît. Plus adulte, il troque ses cheveux bouclés et son nœud papillon contre un chapeau en feutre et une cravate large. Très proche de la scène noire américaine, il est le premier artiste blanc de son envergure à dénoncer autant la ségrégation. Si son aura est immense, "The Voice" est dévasté par sa rupture avec Ava Gardner et assiste hébété à l'explosion du rock, qu'il méprise. Il réunit quelques-unes des stars du moment au sein d'une troupe qui flatte son ego, le Rat Pack. Plus grande star de l'histoire du show-business, l'artiste se rapproche de la mafia en même temps qu'il devient un intime de Kennedy. Égal des puissants, il est dépassé par la révolution culturelle des années 1960 et décide de prendre sa retraite en 1971… pour changer d'avis trois ans plus tard. Sinatra enchaîne alors les concerts grandioses dans le monde entier.
L'homme, le chanteur, l'acteur
Riche en archives, vidéos personnelles inédites et témoignages, ce documentaire mêle la musique aux grands moments de la vie de Sinatra, sans cacher les faces sombres de l'artiste, notamment son tempérament colérique et son comportement vis-à-vis des femmes. Des extraits rares du concert de ses "premiers adieux", en 1971, constituent le fil rouge du film. L'occasion de (ré)écouter ses plus grands succès : "My Way", "Fly me to the Moon", "That's Life", "New York, New York", et bien d'autres encore.
---
Mon Avis... 10/10
L'un des meilleurs documentaires que j'ai vu consacré à un artiste. Composé uniquement d'archives (visuelles et sonores - avec des extraits d'interviews de Sinatra, de ses épouses (Nancy et Mia Farrow, ainsi que des extraits de la bio d'Ava Gardner), ses enfants, ses proches... mais aussi des coupures de presse) ce film ne relate que des faits (mis en exergue avec le contexte social, économique et politique de l'Amérique de l'époque). Un formidable documentaire qui nous apprend tout de la vie de Sinatra de sa naissance à sa mort (durée: près de 4 heures).
Marilyn est montrée à travers 2 photographies d'elle en compagnie de Sinatra pour illustrer d'une part, les nombreuses liaisons du crooner, puis dans un second temps, ses liens avec Kennedy.