17 août 2018
Un court extrait du film "Les Désaxés", sorti en 1961, a été retrouvé: on apercevrait Marilyn Monroe nue.
Une scène dénudée inédite de Marilyn a été retrouvée. Selon le Daily Mail, elle proviendrait du film Les Désaxés, réalisé par John Huston. Une révolution pour l'époque, puisque ce devait être la première scène nue d'une actrice américaine dans un long métrage. La scène sonore de 45 secondes avait été coupée par le metteur en scène au montage du film, mais gardée par le producteur Frank Taylor, dans son coffre-fort. Le réalisateur John Huston n'avait pas voulu garder cette scène, la trouvant inutile.
Après la mort de Taylor en 1999, les images de cette scène inédite on été conservées par son fils, Curtice Taylor.
Interrogé par Charles Casillo, un auteur et scénariste américain qui va sortir une biographie de Marilyn "The Private Life of a Public Icon" (août 2018), Curtice Taylor a ainsi expliqué : "La plupart du temps, les prises qui ne sont pas utilisées sont détruites. Mais mon père [Frank Taylor] a pensé qu'elles étaient si importantes et si révolutionnaires qu'il les a préservées".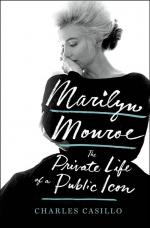 Dans la scène, on verrait donc Gable entièrement habillé, entrer dans la chambre. Marilyn est endormie. Il la caresse et l'embrasse dans le cou, tourne son visage et l'embrasse. Cette partie de la scène figure dans le montage final du film. Mais après que Gable quitte la pièce, Marilyn soulève le drap et enfile une blouse. Mais cela n'avait aucun sens, comme l'explique Casillo: "Pourquoi une femme assise dans son lit, avec personne dans la pièce, enlèverait le drap et enfilerait une blouse en même temps ?" Donc, finalement, elle ne fait que ôter le drap.
Casillo explique que la seule scène de nue connue de Marilyn Monroe dans un film reste celle tournée au bord de la piscine dans son dernier film resté inachevé "Something's Got to Give". Mais il ajoute que pour "The Misfits": "Si vous lisez le script… il ne contient absolument rien sur la nudité... Quand elle a tourné la scène, tout le monde était choqué sur le plateau."
---
source web
> article de dailymail (13 août 2018)
© All images are copyright and protected by their respective owners, assignees or others.
copyright text by GinieLand.