Le 27 février 1961, Marlon Brando envoie un télégramme à Marilyn Monroe, qui est hospitalisée à l'hôpital Presbytérien de New York.
Le 27 février
Marilyn Monroe
Clinique et institut neurologique
Hôpital Presbytérien
168e Broadway
New-York, NY
Chère Marilyn,
Les meilleures remises en question naissent des pires crises de l'existence. Cela nous arrive à tous à des degrés différents. Sois heureuse de le vivre et n'aie pas peur d'avoir peur. Cela ne peut que t'aider. Détends-toi et profites-en. Mes pensées t'accompagnent avec ma plus profonde affection.
Marlon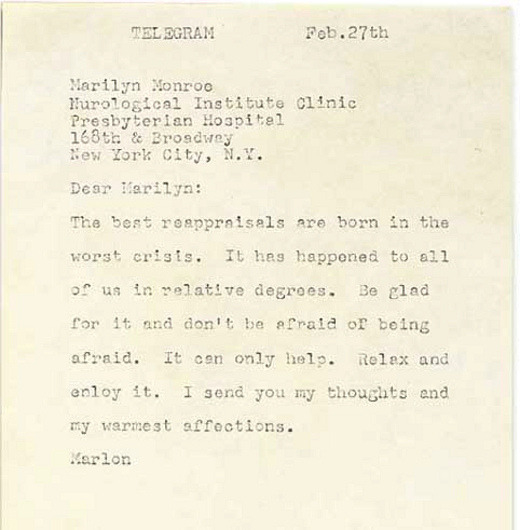 On February, 27, 1961, Marlon Brando send a telegram to Marilyn Monroe who is hospitalised at the Presbyterian hospital in New York.

TELEGRAM Feb.27th
Marilyn Monroe
Nurological Institute Clinic
Presbyterian Hospital
168th & Broadway
New York City, N.Y.
Dear Marilyn:
The best reappraisals are born in the worst crisis. It has happened to all of us in relative degrees. Be glad for it and don't be afraid of being afraid. It can only help. Relax and enjoy it. I send you my thoughts and my warmest affections.
Marlon
---
source: vente aux enchères de Christies du 30 juin 2005
---
© All images are copyright and protected by their respective owners, assignees or others.
copyright text by GinieLand.