16 octobre 2018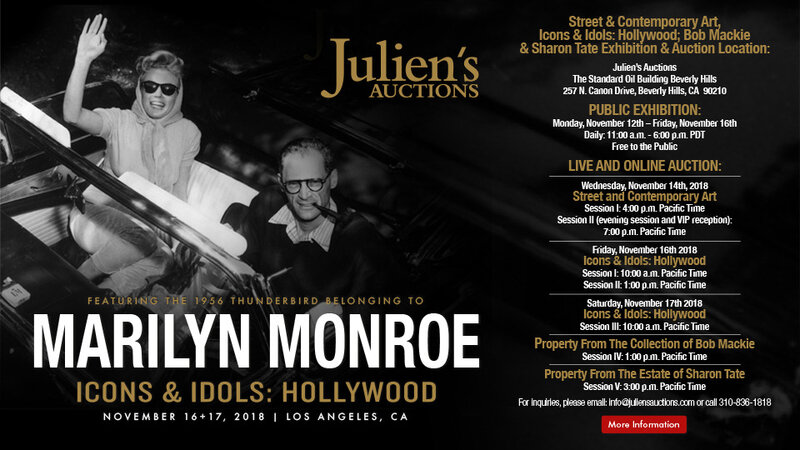 Les 16 et 17 novembre 2018, la vente aux enchères "Icons & Idols: Hollywood" organisée par Julien's Auction contiendra parmis ses lots la voiture Thunderbird que possédait Marilyn Monroe entre 1955 jusqu'en 1962.
La voiture est estimée entre 300 000 et 500 000 $

Sur le site de Julien's est relaté l'histoire de la voiture:
La Thunderbird décapotable de deux portes a été achetée le 20 décembre 1955 à Westport Motors (Westport- dans le Connecticut) sous le nom de sa société "Marilyn Monroe Productions" qu'elle avait créée avec son associé ami et photographe Milton Greene. Certains avancent le fait que la voiture seraitun cadeau de Noël de Greene.
Marilyn est photographiée dans cette voiture avec Arthur Miller en 1956 (série de photos de Paul Schutzer, en route pour le Connecticut) et 1957 (série de photos à New York par Sam Shaw).
On y apprend que Marilyn l'avait offerte, peu de temps avant sa mort survenue le 5 août 1962, à John Strasberg (le fils de Lee et Paula Strasberg, ses mentors de l'Actors Studio) qui fêtait ses 18 ans.
Marilyn: Lost Images from the Hollywood Photo Archive
Author: Boze Hadleigh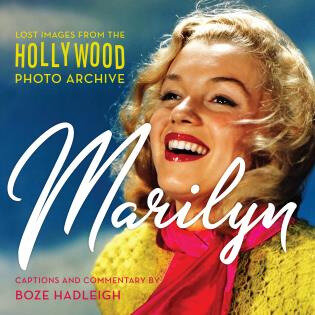 Date de sortie 01/10/2018
Relié 160 pages
Dimensions: 26,2 x 26,4 cm
Langue: anglais
Éditeur: The Lyons Press
ISBN-10: 9781493033430
ISBN-13: 978-1493033430
Prix éditeur: 23 €
Ou le commander ? sur amazon

Description: site éditeur LyonsPress :
From the beginning of her modeling career in 1944 as Norma Jeane Mortensen to her death as the voluptuous Hollywood icon in 1962, Marilyn Monroe posed for thousands of modeling and publicity photos, scores of which have long been forgotten or abandoned in neglected studio archives. This book collects 100 of the rarest of the rare, seldom previously seen images of her brief modeling career, early days on the 20th Century Fox lot, then in candids between scene takes and traveling as a public figure as the wife of Arthur Miller and Joe DiMaggio. For the Monroe fans who think that they have seen it all, this book will provide a new lens on a beloved American icon.

---
Vous avez le livre ?
Apportez votre critique, votre avis ou votre note (/10)
Do you have the book ?
Gives your opinion, review or note (/10)
Marilyn in Words and Pictures
Author: Richard Havers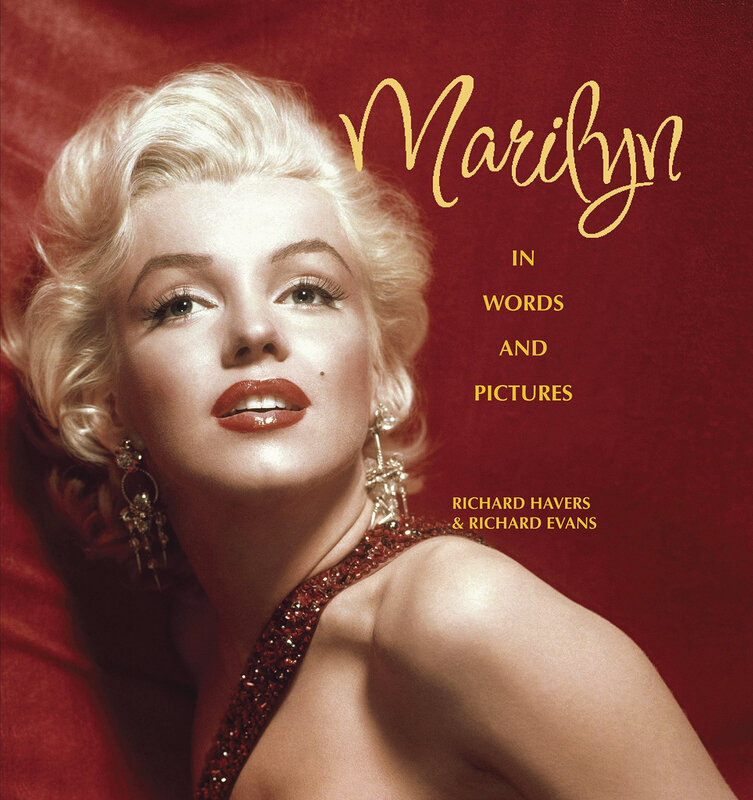 Date de sortie: 20 juillet 2017
Relié 192 pages
Dimensions: 26,9 x 26,9 x 2 cm
Langue: anglais
Éditeur: Chatwell Books Inc
ISBN-10: 0785835350
ISBN-13: 978-0785835356
Prix éditeur: 16,52 Euros
Ou le commander ? sur amazon

Présentation de l'éditeur: Marilyn Monroe always felt she lived her life on the outside, never really accepted by Hollywood. Never finding the kind of happiness with a man that she dreamed of, yet never behaving in a way that would allow a man to completely trust in her. She was a natural talent who constantly tried to be something different. Today her memory is cherished by millions of peoiple the world over. Ever since her death, at a comparatively young age, there have been countless conspiracy theories, theories that have been prevented some from remembering how she was a talented, yet fragile, actress. From "poor little orphan girl" to a worldwild celebrity, this is the story of how Norma Jeane became Marilyn Monroe.

> extraits

---
/!/ Il s'agirait de la reédition du livre Marilyn in Words, Pictures and Music (sorti en français sous le titre "Marilyn, une légende") en 2010 - et qui était accompagné d'un CD de 20 chansons.
---
Vous avez le livre ?
Apportez votre critique, votre avis ou votre note (/10)
Do you have the book ?
Gives your opinion, review or note (/10)