Gene Kelly se trouve à Paris où il s'occupe de la chorégraphie du ballet "Pas de Dieux" à l'Opéra de Paris (les représentations au public se déroulent en juillet 1960). Il prend l'avion le dimanche 15 mai 1960, traversant près de 9 650 km, pour venir aux studios de la 20th Century Fox et y tenir le petit rôle où il donne des cours de danse au personnage d'Yves Montand (Jean Marc Clément). Arrivé à 9 heures du matin, son travail sur le plateau va durer deux heures, et il reste jusque midi (se faisant photographier en coulisses); puis il reprend l'avion lundi après-midi pour retourner à Paris et reprendre les répétitions du ballet le mardi matin.
Gene Kelly n'a pas été rémunéré, c'est à la suite d'une promesse qu'il avait faite, qu'il est venu offrir gracieusement sa présence.

Gene Kelly is in Paris where he prepares the ballet "Pas de Dieux" for showing at the Paris Opera House (public performances take place in July 1960). He takes the plane on a Sunday, May, 15 travelling 6,000 miles, going to the 20th Century-Fox studios to do a cameo bit on which he gives dance classes to the character of Yves Montand (Jean Marc Clement). He arrives on the set at 9 a.m and works two hours on the studio, but stays until noon (being photographied); and Monday afternoon is back on a jet winging Parisward to resume his ballet chores Tuesday morning.
Gene Kelly wasn't paid; it was after a promise he had made that he came graciously to offer his presence.

---
Marilyn Monroe, Yves Montand et Gene Kelly en studio.
Marilyn Monroe, Yves Montand and Gene Kelly in studio photoshoot.
---
> article de presse de Hedda Hopper du 19/05/1960
press article from Hedda Hopper - 1960, May, 19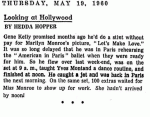 ---
sources:
gettyimages.fr
forum ES (article de presse)
---
© All images are copyright and protected by their respective owners, assignees or others.
copyright text by GinieLand.