En décembre 1947, Marilyn Monroe emménage dans une petite maison au 4215 Rowland Street, à Burbank, en Californie.
In December, 1947, Marilyn Monroe moves into a small house at 4215 Rowland Street, in Burbank, California.
Elle avait offert ce cliché à son petit ami de l'époque Bill Pursel
She had offered this snapshot to her boyfriend at the time Bill Pursel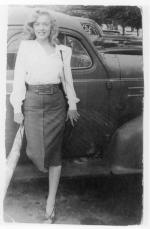 ---
> article: Marilyn in Burbank
---
© All images are copyright and protected by their respective owners, assignees or others.
copyright text by GinieLand.