Le 1er juin 1960, une fête d'anniversaire est organisée pour les 34 ans de Marilyn Monroe sur le plateau de tournage du film "Le Milliardaire". Le réalisateur George Cukor découpe les parts du gâteau apporté et sur lequel est disposé deux figurines représentant Yves Montand et Marilyn Monroe. La petite réception est décoré à l'image du film: plusieurs petites figurines sont disposées sur la table, représentant un pianiste jouant au piano, une chanteuse, une danseuse et Elvis Presley.
On June, 1st, 1960, a birthday's party is held to celebrate the 34 years of Marilyn Monroe on the set of the movie "Let's Make Love". The director George Cukor cuts out the cake on which there are two figurines representing Yves Montand and Marilyn Monroe. on the honor of the 57 years of the actor Wilfrid Hyde-White on the set of "Let's Make Love". The small reception is decorated in the image of the film: several small figures are placed on the table, representing a pianist playing piano, a singer, a dancer and Elvis Presley.

---
Yves Montand, Marilyn Monroe, Frankie Vaughan, George Cukor
---
Un collier de perles de rocaille est offert à Marilyn
de la part de toute l'équipe du film
A seed-pearl necklace is offered to Marilyn
from all the cast and crew of the film
---
---
Marilyn Monroe et Gil, l'homme à tout faire de l'équipe
Marilyn and Gil, the handyman of the crew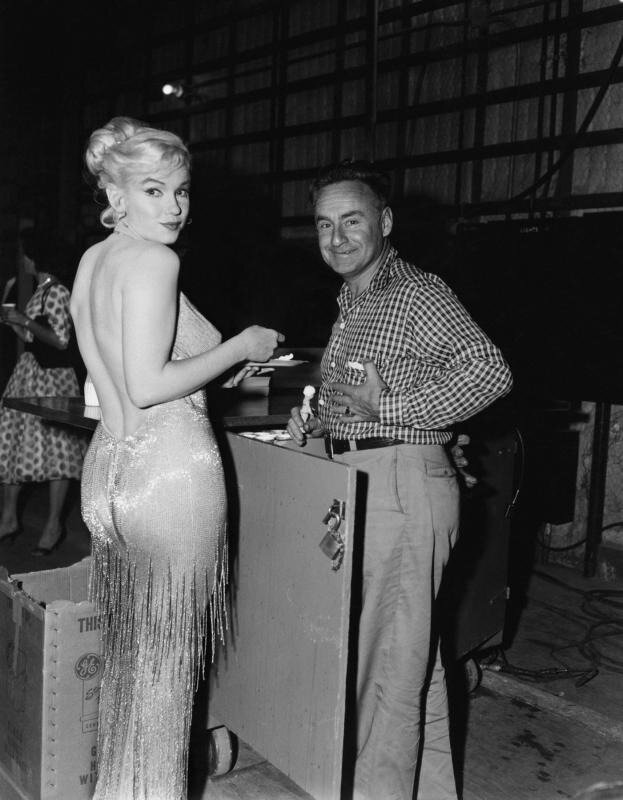 ---
Marilyn Monroe & Sidney Skolsky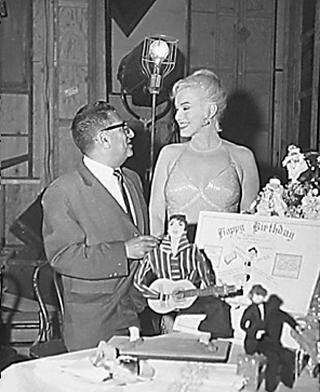 ---
- Des petites figurines à l'effigie de Marilyn sont distribuées

Small figurines representing are offered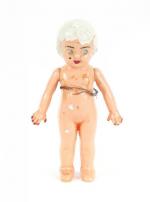 ---
carte d'anniversaire signée par toute l'équipe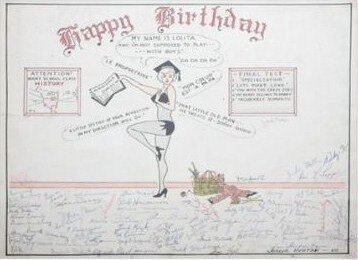 Birthday card signed by the crew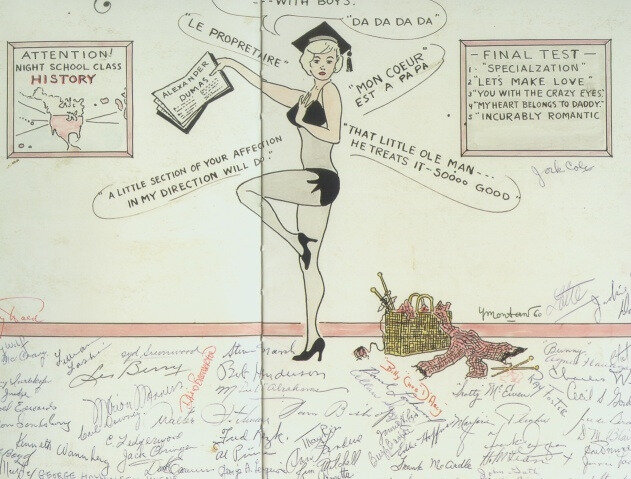 ---
La soirée continue chez l'attaché de presse de Marilyn, Rupert Allan, qui vit à Beverly Hills.
The party continues the evening at Marilyn's press secretary, Rupert Allan, who lives in Beverly Hills.
- de la collection de James Haspiel et Frieda Hull, des fans
-from the personal collection of James Haspiel and Frieda Hull, fans
---
© All images are copyright and protected by their respective owners, assignees or others.
copyright text by GinieLand.