Les clins d'oeils à Marilyn au Cinéma
---
- Under the Silver Lake -

Le film "Under the Silver Lake" contient bon nombre de références à Marilyn Monroe et à l'âge d'or du cinéma Hollywoodien des années 40 à 50. Voici une compilation des références à Marilyn dans le film:
> Sarah, la voisine de Sam (le héros du film), a un petit chien bichon, de même race que celui que possédait Marilyn (Maf):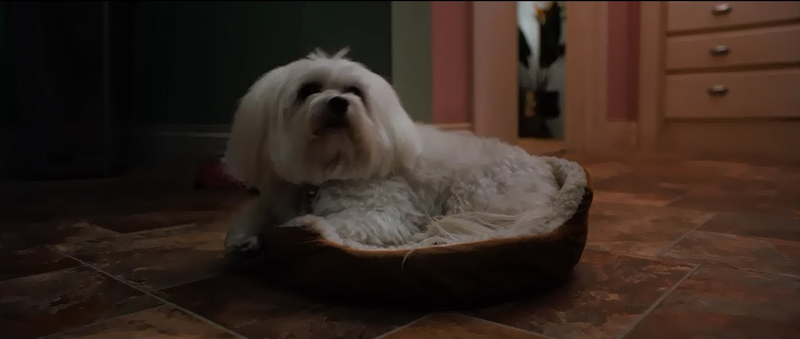 > Sarah invite Sam à venir prendre un verre chez elle; puis ils regardent le film How To Marry A Millionaire (Comment épouser un millionnaire), allongés côte à côte dans le lit. On découvre trois poupées disposées devant la télévision, qui sont les répliques des personnages tenus par Marilyn, Lauren Bacall et Betty Grable dans le film. Il y a aussi un poster du film accroché au mur:
> Sam se rend compte que l'appartement de Sarah est entièrement vide. Il s'introduit par effraction dans l'appartement et découvre une boîte à chaussure restée dans le placard. Il l'ouvre et découvre plusieurs objets à l'intérieur, dont les trois poupées:
> Sam est dans son canapé, et il entend du bruit à l'extérieur. Il s'avance sur son balcon et découvre Sarah dans la piscine de la résidence, en train de nager nue et l'invitant à la rejoindre. Cette scène est une réplique de celle tournée par Marilyn dans son dernier film Something's Got to Give:
> Chez l'écrivain des fanzines qu'adorent lire Sam, dans la chambre secrète de l'écrivain, les murs sont ornés de coupures de presse; on y découvre la Une du Daily News paru le 6 août 1962, annoncant le décès de Marilyn: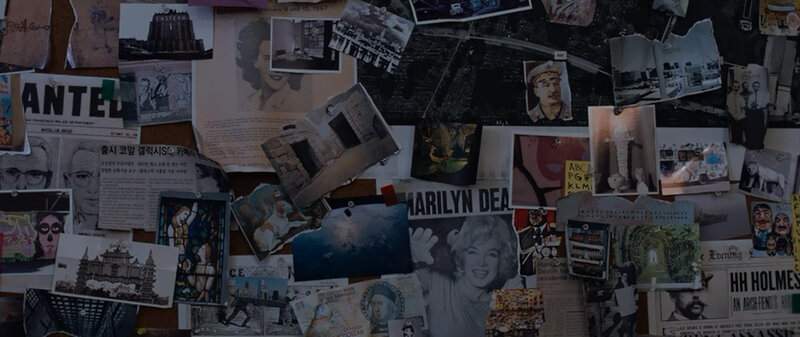 > Dans l'appartement de Sam, sur le mur derrière sa télévision, figure le poster du film Creature of the Black Lagoon, un film sorti en 1954, que l'on retrouve dans le film The Seven Year Itch (Sept ans de réflexion) avec Marilyn (c'est ce film qu'elle va voir au cinéma avec Richard Sherman alias Tom Ewell):
> Sur le frigo de Sam, plusieurs photographies sont disposées: la photo de Sarah qu'il a volé dans la boîte à chaussure après qu'elle ait disparu, mais aussi des photos de Marilyn extraites du film Something's Got to Give:
---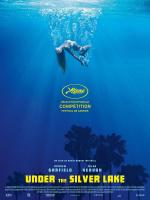 Film: Under the Silver Lake
Année: 2018
Pays: USA
Réalisateur: David Robert Michell
Scénario: David Robert Michell
Genre: thriller fantastique, noir
Distribution: Andrew Garfield (Sam), Riley Keough (Sarah), Jimmi Simpson (Allen, le copain de Sam), Topher Grace (l'homme du bar, ami de Sam), Zosia Mamet (Troy), Riki Lindhome (la copine actrice de Sam), Patrick Fishler (l'écrivain auteur des fanzines) ...
L'histoire: À Los Angeles, Sam, 33 ans, sans emploi, rêve de célébrité. Lorsque Sarah, une jeune et énigmatique voisine, se volatilise brusquement sans laisser de traces, Sam se lance à sa recherche et entreprend alors une enquête obsessionnelle et surréaliste à travers la ville. Elle le fera plonger jusque dans les profondeurs les plus ténébreuses de la Cité des Anges, où il devra élucider disparitions et meurtres mystérieux sur fond de scandales et de conspirations.
Pour info: Riley Keough est la fille de Lisa Marie Presley, et donc la petite fille du King Elvis Presley. Naturellement brune, elle a les cheveux blonds dans le film.
---
© All images are copyright and protected by their respective owners, assignees or others.
copyright text by GinieLand.