08 février 2020
Making Their Voices Heard
The Inspiring Friendship
of Ella Fitzgerald and Marilyn Monroe
Author: Vivian Kirkfield
Illustrations: Alleanna Harris

Publication Date: January, 28, 2020
Relié 40 pages
Language English
Editeur: little bee books
Dimensions: 21,6 x 1 x 27,9 cm
Prix éditeur: 18 €
ISBN-10: 1499809158
ISBN-13: 978-1499809152
Ou le commander ? sur amazon et sur barnesandnoble

Description: Ella Fitzgerald and Marilyn Monroe were mutual supporters according to this historical picture book.Ella and Marilyn were different on the outside, but both were "full of hopes and dreams" while their circumstances were humble. After they got their big breaks, Ella in jazz singing and Marilyn in acting, each struggled to reach her full potential. In the United States, Ella faced barriers due to racism and places that only hired "glamorous" stars. Marilyn got plenty of roles, but as a woman in an industry run by men, she lacked control over her career. When she got a script with a big singing role, she listened to her favorite singer, Ella, to practice for it. The movie was a hit, and Marilyn was finally able to get her voice heard as a professional. She went to thank Ella in person at one of Ella's shows, and the two talked into the night. When Marilyn learned of the barriers Ella faced, she used her star status to negotiate a performance for Ella at a popular nightclub. While Marilyn is shown attaining fame first, this warm story emphasizes Ella's role in her success, thus avoiding the trap of the white-savior narrative. Many white artists have benefited from imitating black ones; this is the rare narrative to acknowledge that. Harris' illustrations are stiff but engaging; saturated with color, they capture the iconic looks of the two stars. A good volume to include in a larger conversation about friendship, allyship, and social justice.(author's note, sources) (Picture book/biography. 5-10), Kirkus Reviews
African American singer Ella Fitzgerald and blonde movie star Marilyn Monroe shared their need to be heard and helped each other along the way. Kirkfield describes the obstacles these women faced: Fitzgerald battled racism, and Monroe was underestimated due to her gender. Monroe taught herself to become a better singer by listening to recordings of Fitzgerald's songs and achieved star status for her role in the 1953 film Gentlemen Prefer Blondes. In turn, she convinced the owner of a formerly whites-only Hollywood night club to hire Fitzgerald, paving the way for the jazz singer's more universal recognition. The relatively simple text is supported by an author's note and extensive sources, both primary (videos and interviews) and secondary (books and online resources). Kirkfield makes clear that both women brought deep personal feelings to their performances. Harris's digital illustrations are varied, from vignettes to full and double-page spreads. One striking spread echoed on the title page and cover shows the pair still engaged in conversation in an otherwise empty and darkened nightclub.
---
Vous avez le livre ? Do you have the book ?
Apportez votre critique, votre avis ou votre note
Give your opinion, and a note (/10)
Famous Friends, True Tales of Friendship
Ella Fitzgerald and Marilyn Monroe
Author: Tamra B Orr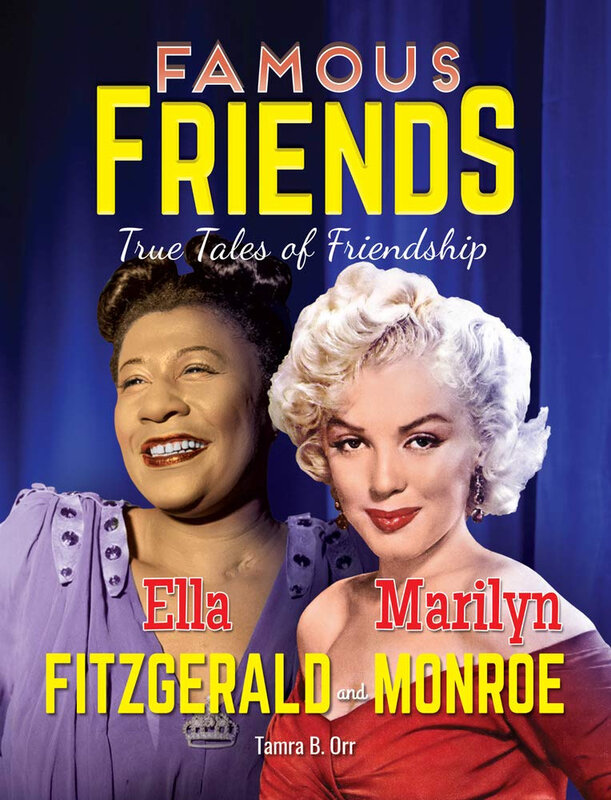 Publication Date: October, 15, 2019
Relié 48 pages
Language English
Editeur: Purple Toad Publishing
Dimensions: 19 x 1,3 x 24,1 cm
Prix éditeur: 28,50 €
ISBN-10: 1624695086
ISBN-13: 978-1624695087
Ou le commander ? sur amazon
Description: She was the rising star of the jazz world, with a voice that could knock down any doors, save for those still locked behind the remains of Jim Crow laws. But help can come from the most unlikely places, including one of Ella Fitzgerald's greatest fans, film legend Marilyn Monroe, who talked many theater owners to give the singer a chance. Thanks to the talent of Ella Fitzgerald, and with the help of Marilyn Monroe, we all can now witness their talents, as well as the power of friendship and what it can accomplish.
---
Vous avez le livre ? Do you have the book ?
Apportez votre critique, votre avis ou votre note
Give your opinion, and a note (/10)