En 1985, Jerry Hall a 26 ans et elle est une mannequin internationalement reconnue. Quand elle pose sous l'objectif d'Annie Leibovitz, la célèbre photographe attitrée du magazine Vanity Fair, la mannequin et la photographe semblent s'être inspirées de l'image de Marilyn Monroe en reprenant -plus ou moins à l'identique- des poses célèbres de l'icône. Posant notamment nue dans une baignoire et dans un lit, les photos seront aussi publiées dans le magazine Playboy.
In 1985, Jerry Hall is 26 years old and she is an internationally famous model. When she poses under the lens of Annie Leibovitz, the famous photographer appointed to the magazine Vanity Fair, the model and the photographer seem to have been inspired by the image of Marilyn Monroe by taking - more or less identically - famous icon poses. Posing in particular nude in a bathtub and in a bed, the photos will also be published in the magazine Playboy.
---
- Vanity Fair, US, 03/1985 -
- Playboy, France, 09/1985 -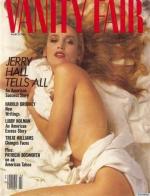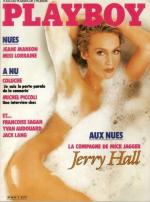 ---
La Séance dans le lit
- The Bed Sitting -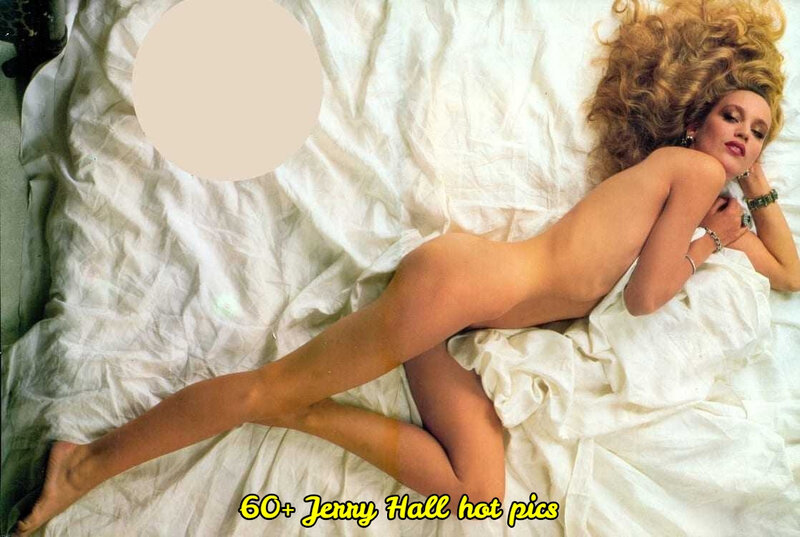 Marilyn a posé à plusieurs reprises nue dans des draps blancs:
pour Eve Arnold en 1960, pour Bert Stern en 1962
Mais ces poses de Jerry Hall semblent être un mix entre deux autres séances :
Marilyn has posed nude on white sheets several times:
for Eve Arnold in 1960, for Bert Stern in 1962
But these Jerry Hall poses seem to be a mix between two other sessions:
- La pose de profil et le placement des jambes sont identiques à
celle prise par Marilyn par Tom Kelley en 1949:
- Profile pose and leg placement are identical to
the one taken by Marilyn by Tom Kelley in 1949: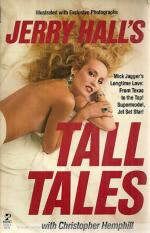 - Le cadrage, le lit aux draps blancs ressemblent à
- The framing, the bed with white sheets look like


la séance de Marilyn d'avec Douglas Kirkland en 1961:
the sitting of Marilyn with Douglas Kirkland in 1961: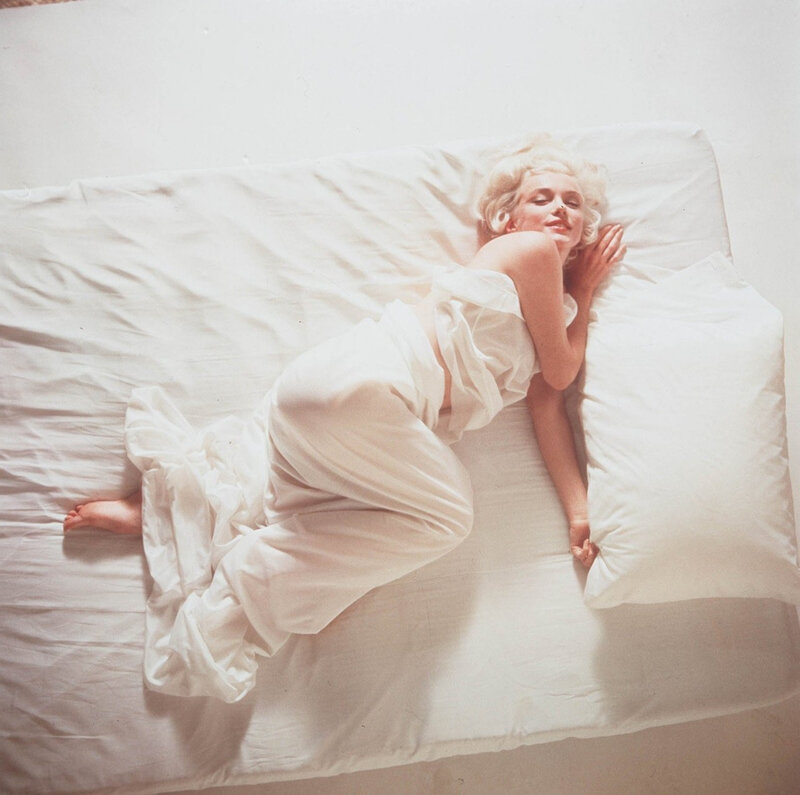 ---
La Séance dans la baignoire
- The Bathtub Sitting -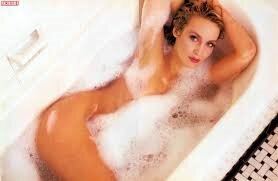 Nue dans une baignoire: on pense à la scène
du film "Sept ans de réflexion" en 1954:
Naked in a bathtub: we think of the scene from the movie
"The Seven Year Itch" in 1954: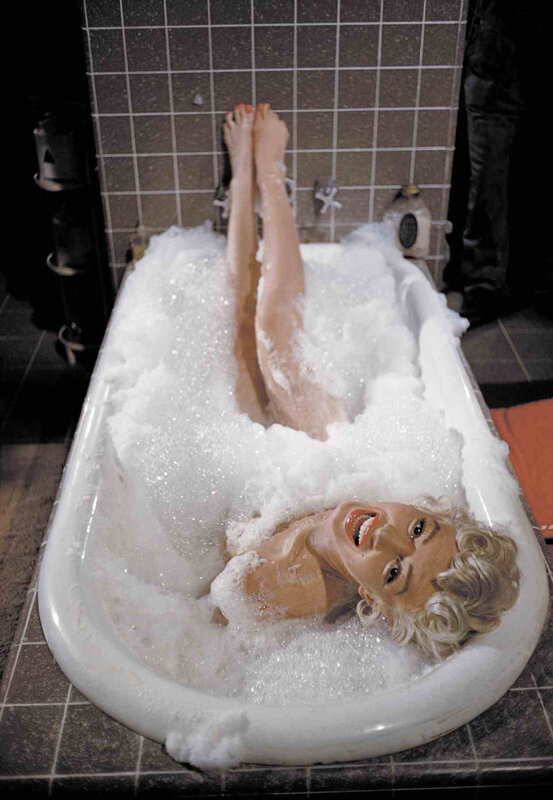 ---
La Séance Pin-Up Baby Doll
- The Pin-Up Baby Doll Sitting -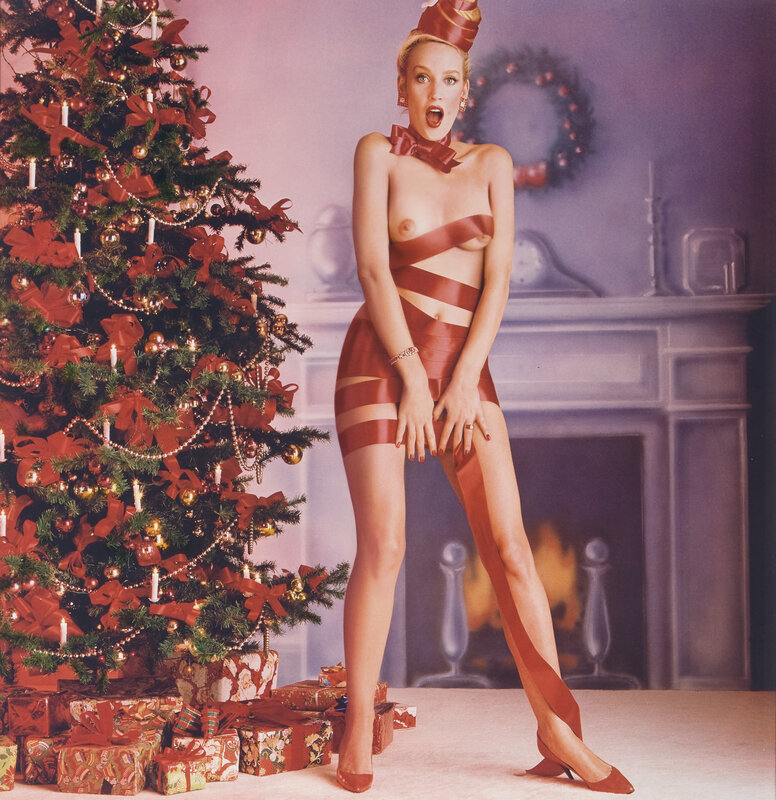 Ces deux photos de Jerry Hall en pin-up
These two photos of Jerry Hall as a pin-up
semblent s'inspirer de celle de Marilyn en Pin-Up de Noël :
seem to be inspired by that one of Marilyn as a Christmas Pin-Up: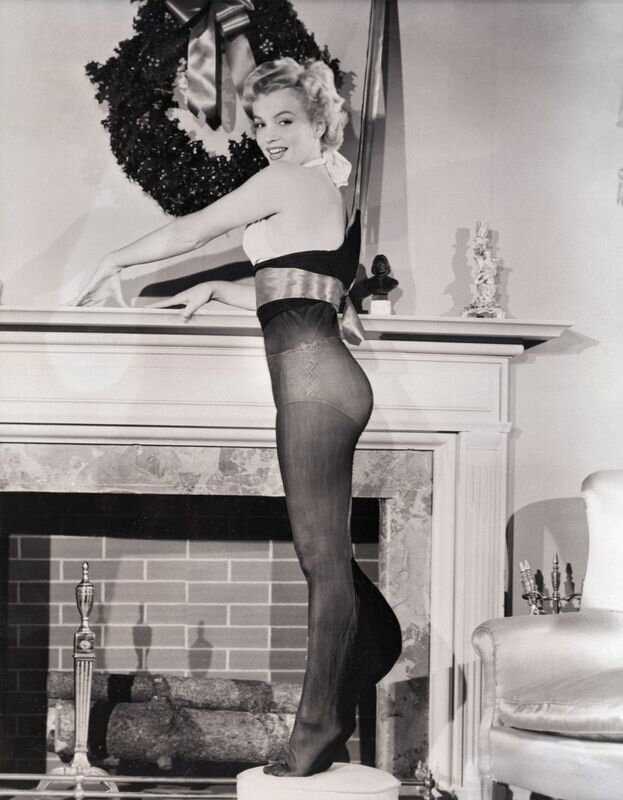 ---
La Séance dans le foin
- In the Hay Sitting -

La paysanne cow-girl allongée dans le foin
The peasant cowgirl lying in the hay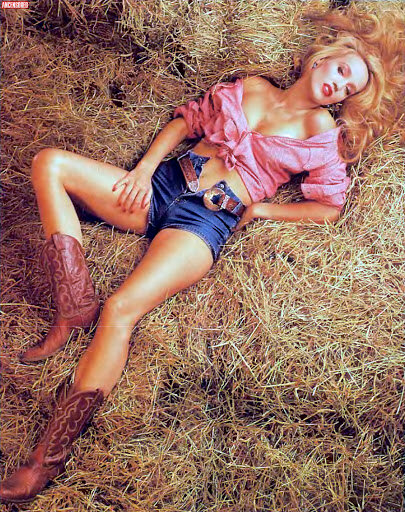 Marilyn a aussi posé en paysanne de ranch
en 1945 sous l'objectif de De Dienes et de Potter Hueth:
Marilyn also posed as a ranch peasant in 1945
in sittings with photographers De Dienes and Potter Hueth: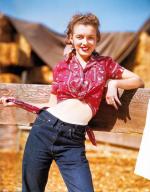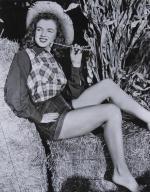 ---
© All images are copyright and protected by their respective owners, assignees or others.
copyright text by GinieLand.