28 août 2020
Autographe de Marilyn Monroe pour un admirateur
lors de son séjour en Jamaïque en janvier 1957
Marilyn Monroe signature for a fan
whan she was in Jamaica in january, 1957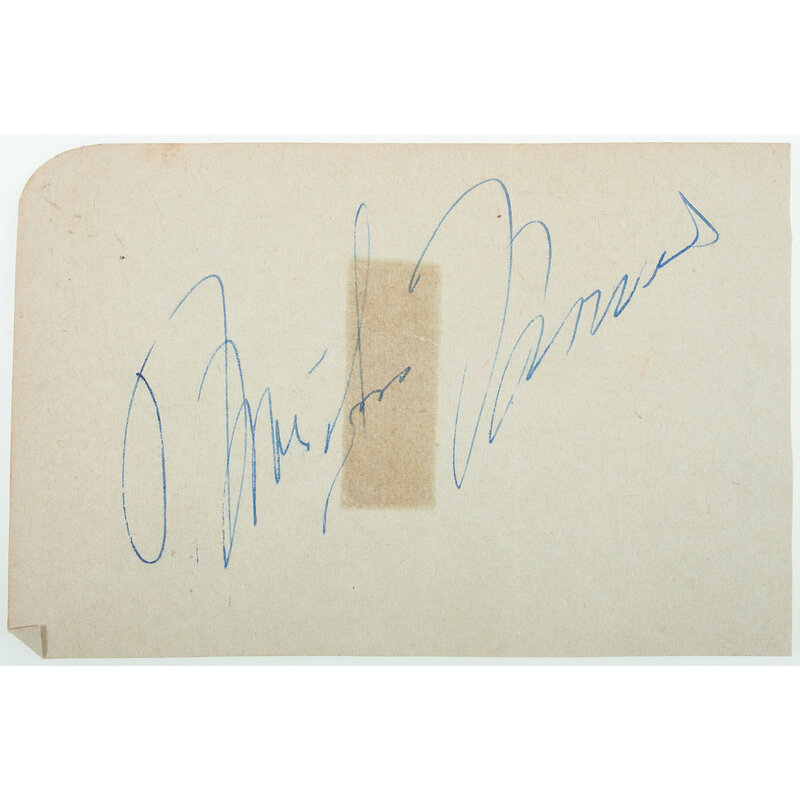 ---
- photographie d'illustration -
- illustration photography -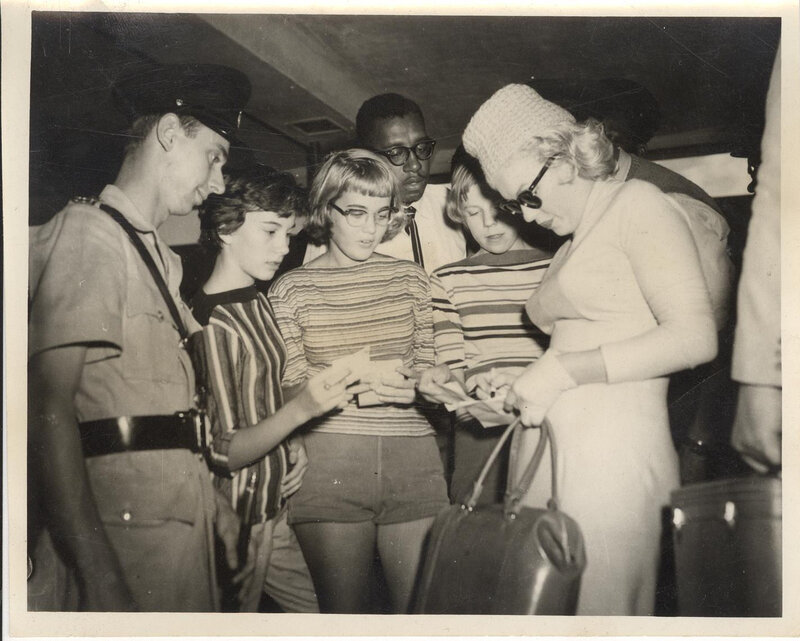 Marilyn signant des autographes à son arrivée
en Jamaïque, aéroport de Kingston, le 03/01/1957
Marilyn signing autographs on her arrival
in Jamaica, Kingston airport, on 01/03/1957
(source: en vente sur Cowan's)
---
© All images are copyright and protected by their respective owners, assignees or others.
copyright text by GinieLand.
Aviones en mitad del siglo XX, Marilyn Monroe y el barrigazo del Deportes Tolima
23/08/2020 | en ligne sur tolimaonline.com
traduction de l'article

Article de German Nino
Il y a quelques jours, mon amie Diana Ucrós, enseignante et bonne photographe, a publié une photo sur son mur Facebook qui a retenu mon attention, car je ne savais pas ou je l'avais vue publiée sur Internet. C'est une photo de la belle actrice Marilyn Monroe, posant devant un avion Avianca, que je partagerai avec vous.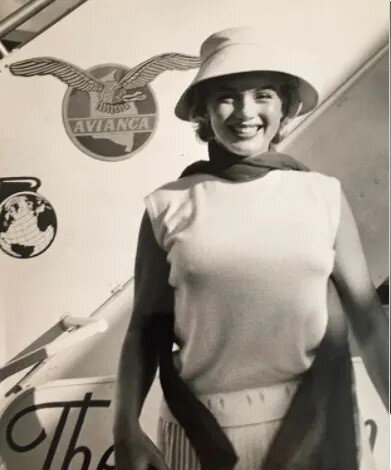 - Marilyn Monroe -
Photo originale appartenant à la famille de Diana Ucrós
Avec les données publiées par Diana, je me suis mis à enquêter sur l'histoire de la photo, ce qui est très intéressant. La photo a été prise le jeudi 3 janvier 1957 sur la piste de l'aéroport de Montego Bay, en Jamaïque. L'actrice avait voyagé de New York à Montego Bay sur le vol Avianca 670, dont la totalité du trajet était New York - Montego Bay - Barranquilla - Bogotá. Précisant que je suis économiste et que je ne connais pas grand chose aux avions, il s'agissait d'un Lockheed L-1049E Super Constellation, qu'Avianca utilisait sur ses vols vers les États-Unis et la Jamaïque.

Marilyn voyageait en compagnie de son mari, l'écrivain et dramaturge Arthur Miller, et d'un autre couple, le cousin d'Arthur et sa femme. Marilyn et Arthur s'étaient mariés en juin 1956, mais leur travail les avait empêchés de partir en lune de miel. Marilyn avait tourné un film avec l'acteur Laurence Olivier, "Le Prince et la Danseuse" dans la seconde moitié de 1956, tandis que Miller travaillait sur une nouvelle pièce. Le temps glacial de New York début janvier les a décider de s'envoler soudainement pour la Jamaïque, trouvant que la meilleure alternative était le vol d'une petite compagnie aérienne colombienne, qui ouvrait la route vers la Jamaïque depuis 1956, avec ces avions Super Constellation. .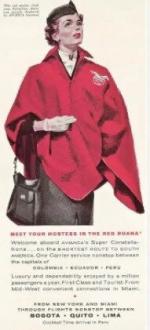 Quelques mois avant le vol des Miller vers la Jamaïque, Avianca était entré dans l'histoire avec un autre de leurs avions. Le 18 novembre 1956, un Douglas DC-4, le HK-136, a quitté l'aéroport de Techo à Bogotá avec la délégation colombienne pour les Jeux Olympiques de Melbourne, lors d'un voyage parrainé par Avianca. C'était la quatrième participation de la Colombie aux J.O. et 32 ​​athlètes étaient dans l'avion. Le voyage a duré 61 heures et l'itinéraire était Bogotá - Barranquilla - Brownsville (USA) - San Francisco - Honolulu, Hawaï - Canton (Chine) - Fidji - Melbourne. L'avion dans lequel ce vol a été effectué se trouve dans le parc Jaime Duque (qui apparaît dans cette chronique), au nord de Bogotá. Marilyn et Arthur ont dû en entendre parler pour décider de voyager avec Avianca, où leurs hôtesses se sont également démarquées, qui lançait au cours de cette décennie l'uniforme rouge, si caractéristique de la compagnie aérienne nationale colombienne.
Ces avions Super Constellation, surnommés Connie aux États-Unis, étaient mieux connus en Colombie sous le nom de «Super Costalazo», en raison de leurs fréquents accidents et retards dus à des pannes techniques. Heureusement, dans le cas de Marilyn Monroe, il n'y a eu aucun problème et les époux sont arrivés à Montego Bay sans incident, posant devant l'avion.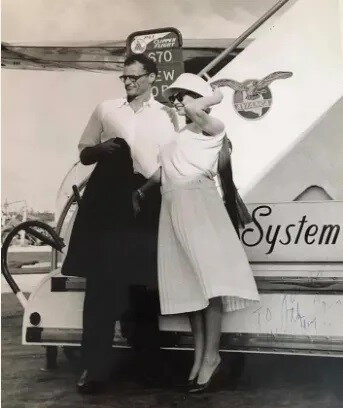 - Arthur Miller et Marilyn Monroe -
Photos originales appartenant à la famille de Diana Ucrós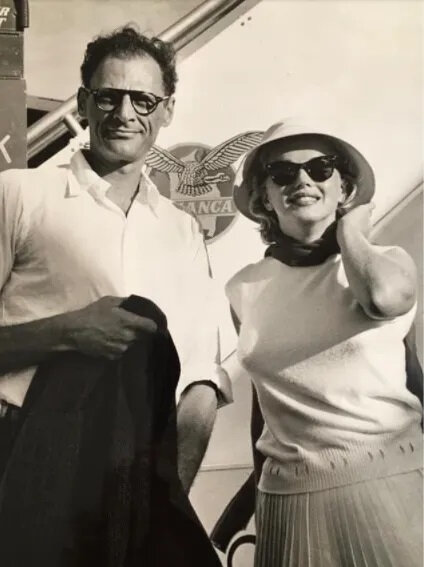 Les époux Miller ont passé une bonne lune de miel au Jamaica Inn, qui annonce toujours en slogan publicitaire la «lune de miel à la Marilyn Monroe». Il y a plusieurs photos du couple cette semaine-là. Je partage l'un des plus beaux.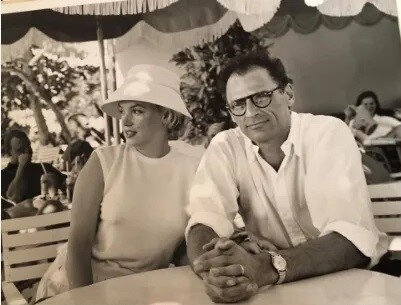 CONTEXTE HISTORIQUE

Les 3 photographies de Marilyn Monroe en janvier 1957 à côté de l'avion Super Constellation d'Avianca n'avaient jamais été diffusées publiquement. Elles appartenaient à M. Juan Ucrós Pardo, cadre d'Avianca, qui les a gardés jusqu'à sa mort. Aujourd'hui, elles appartiennent à sa fille Diana Ucrós, une amie avec qui nous partageons divers intérêts, dont la photographie. Merci à Diana de m'avoir permis d'utiliser ses photos dans cette histoire.
German Nino.
---
© All images are copyright and protected by their respective owners, assignees or others.