Everlasting Star - site web - en anglais


cliquez sur la bannière / Click on banner

L'un des plus anciens sites consacré à Marilyn Monroe: vivant et une référence dans les années 2000s, contenant à l'époque des photos scannées en haute qualité, il ne contient désormais qu'une courte biographie et filmographie, quelques photographies d'André Dedienes et des montages créatifs (wallpapers et collages). La page d'acceuil "news and updates" renvoie au blog d'actualité annexe au site.
One of the oldest websites dedicated to Marilyn Monroe: alive and a reference in the decades 2000s, containing at the era high quality scanned photos, it now contains only a short biography and filmography, some photographs of Andre Dedienes and creative montages (wallpapers and collages). The "news and updates" home page links to the blog of news linked to the website.
---
Everlasting Star Community - Forum - en anglais


cliquez sur la bannière / Click on banner
LE forum communautaire réunissant des fans de Marilyn dans le monde entier depuis 2002, tenu par Mels secondée par d'autres passionnés qui mènent de réelles investigations sur la vie de Marilyn. Il s'agit de la référence ultime pour tout fan de la star. Pour y participer, il faut se créer un compte.
THE community forum bringing together Marilyn fans all over the world since 2002, held by Mels assisted by other passionate people who lead real investigations into Marilyn's life. This is the ultimate reference for any fan of the star. To participate, you must create an account.
---
ES Updates - Blog - en anglais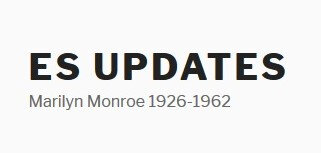 cliquez sur la bannière / Click on banner
Le blog qui contient tout sur l'actualité de Marilyn Monroe à travers le monde en référencant les articles de la presse web et papier, les expositions, ventes aux enchères, interviews ou propos de célébrités sur Marilyn... c'est à dire tout événement lié à Marilyn Monroe, actualisé quasi de manière quotidienne. Ce blog prouve à quel point Marilyn est encore vivante à travers la culture de notre monde de nos jours. Il contient un onglet de recherche. Actif depuis 2010, le blog a transféré son activité vers un nouveau blog "Marilyn Report" en juin 2020.
The blog which contains everything about Marilyn Monroe news around the world by referencing articles from the web and print press, exhibitions, auctions, interviews or celebrity comments about Marilyn ... all event related to Marilyn Monroe, updated almost daily. This blog proves how much Marilyn is still alive through the culture of our world today. It contains a search tab. Active since 2010, the blog transferred its activity to a new blog "Marilyn Report" in June 2020.
---
The Marilyn Report - Blog - en anglais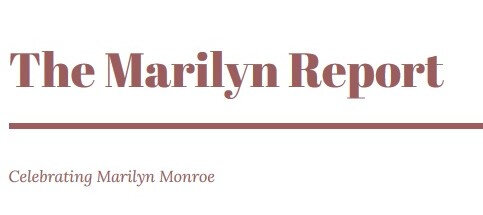 cliquez sur la bannière / Click on banner
Blog qui prend le relais d'ES Updates depuis juin 2020, faisant ainsi peau neuve en chageant de forme (une naviguation sur le principe d'instagram), mais dont le fond reste identique à son prédecesseur: le blog couvre toute l'actualité internationale sur Marilyn Monroe. Avec toujours un onglet de recherches et des posts taggés.
Blog which succeeds ES Updates since June 2020, thus getting a new look by changing form (a navigation on the principle of Instagram), but whose content remains identical to its predecessor: the blog covers all the international news about Marilyn Monroe. Always with a search tab and tagged posts.