Robe de cocktail en satin noir
Black Satin Cocktail Dress

Robe conçue par la créatrice américaine Ceil Chapman, l'une des créatrices préférées de Marilyn Monroe.
Robe en soie noire sans manches, au décolleté de dentelle noire à imprimé floral; robe longue qui retombe en ligne droite et atteint les tibias, avec une doublure en dentelle au-dessus du tissu en satin; et ornée d'une petite traîne frontale en dentelle. Dans le dos: fermeture à glissière et quatorze boutons-pression.
Il s'agit d'une tenue de la garde-robe personnelle de Marilyn Monroe qui l'a porté à une seule sortie en public.
Dress designed by fashion American designer Ceil Chapman, one of Marilyn Monroe's favorite designers.
Sleeveless black silk dress with black lace floral print at the neckline; long dress that falls in a straight line and reaches the shins, with a lace lining above the satin fabric; and decorated with a small lace front train. In the back: zipper and fourteen snap.
This is an outfit from Marilyn Monroe's personal wardrobe that she has worn it only once in public.
---
Marilyn apparaît publiquement avec la robe le 09 juillet 1958 pour la fête organisée chez le compositeur Jimmy McHugh. Marilyn arbore un style naturel: cheveux coiffés-décoiffés, aucun bijoux, excepté une grosse broche attachée à la robe, au niveau de la taille sur le côté gauche. Elle tient des gants blancs dans ses mains et porte des chaussures noires à talons.

Marilyn appears publicly with the dress on July 09, 1958 for the party organized at the house of the composer Jimmy McHugh. Marilyn wears a natural style: combed-disheveled hair, no jewelry, except for a big brooch attached to the dress, at the waist on the left side. She is holding white gloves in her hands and wearing black heeled shoes.

---
L'après Marilyn
After Marilyn

La robe noire vendue aux enchères
The black dress sold in auction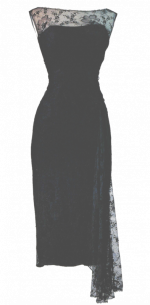 - par Christies (vente du 28/10/1999 à New York)
Page web: "The Personal Property of Marilyn Monroe" - Lot 208
Estimée entre et 3 000 et 5 000 Dollars,
la robe fut vendue 25 300 Dollars
- par Christies (vente du 24/06/2004)
Page web: "Entertainment Memorabilia " - Lot 1
Estimée entre et 20 000 et 25 000 Dollars,
la robe fut vendue 19 120 Dollars
- par Julien's (vente du 04/06/2005)
Page web: "Property From the Estate of Marilyn Monroe " - Lot 21
Estimée entre et 15 000 et 20 000 Dollars,
la robe fut vendue 18 000 Dollars
DESCRIPTION: A sleeveless black silk dress overlaid with floral-print black lace and adorned with a small frontal train of extra lace; back zipper plus a fourteen snap, back closure; interior label reads: "Ceil Chapman," (one of MM's favorite dress designers) zipper broken.
- Christies 1999 / Christies 2004 / Julien's 2005 -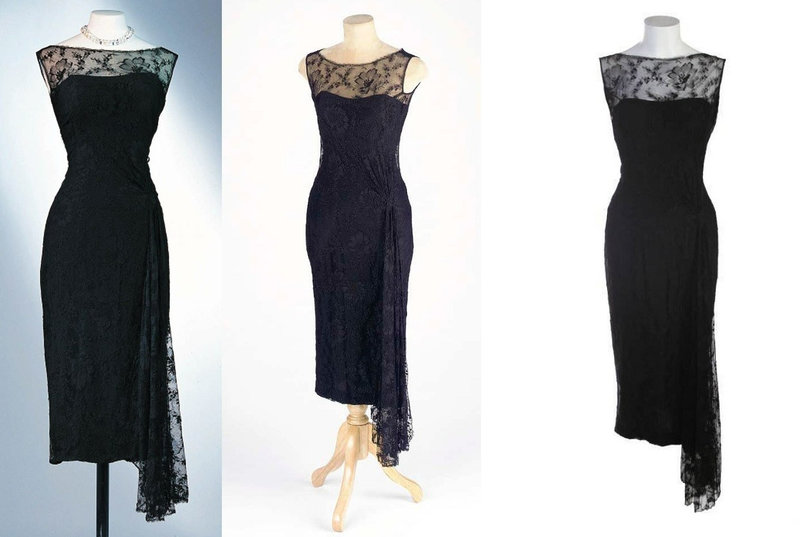 ---
Même style
Same style

Robe noire au décolleté transparent de Renié
que Marilyn porte plusieurs fois en 1950
Black dress with transparent neckline by Renié
that Marilyn wears several times in 1950

- Robe de cocktail en satin noir de Renié -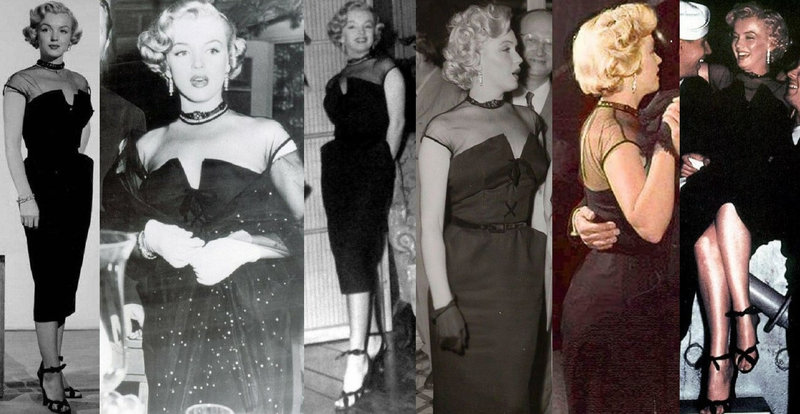 ---
> sources
Le catalogue "The Personal Property of Marilyn Monroe", Christies, 1999
Le livre Marilyn in Fashion
---
All photos are copyright and protected by their respective owners.
Copyright text by GinieLand.