Le magazine américain Playboy de juillet 1990 consacrait un article et publiait des photographies de la mannequin et playmate Rhonda Ridley-Scott en Marilyn Monroe. Rhonda posait souvent pour l'artiste Olivia De Berardinis, une peintre spécialisée dans la reproduction de pin-up (elle a notamment beaucoup représenté Bettie Page) et dont les pin-ups dessinées étaient notamment destinées à Playboy. Dans cet article, on découvre Rhonda sur le tournage d'un petit film tourné par Joel Beren, en coulisses de séances avec Olivia, où elle s'est mise dans la peau de Marilyn -déclarant que pour elle "c'est facile, je suis exactement comme elle", en copiant l'une de ses dernières séances à la plage en gilet mexicain. Rhonda déclarait alors être la réincarnation de Marilyn lors de la séance: "Quand je l'interprète, je suis Marilyn."
The American magazine Playboy of July 1990 devoted an article and published photographs of the model and playmate Rhonda Ridley-Scott as Marilyn Monroe. Rhonda often posed for the artist Olivia De Berardinis, a painter specializing in the reproduction of pin-ups (she has represented Bettie Page a lot) and whose drawn pin-ups were particularly published in Playboy. In this article, we discover Rhonda on the set of a small film shot by Joel Beren, behind the scenes of sessions with Olivia, where she imitates Marilyn - declaring that for her "it's easy, I'm just like her", copying one of her last beach sessions in a Mexican jacket. Rhonda then declared to be the reincarnation of Marilyn during the session: "When I do her, I am Marilyn."
---
Inspiration
La séance de Marilyn par George Barris
The Marilyn's sitting by George Barris

- 13/07/1962 Santa Monica Beach par Barris 3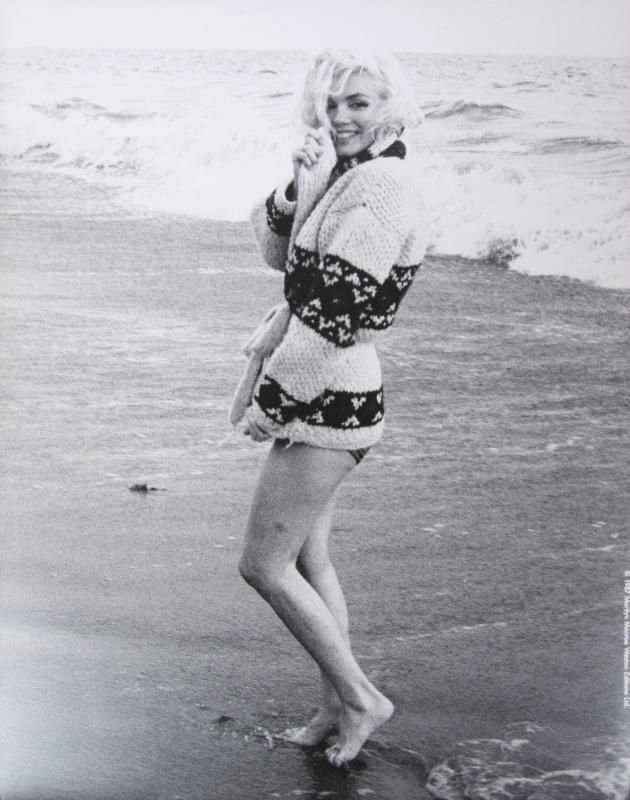 ---
Illustrations de Pin-up d'Olivia De Berardinis pour Playboy
avec Rhonda Ridley-Scott en tant que modèle

Pin-up illustrations by Olivia De Berardinis for Playboy
with Rhonda Ridley-Scott as a model
> site officiel de Olivia De Berardinis
---
All photos are copyright and protected by their respective owners.
copyright text by GinieLand.