27 juillet 2021
Look
vol 15, n° 22

country: USA
date: 1951, October, 23
cover: Marilyn Monroe (by Gene Kornman)
content: 6 pages article on Marilyn Monroe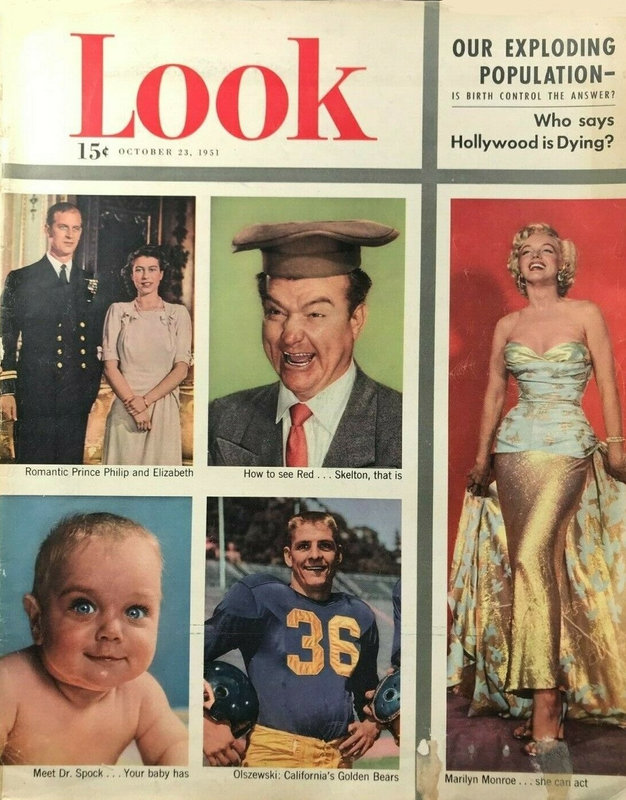 pays: USA
date: 23 octobre 1951
couverture: Marilyn Monroe (par Gene Kornman)
contenu: article de 6 pages sur Marilyn Monroe

---
- sommaire:
"Marilyn Monroe... A serious blonde who can act"
by Rupert Allan - p 40
Cover Photograph: Marilyn Monroe,
Gene Kornman - 20th Century Fox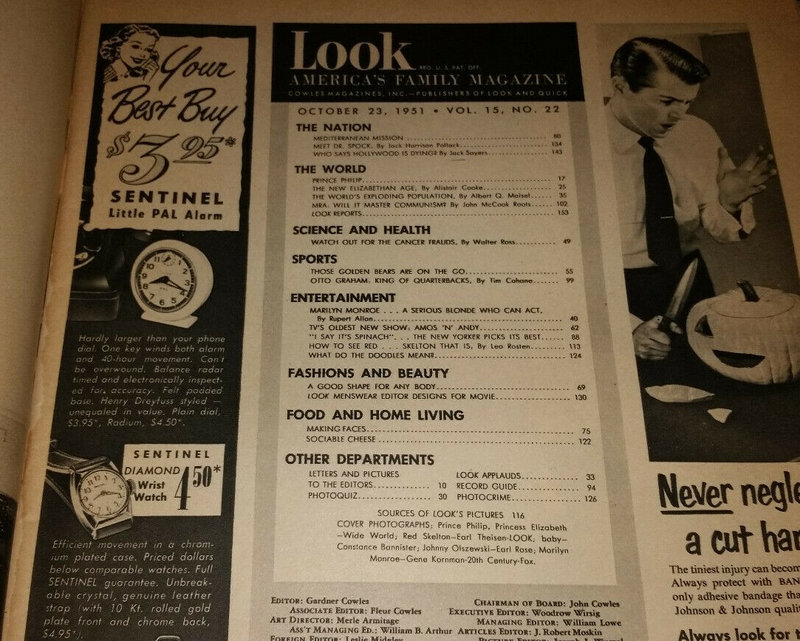 ---
- Pages : article "MARILYN MONROE
... a serious blonde who can act"
by RUPERT ALLAN - Photographed by Earl Theisen

---
Article: "MARILYN MONROE ... a serious blonde who can act"
by RUPERT ALLAN - Photographed by Earl Theisen

At lunchtime, an awed hush cancels the noise of guzzle and gossip in Twentieth Century Fox's studio commissary. Every eye in the place follows with varying degrees of calculation as a neatly delineated blonde makes her way, like a cat picking its way across a muddy path, to a far table. Oblivious to all, starlet Marilyn Monroe (23 years old; unmarried; 5'5 1/2"; 118 pounds; 34" hips; 23" waist; 36 1/2" bust) sits down to her lunch, calmly opens a book on anatomy. For others, the chatter and staring continue. Monroe is busy studying to be a serious actress.

In the commissary or on the screen, Marilyn is a show-stopper. She's even good in a potato sack (above). Her appearances in The Asphalt Jungle, All About Eve, and the current Let's Make It Legal and Love Nest, have been tantalizingly brief - but so gratifying to fans that she's now the brighest star potential among blondes since Lana Turner. Like the great female stars, past and present, Marilyn has other assets at least as important as her impressive dimensions. Her bag of tricks include a tridimensional walk, a sultry voice with a proximity fuse, and a smile of diversified insinuations.
Despite Nature's bounty, Marilyn works as hard on self-improvement as any other actress in Hollywood. She is a serious girl, and with reason. Orphaned in early childhood, California born Marilyn (Norma Jean Baker) was brought up by a series of foster parents. At 16, she ran off to be married, but the marriage was a failure. From a job in an aircraft factory, she moved as an artist's model into the purview of movie moguls. Grabbed by a big studio, Twentieth Century-Fox, she was promised a great future, given almost no movie work in a year, and dropped. Then another studio, Columbia, picked her up, dropped her six months later. Broke and hurt, she returned to modeling to help pay for dramatic lessons. She had learned a bitter truth: An acting carrer requires dramatic experience.
She Has a Problem

Now under contract to Fox, and with co-starring role in RKO's Clash By Night coming up, Marilyn puts in long hours at the studio every day. She gives up most of her evenings for voice lessons, body-movement classes, dramatic coaching and literature classes.

Sometimes her physical assets get in the way of mental improvement. A few months ago at night drama school, it came her turn to "improvise a scene" for the benefit of the class. Marilyn started across the stage to the whistles of the men students. The teacher angrily called her aside. "You're supposed to be an actress !" she screamed. "You should give then no reason to whistle at you like that !" Marilyn was taken aback. Even today when she tells the story, she opens wide her blue eyes and inquires, "What's a girl gonna do ?"

---
Traduction "MARILYN MONROE ... une blonde sérieuse qui peut jouer"
par RUPERT ALLAN - Photographiée par Earl Theisen

À l'heure du déjeuner, un silence émerveillé annule le bruit des ragots et des commérages dans la cantine du studio de la Twentieth Century Fox. Tous les regards de ce lieu suivent avec divers degrés de calcul, alors qu'une blonde bien délimitée se dirige, comme un chat se frayant un chemin à travers un chemin boueux, jusqu'à une table éloignée. Inconsciente de tout, la starlette Marilyn Monroe (23 ans; célibataire; 1,66 m; 53,5 kg; 87 cm de tour de hanches; 61 cm de tour de taille; 90 cm de tour de poitrine) s'assoit pour son déjeuner, ouvre calmement un livre sur l'anatomie. Pour d'autres, le bavardage et les regard se poursuivent. Monroe est occupée à étudier pour devenir une actrice sérieuse.
A la cantine ou à l'écran, Marilyn est une vedette. Elle est même bonne dans un sac de pommes de terre (ci-dessus). Ses apparitions dans Quand la ville dort, Eve, et les actuels Chéri divorçons et Nid d'amour, ont été incroyablement brèves – mais si gratifiantes pour les fans qu'elle est maintenant la star potentielle la plus brillante parmi les blondes depuis Lana Turner. A l'image des grandes stars féminines, passées et présentes, Marilyn possède d'autres atouts au moins aussi importants que ses dimensions impressionnantes. Son sac d'astuces comprend une marche tridimensionnelle, une voix sensuelle avec un fusible de proximité et un sourire aux insinuations diversifiées.
Malgré la générosité de la nature, Marilyn travaille aussi dur pour s'améliorer que n'importe quelle autre actrice d'Hollywood. C'est une fille sérieuse, et avec raison. Orpheline dans sa petite enfance, Marilyn (Norma Jean Baker), née en Californie, a été élevée par une série de parents adoptifs. À 16 ans, elle s'est enfuie pour se marier, mais le mariage a été un échec. D'un emploi dans une usine d'avions, elle est passée en tant que modèle d'artiste au domaine des magnats du cinéma. Saisie par un grand studio, la Twentieth Century-Fox, on lui a promis un grand avenir, ne lui donnant pratiquement aucun film pendant un an, et l'abandonna. Puis un autre studio, la Columbia, est venu la chercher, pour la lâcher six mois plus tard. Brisée et blessée, elle est retournée au mannequinat pour aider à payer des cours de théâtre. Elle avait appris une vérité amère: une carrière d'acteur exige une expérience dramatique.
Elle a un problème
Maintenant sous contrat avec la Fox, et avec un rôle de co-vedette de la RKO dans Clash By Night bientôt sur les écrans, Marilyn passe de longues heures au studio tous les jours. Elle abandonne la plupart de ses soirées pour des cours de chant, des cours de mouvements corporels, du coaching dramatique et des cours de littérature. Parfois, ses atouts physiques entravent l'amélioration mentale. Il y a quelques mois aux cours d'art dramatique du soir, c'est à son tour d'"improviser une scène" au profit de la classe. Marilyn traversa la scène aux sifflets des étudiants masculins. Le professeur l'appela avec colère en aparté. "Tu es censée être actrice !" Elle a crié. "Tu ne devrais donner alors aucune raison de te faire siffler comme ça !" Marilyn était abasourdie. Même aujourd'hui, lorsqu'elle raconte l'histoire, elle ouvre de grands yeux bleus et demande : « Qu'est-ce qu'une fille devrait faire ?"
---
© All images are copyright and protected by their respective owners, assignees or others.