Le vendredi 31 décembre 1948, le producteur Sam Spiegel organise une fête grandiose (750 invités), tel il en avait l'habitude, dans sa maison de Beverly Hills. Pour cette fête de la Saint Sylvestre, le tout Hollywood est invité et photographié par Peter Stackpole, pour la publication d'un article dans le magazine américain Life.
Marilyn Monroe, encore considérée comme une jeune starlette (le dernier film qu'elle ait tourné, Les reines du Music-Hall, venait de sortir sur les écrans en octobre 1948) fait partie des invités.
Elle est vêtue de la robe qu'elle porte dans le film La pêche au trésor (et qu'elle portera à d'autres reprises pour des séances photos ou sur scène au théâtre); bien que la robe a un effet lamé, son style reste naturel: peu de maquillage et aucun bijoux.

On Friday, December 31, 1948, producer Sam Spiegel throws an awesome party (750 guests), just like he used to do, in his Beverly Hills home. For this New Year's Eve party, all of Hollywood who's who is invited and photographed by Peter Stackpole, for the publication of an article in the American magazine Life.
Marilyn Monroe, still considered as a young starlet (her last film shot, Ladies of the Chorus, has just been released on screens in October 1948) is one of the guests.
She's wearing the dress she wore in the film Love Happy (and that she will wear on other occasions for photoshoots or on stage in the theater); although the dress has a lame effect, its style remains natural: little make-up and no jewelry.
---
Marilyn est accompagnée de son grand amour Fred Karger, son professeur de diction et de chant, et à qui elle venait d'offrir pour Noël une montre gravée au dos de la date (25/12/48) qu'elle payera à crédit 500 Dollars pendant deux ans.
Marilyn is accompanied by her great love Fred Karger, her diction and singing teacher, to whom she has just offered for Christmas a watch engraved on the back of the date (12/25/48) that she will pay on credit 500 Dollars for two years.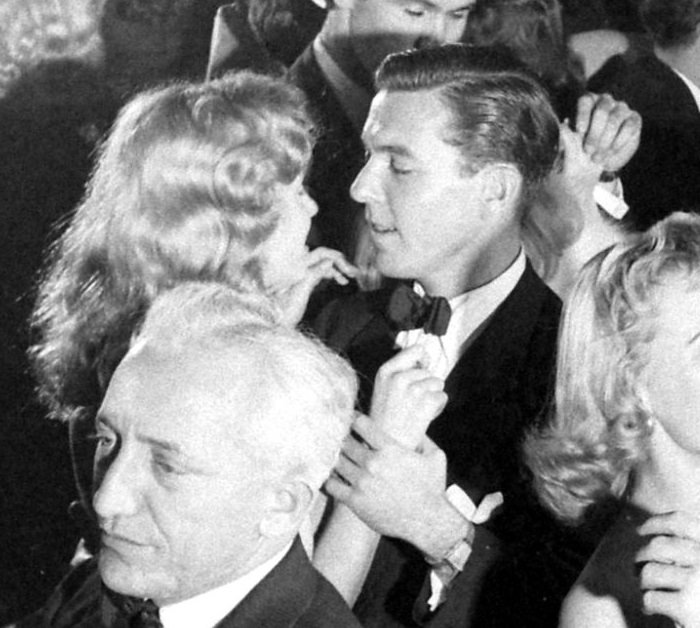 ---
Les photographies montrant Marilyn sont restées inédites jusqu'à leur publication en ligne par le service des archives du magazine Life en janvier 2020 (près de 200 photos de cette soirée prises par Stackpole dévoilées). Et parmi les nombreux convives, se trouve aussi Johnny Hyde, qui deviendra l'imprésario de Marilyn dès l'année 1949; nombre de fans avancent le fait que Hyde aurait ainsi rencontré Marilyn à cette soirée, mais rien n'est sûr. Sans doute se sont-ils croisés, mais personne ne peut affirmer qu'ils ont conversé ensemble. Le photographe Bruno Bernard racontera avoir été le témoin de leur rencontre, lors d'une séance photo avec Marilyn en 1949 au Racquet Club de Palm Springs.
The photographs showing Marilyn remained unpublished until their online publication by the archives service of Life magazine in January 2020 (nearly 200 photos of this evening taken by Stackpole unveiled). And among the many guests, is also Johnny Hyde, who will become Marilyn's impresario in 1949; a number of fans advance the fact that Hyde would have thus met Marilyn at this evening, but nothing is certain. No doubt they cross paths, but no one can say that they converse together. Photographer Bruno Bernard will tell of having witnessed their meeting, during a photo shoot with Marilyn in 1949 at the Racquet Club in Palm Springs.
---
A cette soirée, Marilyn côtoie certaines personnalités qu'elle retrouvera plus tard dans sa carrière: les journalistes commères d'Hollywood Hedda Hopper et Louella O Parsons, le créateur costumier Jean-Louis, les acteurs Danny Kaye, Edward G Robinson, James Mason, Lucille Ball et Judy Garland (que Marilyn recroisera à des soirées), l'acteur George Sanders (à qui elle donnera la réplique dans Eve), les réalisateurs qui la dirigeront: John Huston, Otto Preminger, Henry Hathaway et Jean Negulesco; mais aussi Frank Sinatra (qui deviendra un de ses amis) et Ava Gardner (avec qui Marilyn écumait les soirées Hollywoodiennes).
At this evening, Marilyn rubs shoulders with certain personalities that she will meet again later in her career: the gossipy Hollywood journalists Hedda Hopper and Louella O Parsons, the costume designer Jean-Louis, the actors Danny Kaye, Edward G Robinson, James Mason, Lucille Ball and Judy Garland (whom Marilyn will meet again at parties), the actor George Sanders (who will be his partner in All About Eve), the directors who will direct her: John Huston, Otto Preminger, Henry Hathaway and Jean Negulesco; but also Frank Sinatra (who will become one of her friends) and Ava Gardner (with whom Marilyn skimmed the Hollywood evenings).
- Hedda Hopper (à droite) -
- Danny Kaye & Louella Parsons -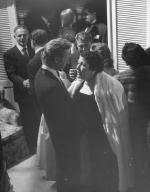 - Edward G Robinson / James Mason (& Glenn Ford & George Sanders) -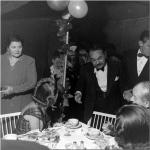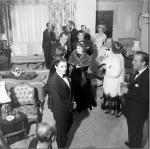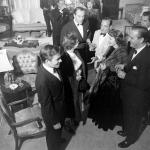 - Judy Garland & Vincente Minnelli -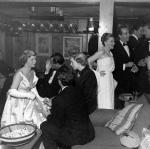 - Jean Negulesco (en second plan) & Louella Parsons -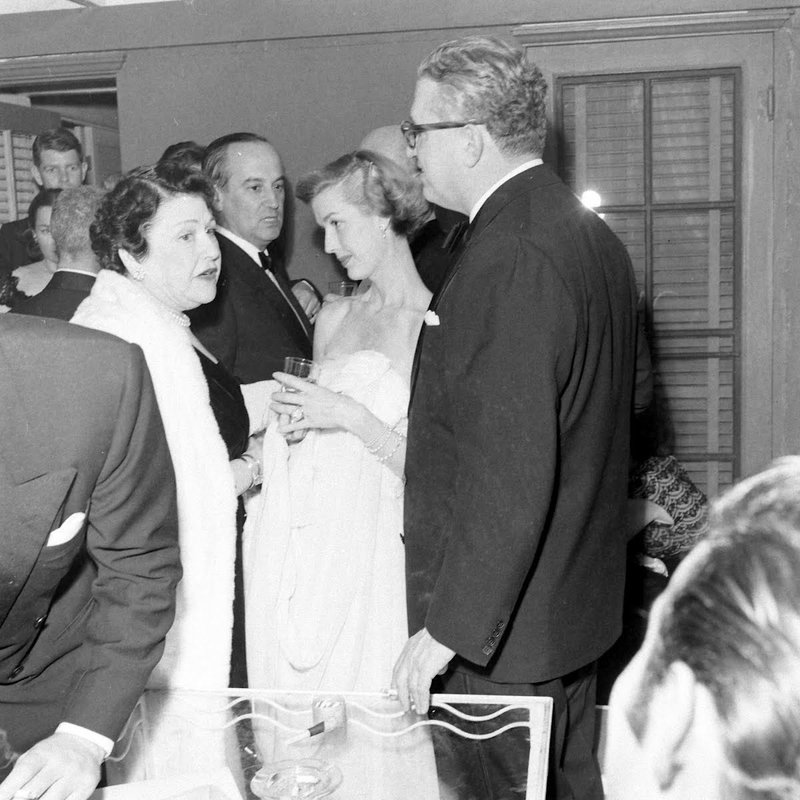 - Frank Sinatra & Nancy Sinatra -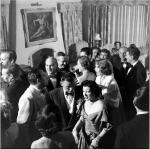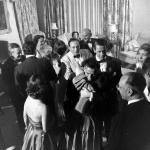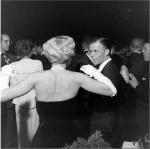 - Ava Gardner / Lucille Ball -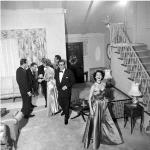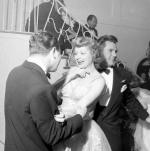 ---
Les autres célébrités présentes:
The other celebrities present:
- Alfred Hitchcock & Alma -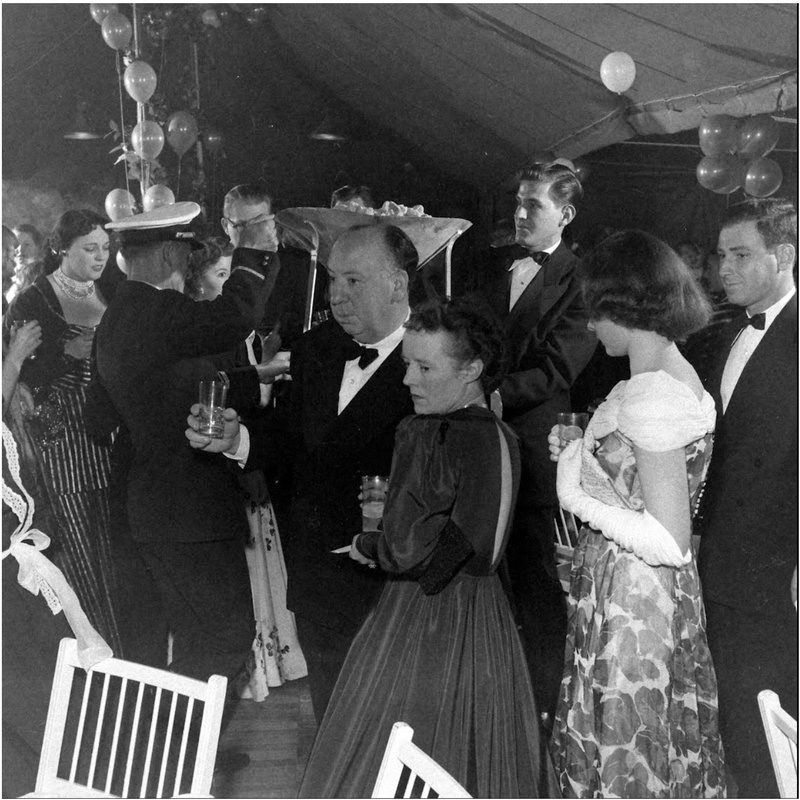 - Hitchkock & Otto Preminger -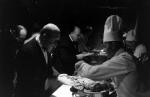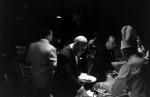 - Charlie Chaplin & Oona Chaplin -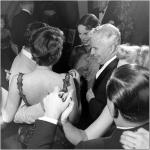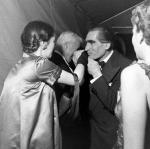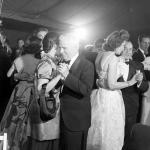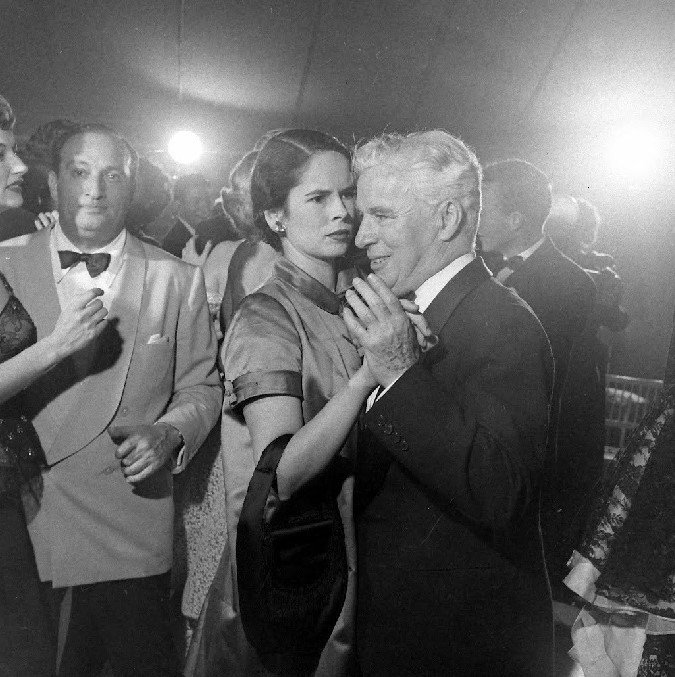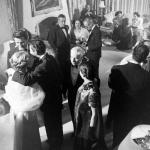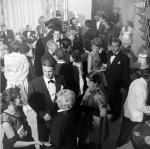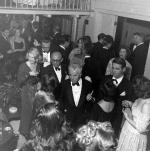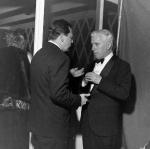 - Louis Jourdan & Frederique Berthe -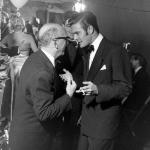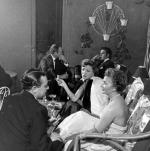 - Barbara Bel Geddes / Claire James -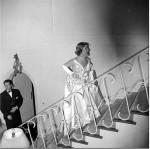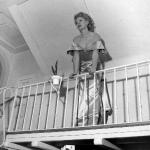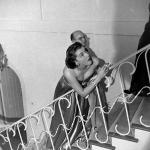 - Charles Mendl , Mrs Reginald Gardiner & Zsa Zsa Gabor -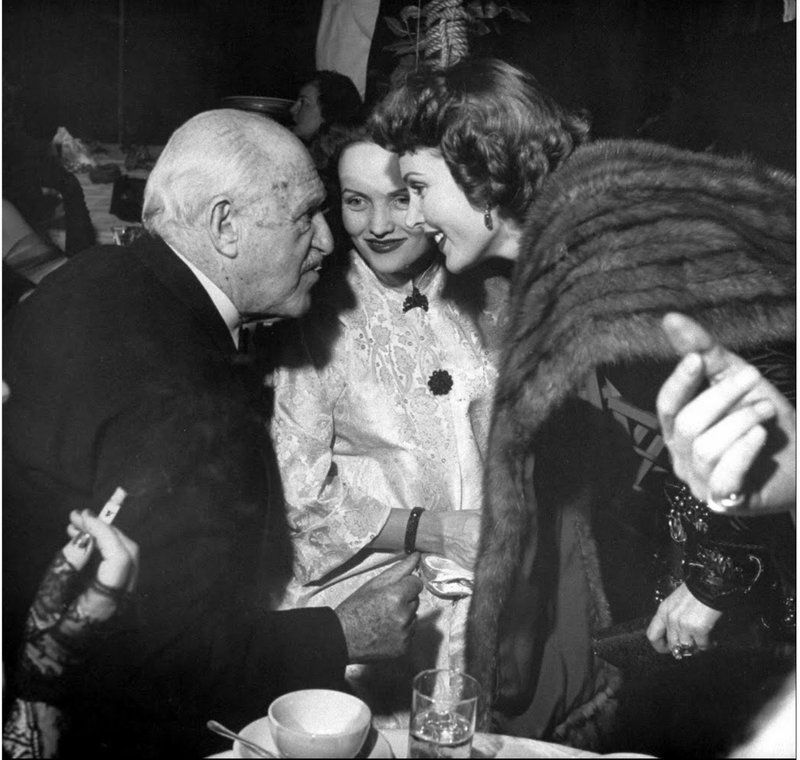 - Angela Landsbury & Peter Shaw -
- Barbara Freking & Count Ledebur -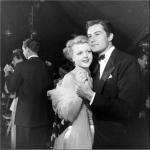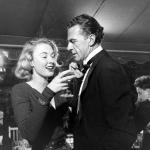 - Clara Blore & Jean Ames / Raymond Massey / Van Heflin -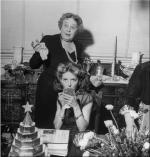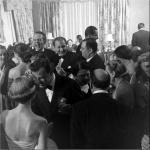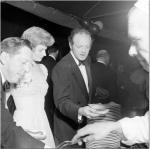 - Eileen Howe -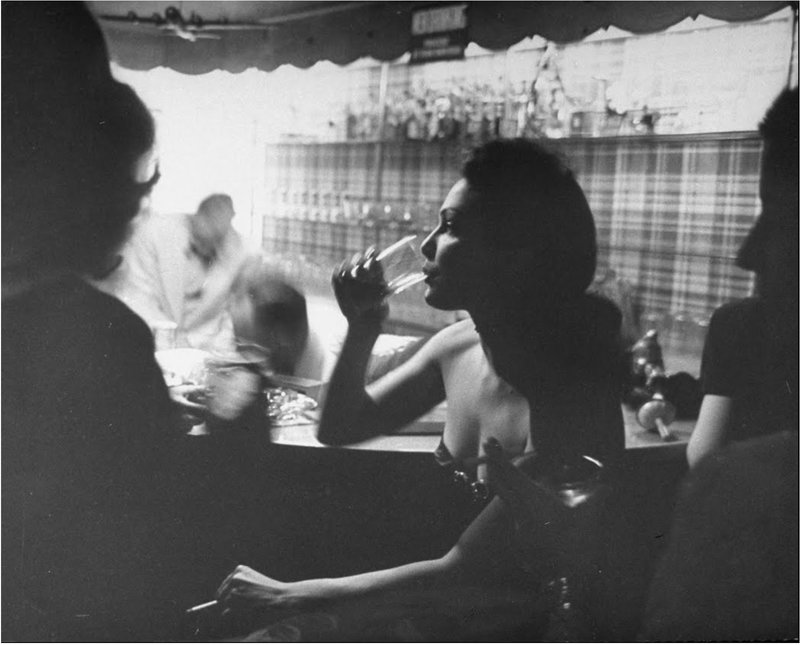 - Sam Spiegel & Lynn Spiegel -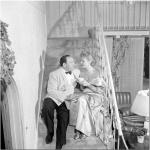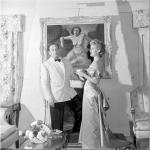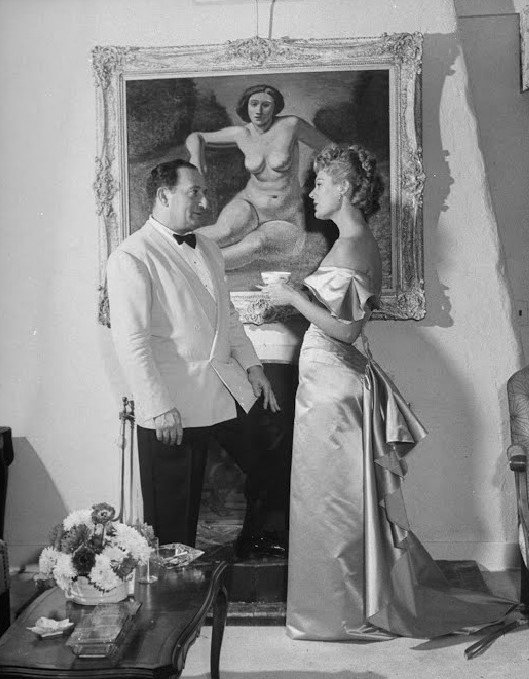 ---
- autres photos de la soirée -
---
- Dans la presse -
LIFE, 17/01/1949 - USA
---
Sur le web

Archives de Life photographies Peter Stackopole Google Arts & Culture
Discussion et photos de cette soirée sur la page Twitter Deny Fear
Article "Marilyn on New Year's Eve" du Blog ES UPDATES
---
- Bonus sur le blog -

article Longue robe bustier de 'Love Happy'
---
© All images are copyright and protected by their respective owners, assignees or others.
copyright text by GinieLand.