Le 14 juin 1948 se tient la première de la revue musicale "Lend An Ear" au Las Palmas Theatre de Los Angeles, avant d'être jouée à Broadway (460 représentations entre décembre 1948 et janvier 1950). Marilyn Monroe y assiste, accompagnée ici de deux acteurs (de cinéma et des scènes de théâtre) William 'Bill' Eythe et Bill Callahan.
Cette comédie musicale a été écrite (paroles et musique) par Charles Gaynor, et scénarisée par Joseph Stein et Will Glickman. Et c'est Gower Champion, acteur, directeur de théâtre, danseur et chorégraphe, qui chorégraphie les numéros musicaux pour cette représentation.
William Eythe, Marilyn Monroe, Bill Callahan
- (de gauche à droite / from left to right)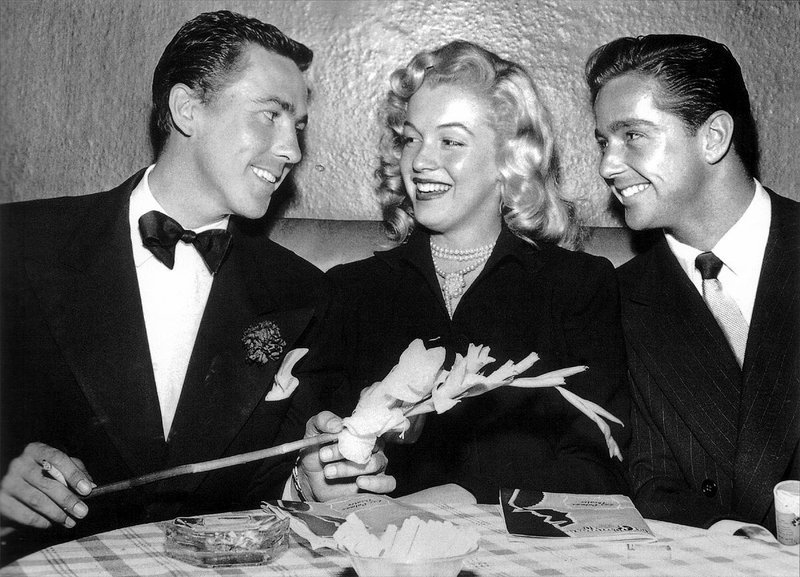 On June 14, 1948, the musical review "Lend An Ear" was premiered at the Las Palmas Theater in Los Angeles, before being performed on Broadway (460 performances between December 1948 and January 1950). Marilyn Monroe attends, accompanied here by two actors (from cinema and theater) William 'Bill' Eythe and Bill Callahan.
This musical was written (lyrics and music) by Charles Gaynor, and scripted by Joseph Stein and Will Glickman. And it's Gower Champion, actor, theater director, dancer and choreographer, who choreographed the musical numbers for this performance.
---
- Le programme du théâtre disposé sur leur table -
- The theater program on their table -
---
Sur le web

La comédie musicale Lend an Ear sur wikipedia
Article de la soirée sur forum Everlasting Star
---
© All images are copyright and protected by their respective owners, assignees or others.
copyright text by GinieLand.