Longue robe noire perlée
Long Black Beaded Dress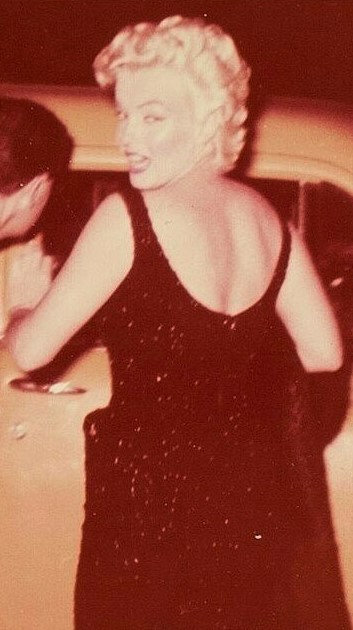 Robe conçue par la créatrice américaine Ceil Chapman, l'une des créatrices préférées de Marilyn Monroe.
Longue robe noire, qui retombe aux chevilles, en coupe droite et fluide, au motif de serpentines perlées, avec une ceinture coordonnée de même matière que la robe, qui se noue à la taille. Encolure arrondie au décolleté, avec de larges bretelles, et encolure très evasée dans le dos, laissant ainsi le dos à moitié nu. Fermeture à glissière et bouttons à pression dans le dos.
Il s'agit d'une tenue de la garde-robe personnelle de Marilyn Monroe qui l'a porté à une seule sortie.
Dress designed by fashion American designer Ceil Chapman, one of Marilyn Monroe's favorite designers.
Long black dress, which falls to the ankles, in a straight and fluid cut, with a beaded serpentine design, with a coordinated belt in the same fabric as the dress, which is tied at the waist. Round neckline at the front neckline, with wide straps, and very flared neckline in the back, leaving the back half naked. Zipper and snap closure at the back.
This is an outfit from Marilyn Monroe's personal wardrobe that she has worn it only once in public.
---
Marilyn apparaît avec la robe à la fin août 1955 pour une sortie plutôt privée: elle assiste, en tant que spectatrice, à la pièce de théâtre "The Skin Of Our Teeth" à l'ANTA Theatre de Broadway. La seule et unique photographie de Marilyn prise ce soir là provient de ses fans qui la suivaient à New York (James Haspiel et Frieda Hull). Bien qu'il s'agisse d'une robe de cocktail, Marilyn est en fait très naturelle: peu de maquillage, coiffure simple, aucun bijoux; elle porte tout de même de longs gants noirs (dont la longueur atteint les coudes). Il semble qu'elle ne porte pas de soutien-gorge (à la vue de son dos à moitié dénudé).

Marilyn appears with the dress at the end of August 1955 for a rather private outing: she attends, as a spectator, the play "The Skin Of Our Teeth" at the ANTA Theater on Broadway. The one and only photograph of Marilyn taken that evening comes from her fans who followed her in New York (James Haspiel and Frieda Hull). Although it is a cocktail dress, Marilyn is in fact very natural: little make-up, simple hairstyle, no jewelry; however, she wears long black gloves (the length of which reaches the elbows). It looks like she's not wearing a bra (at the sight of her half-bared back).
---
L'après Marilyn
After Marilyn

La robe vendue aux enchères
The dress sold in auction
- par Julien's (vente du 26/06/2009)
Page web: "Julien's Summer Sale 2009" - Lot 724
Estimée entre et 4 000 et 6 000 Dollars,
la robe fut vendue 7 500 Dollars
DESCRIPTION: Black Ceil Chapman dress with beaded serpentine design accompanied by candid photograph of Monroe wearing this dress. Some bead loss, zipper and snap closure. PROVENANCE From the Estate of Peter Leonardi.

---
Même style
Same style

Les longues robes à perles pendantes et dos nu
du créateur John Moore - en blanc et en noir
portées par Marilyn en 1959, 1960 et 1961

Long dresses with dangling pearls and open back
by designer John Moore - in white and black
worn by Marilyn in 1959, 1960 and 1961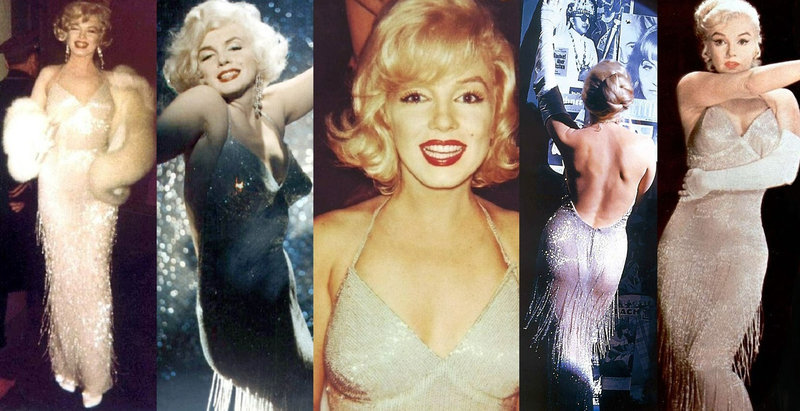 ---
All photos are copyright and protected by their respective owners.
Copyright text by GinieLand.