05 mars 2022
Vendredi 04 mars 2022, TF1 a diffusé le spectacle des "Enfoirés 2022" dont les bénéfices sont reversés à l'association des Restos du Coeur. Cette année, le spectacle a été enregistré sans public (comme l'an dernier), pandémie Covid oblige. Le spectacle de 2022, portant le titre de "Un air d'enfoirés" a été enregistré fin janvier 2022 à la salle de Sud de France Arena à Montpellier.
Marilyn Monroe est "présente" à deux reprises dans le spectacle:
D'abord, dans un sketch humoristique avec Gérard Jugnot, portant une perruque, face à "la bande à Fifi" composée de Philippe Lacheau, Elodie Fontan, Tarak Boudali et Julien Arruti. Jugnot disant qu'il porte une perruque "comme Marilyn".
NDRL: Marilyn n'a jamais porté de perruque en public. Il lui arrivait d'en porter en privée, des perruques noires, pour passer inaperçue; elle porte une perruque / postiche dans le film Les Désaxés et c'est avec l'une des perruques qu'elle porte dans le film qu'elle fut inhumée car ses cheveux avaient été abîmés notamment par l'autopsie.
Ensuite, lors d'une prestation scénique musicale: Joyce Jonathan apparaît vêtue en robe fourreau rose, chantant "Diamonds are a girl's best friend", suivie de Zazie, Lorie et Nolwenn Leroy grimées en Audrey Hepburn (lookées comme Audrey dans le film "Diamants sur canapé") pour chanter le "Diamonds" de Rihanna.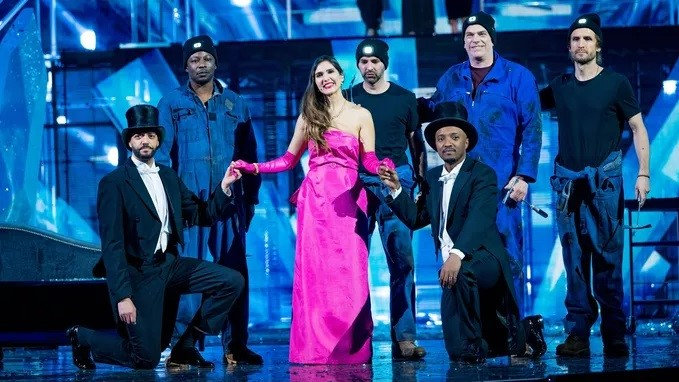 On Friday March 4, 2022, French channel TF1 broadcast the "Enfoirés 2022" show, from which the profits are donated to the Restos du Coeur association. This year, the show was recorded without an audience (like last year), due to the Covid pandemic. The 2022 show, bearing the title of "Un air d'enfoirés" was recorded at the end of January 2022 at the Sud de France Arena in Montpellier.
Marilyn Monroe is "present" twice in the show:
First, in an humorous sketch with Gérard Jugnot, wearing a wig, facing "the Fifi gang" composed of Philippe Lacheau, Elodie Fontan, Tarak Boudali and Julien Arruti. Jugnot saying he wears a wig "like Marilyn".
Editor's note: Marilyn has never worn a wig in public. Sometimes she wore them in private, black wigs, to go unnoticed; she wears a wig / hairpiece in the film The Misfits and it is with one of the wigs she wears in the film that she was buried because her hair had been damaged in particular by the autopsy.
Then, during a musical stage performance: Joyce Jonathan appears dressed in a pink sheath dress, singing "Diamonds are a girl's best friend", followed by Zazie, Lorie and Nolwenn Leroy made up as Audrey Hepburn (looked like Audrey in the movie "Breakfast at Tiffany's") to sing Rihanna's song "Diamonds".
---
site officiel Les Enfoirés
---
© All images are copyright and protected by their respective owners, assignees or others.
copyright text by GinieLand.