Le 25 février 1940, la famille Muir emmène Norma Jeane, Bob 'Bill' Stotts et Bette Westcott (qui s'appelait Betty Dugger), des amis de leur fils Bob Muir, à une sortie au lac de Green Valley, en Californie.
On February 25, 1940, the Muir family took Norma Jeane, Bob 'Bill' Stotts, and Bette Westcott (who named Betty Dugger), friends of their son Bob Muir, on the Green Valley Lake, California.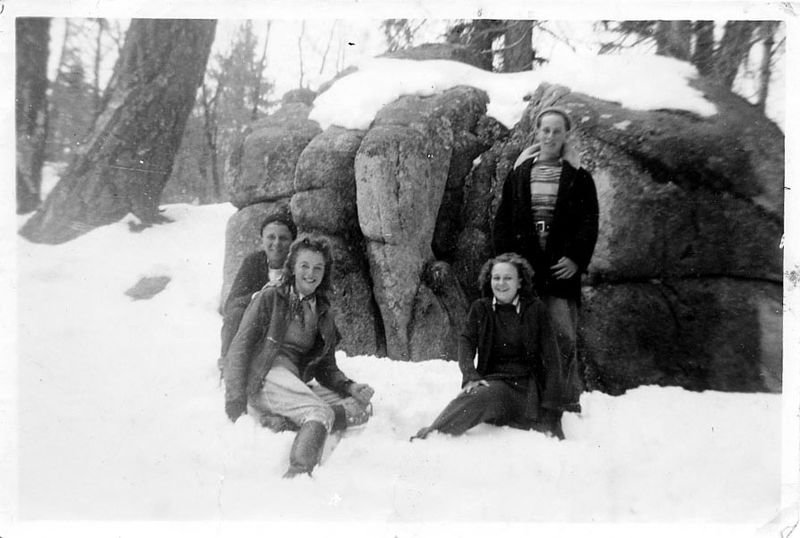 ---
- annotation au dos de la photo:
Bob Stotts and Betty Dugger
Bill Muir and Norma Jean Baker
at the snow up at Green Valley Lake
Sunday Feb 25, 1940
---
Est-ce de cette sortie dont se souviendra Mme Muir, telle que le racontera pour un article du magazine Tatler en 1973; un jour où Norma Jeane était chez eux, elle remarque la météo: "C'est moitié neige et moitié pluie, et la pluie est comme de la glace." Le mari de Mme Muir décide alors de faire une sortie. Ils partent tous en voiture, amenant les amis de leur fils Bob: les deux garçons à l'arrière avec Norma Jean entre eux, ont tiré une bâche sur leurs têtes pour se protéger de la pluie. La route est plutôt dangereuse et sinueuse, donc le père conduit lentement. Soudain, un gros rocher vient s'écraser sur le capot de la voiture et a presque heurté le pare-brise.
Mme Muir et Betty, assises à l'avant, crient. Mais Norma Jeane et les garçons à l'arrière n'ont rien vu. Norma Jeane se met même à plaisanter, disant "Ma tête est trop dure. Ce vieux rocher aurait rebondi et n'aurait pas laissé de bosses." Comme toute adolescente de son âge (elle avait 13 ans), elle était inconsciente du danger qui aurait pu la tuer.
> article 10/1973, Tatler

Is it this trip that Mrs. Muir will remember, as recounted for an article in Tatler magazine in 1973; one day when Norma Jeane is at their house, she notices the weather: "It's half snow and half rain, and the rain part is like ice". Mrs. Muir's husband then decides to go out for an excursion. They leave by car, bringing their son Bob's friends: the two boys in the back with Norma Jean between them, have pulled a tarp over their heads to protect themselves from the rain. The road is rather dangerous and winding, so the father drives slowly. Suddenly, a large rock crashes into the hood of the car and almost hits the windshield. Mrs. Muir and Betty, seated in the front, scream. But Norma Jeane and the boys in the back saw nothing. Norma Jeane even jokes, saying "My head's too hard. That old rock would have bounced right off and wouldn't have left a dent." Like any teenager of her age (she was 13), she was unaware of the danger that could have killed her.
---
© All images are copyright and protected by their respective owners, assignees or others.
copyright text by GinieLand.