En mai 1940, la famille Muir emmène Norma Jeane, Bob 'Bill' Stotts et Bette Westcott (qui s'appelait Betty Dugger), des amis de leur fils Bob Muir, à une sortie dans le désert de Los Angeles.
Ils passent la journée complète à silloner les zones du désert californien: ils tombent par hasard sur une ville désertée et délabrée où se trouve une vieille prison désaffectée (où Mme Muir prend les adolescents en photo); puis reprennent la route (en voiture et aussi à pied), se mettent à pique-niquer sur le sable puis cueillent des fleurs pour en faire des bouquets qu'ils ramènent chez eux.
In May 1940, the Muir family took Norma Jeane, Bob 'Bill' Stotts and Bette Westcott (who went by the name Betty Dugger), friends of their son Bob Muir, on an excursion in the Los Angeles desert.
They spend the full day criss-crossing areas of the Californian desert: they stumble upon a deserted, run-down town where there is an old, disused prison (where Mrs. Muir takes picture of the teenagers); then hit the road again (by car and also on foot), have a picnic on the sand and then pick flowers to make bouquets that they take home.
---
- Devant la prison désaffectée - de gauche à droite:
- In front of the disused prison - from left to right:
Bob Stotts, Betty Dugger, Norma Jeane & Bob Muir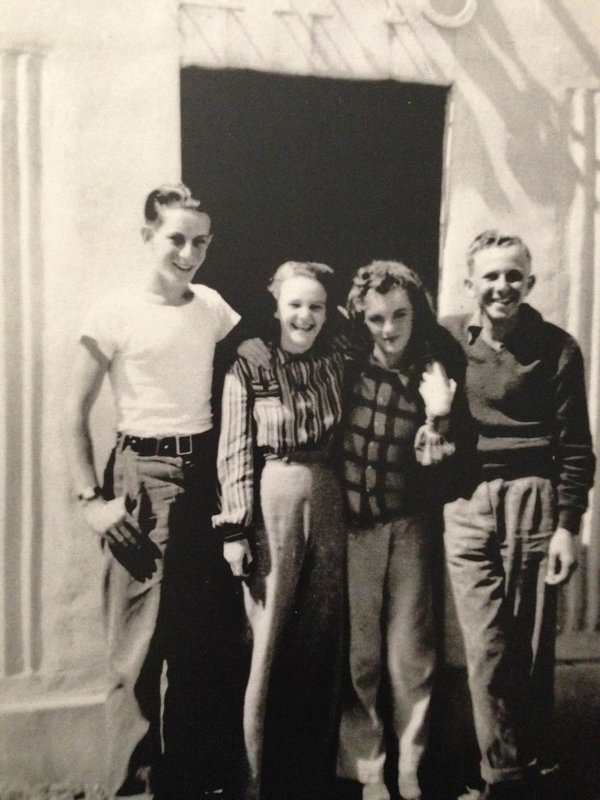 ---
- Le pique-nique dans le désert
- The picnic in the desert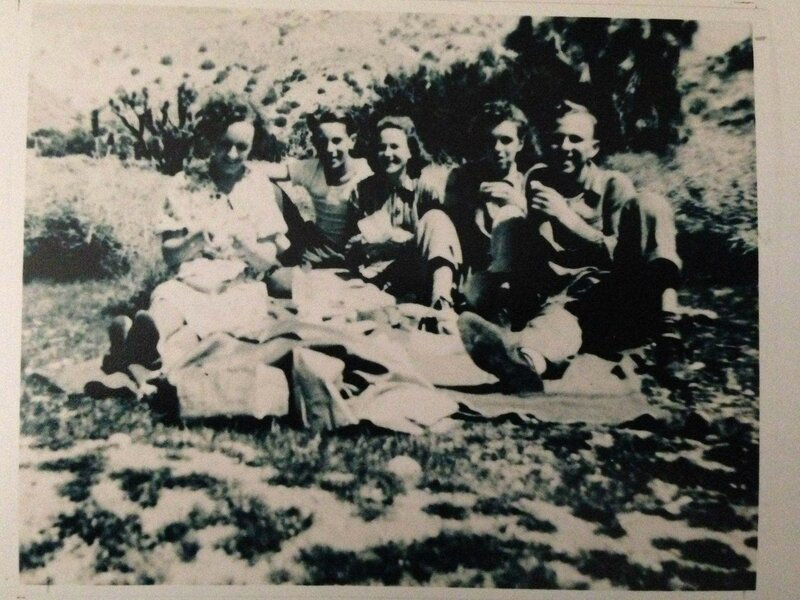 ---
Mme Muir se souviendra avec précision de cette sortie, telle qu'elle le racontera pour un article du magazine Tatler en 1973:
"Je me souviens avec plaisir d'une autre fois en mai 1940. Les fleurs sauvages du désert étaient particulièrement belles cette année-là, et Bob a suggéré que nous allions tous en pique-nique et les voir. Encore une fois, il a invité Norma Jean, Betty et Bill.
Tout à fait par hasard, nous sommes tombés sur une petite ville déserte - une douzaine de bâtiments - battue par les intempéries et délabrée. Il y avait aussi les restes d'une ancienne prison, et bien sûr les enfants devaient y entrer et fouiner dans les décombres. Quand ils sont sortis, j'ai les ai pris en photo alors qu'ils se tenaient dans l'embrasure de la porte.
"Je ne pense pas que nous devrions nous faire prendre en photo, nous sommes des prisonniers parobés et nous devons être très prudents", a déclaré Norma Jean. Son ton de voix était si solennel et son portrait si parfait que nous avons tous éclaté de rire.
Après avoir erré dans le désert pendant des heures, parfois en voiture mais surtout à pied, nous avons finalement étalé une couverture sur le sable et nous nous sommes assis pour nous reposer et manger.
NOUS AVONS BEAUCOUP PARLÉ ET RI. Je ne me souviens pas que Norma Jean ait jamais été de meilleure humeur. Elle était tout simplement effervescente - la vie de la fête. En fin d'après-midi, nous avons cueilli des bouquets de fleurs sauvages à emporter à la maison. Elle tenait la sienne avec autant de soin qu'elle aurait pu tenir un bébé et, avec la sincérité d'une adulte qu'elle affichait souvent, dit : "Il n'y a pas deux fleurs pareilles - je n'ai jamais rien vu d'aussi beau."
> article 10/1973, Tatler
Mrs. Muir would vividly recall this outing, as she recounted for a Tatler magazine article in 1973:
"I recall with pleasure another time in May of 1940. The desert wild flowers were especially beautiful that year, and Bob suggested we all go on a picnic and see them. Again he invited Norma Jean, Betty and Bill.
Quite by accident we came across a small deserted town - a doten or so buildings - weather-beaten and dilapidated. There was also the remains of and old jail, and of course the kids had to go inside and poke about in the rubble. When they came out, I took their picture while they stood in the doorway.
"I don't think we should have our picture taken, we're parobed prisoners and should be very careful," said Norma Jean. Her tone of voice was so solemn and her portrayal so perfect that we all burst into laughter.
After roaming about the desert for hours, sometimes in the car but mostly on foot, we finally spread a blanket on the sand and sat down to rest and eat. WE TALKED AND LAUGHED a lot. I don't remember Norma Jean ever in a happier mood.
She was simply effervescent - the life of the party.
In late afternoon we picked bouquets of wild flowers to take home. She held hers as carefully as she might have held an infant and, with the adult sincerely she often displayed, said, "No two flowers alike - I never saw anything so lovely."
---
© All images are copyright and protected by their respective owners, assignees or others.
copyright text by GinieLand.