Le 04 décembre 1935, Grace Mc Kee Goddard (devenue tutrice légale de Norma Jeane cette année 1935), écrit une lettre à Mme Dewey, certainement l'interlocutrice (ou directrice) de l'orphelinat de Los Angeles où est placée Norma Jeane (âgée alors de 9 ans) depuis le 13 septembre 1935. Grace demande que l'institution refuse les visites de Ida Bolender à Norma Jeane (qui a élevé Norma Jeane avec son mari jusqu'à ses 7 ans) et cite les noms de ceux et celles autorisées à la voir.
On December 4, 1935, Grace Mc Kee Goddard (who became Norma Jeane's legal guardian this year 1935), writes a letter to Mrs. Dewey, certainly the contact person (or director) of the orphanage in Los Angeles where Norma Jeane (aged then 9 years old) is placed since September 13, 1935. Grace requests that the institution refuse visits from Ida Bolender to Norma Jeane (who raised Norma Jeane with her husband until she was 7 years old) and cite the names of those allowed to see her.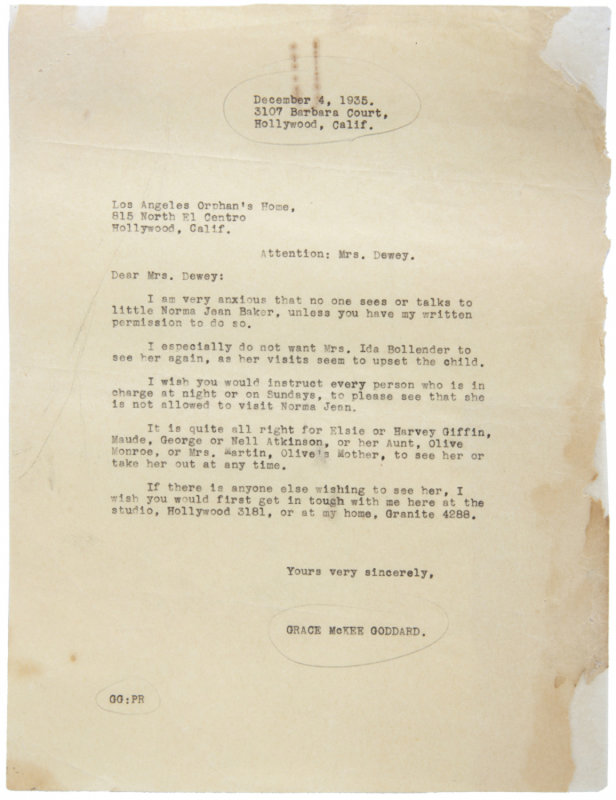 Letter transcription:
December 4, 1935
3107 Barbara Court,
Hollywood, Calif.

Los Angeles Orphan's Home,
815 North El Centro
Hollywood, Calif.

Attention: Mrs Dewey
Dear Mrs. Dewey:

I am very anxious that no one sees or talks to little Norma Jean Baker, unless you have my written permission to do so.

I especially do not want Mrs. Ida Bolender to see her again, as her visits seem to upset the child.

I wish you could instruct every person who is in charge at night or on Sundays, to please see that she is not allowed to visit Norma Jean.

It is quite all right for Elsie or Harvey Giffin, Maude, George or Nell Atkinson, or her Aunt, Olive Monroe, or Mrs. Martin, Olive's Mother, to see her or take her out at any time.

If there is anyone else wishing to see her, I wish you would first get in tough with me here at the studio, Hollywood 3181, or at my home, Granite 4288.

Yours very sincerely,
GRACE MC KEE GODDARD
Traduction de la lettre:

À l'attention de : Mme Dewey
Chère Mme Dewey :
Je suis très inquiète que personne ne voie ou ne parle à la petite Norma Jean Baker, à moins que vous n'ayez ma permission écrite de le faire.
Je ne veux surtout pas que Mme Ida Bolender la revoie, car ses visites semblent bouleverser l'enfant.
Je souhaite que vous puissiez demander à chaque personne responsable la nuit ou le dimanche de veiller à ce qu'elle ne soit pas autorisée à rendre visite à Norma Jean.
Il est tout à fait correct pour Elsie ou Harvey Giffin, Maude, George ou Nell Atkinson, ou sa tante, Olive Monroe, ou Mme Martin, la mère d'Olive, de la voir ou de la sortir à tout moment.
S'il y a quelqu'un d'autre qui souhaite la voir, je souhaite que vous commenciez par entrer en contact avec moi ici au studio, Hollywood 3181, ou chez moi, Granite 4288.
Très sincèrement,
GRACE MC KEE GODDARD

---
Le 06 décembre 1935, Mme Dewey répond à Grace Mc Kee Goddard, expliquant qu'elle a constaté l'état de perturbation dans lequel se trouve Norma Jeane après la visite de Mme Bolender. Elle accepte la requête de Grace en refusant les visites de Ida Bolender et lui demande de faire un mot à chaque personne autorisée à venir voir Norma Jeane.
On December 6, 1935, Mrs. Dewey responds to Grace McKee Goddard, explaining that she has noticed the state of disturbance in which Norma Jeane finds herself after Mrs. Bolender's visit. She accepts Grace's request by refusing Ida Bolender's visits and asks her to write a word to each person authorized to come and see Norma Jeane.
Letter transcription:
LOS ANGELES ORPHANS HOME SOCIETY
815 North El Centro Avenue
Hollywood 5311

Dec. 6, 1935

Mrs. Grace Mc Kee Goddard,
Hollywood, Calif.,

Dear Mrs. Goddard, -
When Mrs. Bolender was here I told her she should not talk to Norma about her mother.
The physicians have said Mrs. Baker would not get well - that means the child must have first consideration.
Will you please give a letter to each person you want Norma to see and go out with. That would be an extra check. If I just tell the ones who are on duty the names of the ones to see Norma there might be a slip.
Norma is not the same since Mrs. B. visited with her. She doesn't look as happy. When she is naughty she says - "Mrs. Dewey, I wouldn't ever want my Aunt Grace to know I was naughty." She loves you very much.
I'll do as you request. We want to do all we can to make Norma happy, and to please you.
Sincerely yours
(Mrs) SSDewey
Traduction de la lettre:

Chère Mme Goddard,-
Quand Mme Bolender était ici, je lui ai dit qu'elle ne devait pas parler à Norma de sa mère.
Les médecins ont dit que Mme Baker ne guérirait pas - cela signifie que l'enfant doit avoir la priorité.
Pourriez-vous, s'il vous plaît, donner une lettre à chaque personne que vous voulez que Norma voie et qu'ils la prennent avec eux. Ce serait une vérification supplémentaire. Si je dis juste à ceux qui sont de service les noms de ceux qui doivent voir Norma, il pourrait y avoir un faux pas.
Norma n'est plus la même depuis que Mme B. lui a rendu visite. Elle n'a pas l'air aussi heureuse. Quand elle est méchante, elle dit - "Mme Dewey, je ne voudrais jamais que ma tante Grace sache que j'étais méchante." Elle vous aime beaucoup.
Je ferai ce que vous demandez. Nous voulons faire tout ce qui est en notre pouvoir pour rendre Norma heureuse et vous faire plaisir.
Cordialement
(Mme) SSDewey
---
source Lettres vendues 2 812 $ le 14/11/2019 aux enchères de The Personal Property Of Goodman Basil Espy III
---
© All images are copyright and protected by their respective owners, assignees or others.
copyright text by GinieLand.