Vente aux enchères 'Classic Hollywood' du 24 mai 2022 en ligne sur le site de Bonhams , de Los Angeles aux Etats-Unis.
'Classic Hollywood' Auction on May, 24, 2022 online on Bonhams website, from Los Angeles, USA.

La vente aux enchères est consacrée au cinéma, avec 3 lots concernant Marilyn Monroe; les lots avec leur description sont en consultation libre sur bonhams.com
Pas de catalogue disponible
The auction is devoted to cinema, with 3 lots concerning Marilyn Monroe; the lots with their description are in free consultation on Bonhams.com
No catalog available

---
Lot 52: A unique and extensive unpublished collection of slides of stars of stage and screen, 1950s-1990s, Sold with Owner Copyright
Sold for US$144,015
approximately 12,000 previously unpublished color slides, the professional photographs taken by photographer Jon Verzi at various Hollywood events, chronicling the history of Hollywood from the early 1960s through the 1990s


2 slides with Marilyn Monroe: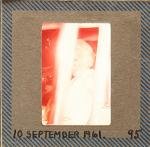 ---
Lot 59: A Marilyn Monroe signed photograph to Choreographer Bob Street
Sold for US$33,135
A gelatin silver photograph of Marilyn Monroe signed and inscribed in blue ballpoint pen 'To Bob [Street], love & kisses, Marilyn Monroe'.


Marilyn Monroe was working her way to becoming a superstar of mythic proportions when Robert Street danced alongside her in her most famous musical number, "Diamonds Are a Girl's Best Friend," in Gentlemen Prefer Blondes (1953). The number has since inspired everyone from Madonna to Kylie Minogue, but at the time, Street had no way of knowing it's status would become epochal. Along with the other male dancers in the number, Street was costumed as a stereotypical millionaire, clothed in a tuxedo, graying at the temples, with handfuls of diamonds to tempt the gold digger, Lorelei Lee, played by Monroe. His fellow dancer in the number, George Chakiris, recalled that Monroe was a hard worker who was focused on the number and was in constant discussion between takes with famed choreographer Jack Cole. There wasn't a lot of small talk between the star and the dancers. Nevertheless, Street managed to obtain this autographed photo of Monroe to commemorate his performance with the world's most beloved movie star in her most illustrious musical number. The following year, Street appeared as an extra in another smash hit, White Christmas (1954), and in an ironic twist he also had a small part in Valley of the Dolls (1967), a tawdry (and campy) Hollywood tale in which some of the fictional characters' lives were based on Monroe's personal experiences.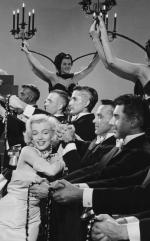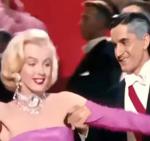 ---
Lot 60: An Elliott Erwitt photograph of Marilyn Monroe, Clark Gable, and the cast of The Misfits
Sold for US$1,020
Marilyn Monroe and the cast of The Misfits, Reno, Nevada, 1960 (printed later)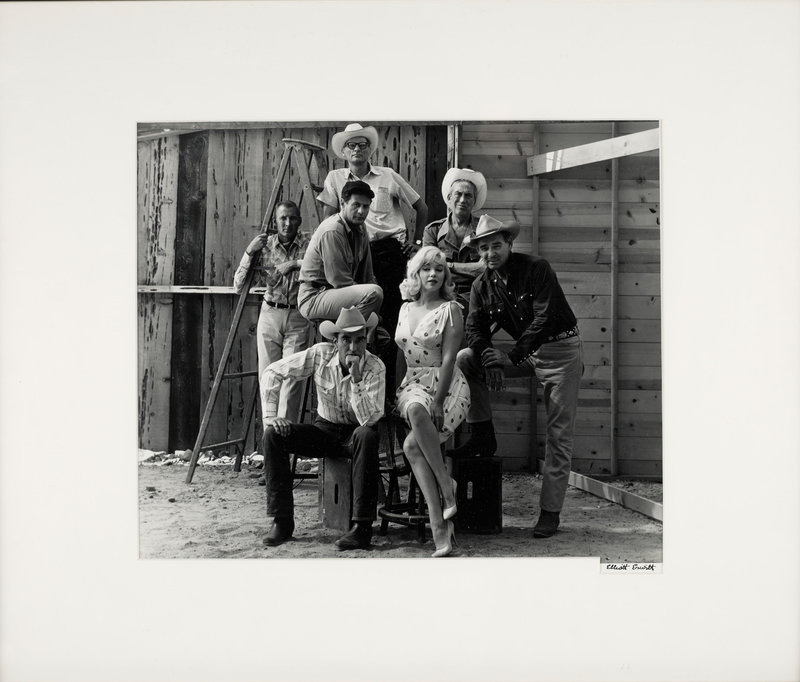 Prestigious lensman Elliott Erwitt was one of a group of Magnum photographers who had authorized access to the set of director John Huston's The Misfits. His most famous session of photographs, one of which is offered here, shows Huston, author Arthur Miller, producer Frank Taylor, and stars Clark Gable, Marilyn Monroe, and Montgomery Clift and Eli Wallach playfully posing; the calm before the storm of an extremely troubling production.
---
Lot 142: A group of rare programs and magazines
Sold for US$318.75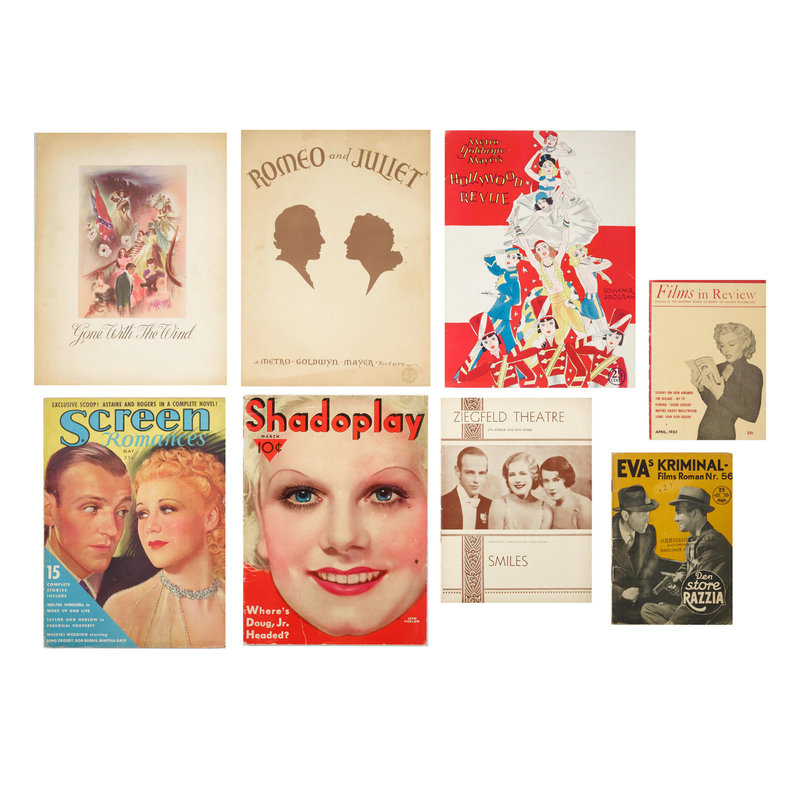 - a souvenir program for The Hollywood Revue of 1929, 20 pages, with many photos and background information about the production and stars Norma Shearer, John Gilbert, and many others;
- a Fred and Adele Astaire program from their Broadway show, Smiles, at the Ziegfeld Theatre, November 18, 1930;
- a Screen Romances magazine with Astaire and Ginger Rogers on the cover, May, 1937;
a January 1937 issue of a Danish magazine, Eva Kriminal, devoted to the film, Bullets or Ballots (1936) starring Edward G. Robinson and Humphrey Bogart;
- a March 1933 issue of Shadowplay with Jean Harlow on the cover;
- a Romeo and Juliet (1936) 20 page program with many photos and background information about the production and its stars, Norma Shearer and Leslie Howard;
- a Gone With the Wind program, 20 pages, with many photos and background information about the production and its stars, Vivien Leigh and Clark Gable, and many others;
- and an April 1953 issue of Films in Review with Marilyn Monroe on the cover.

---
© All images are copyright and protected by their respective owners, assignees or others.
copyright text by GinieLand + Bonhams