31 mai 2022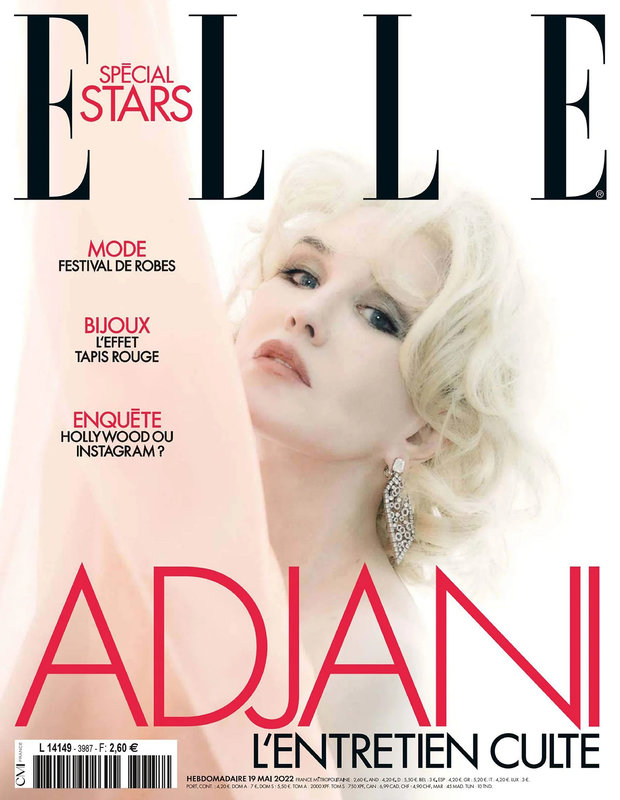 Elle
n°3987

pays: France
semaine du 19 mai 2022
En couverture: Isabelle Adjani se met dans la peau de Marilyn Monroe façon "Last Sitting" de Bert Stern

- pages intérieures -
> sur le blog l'article Isabelle Adjani dans Elle - 19/05/2022
---
© All images are copyright and protected by their respective owners, assignees or others.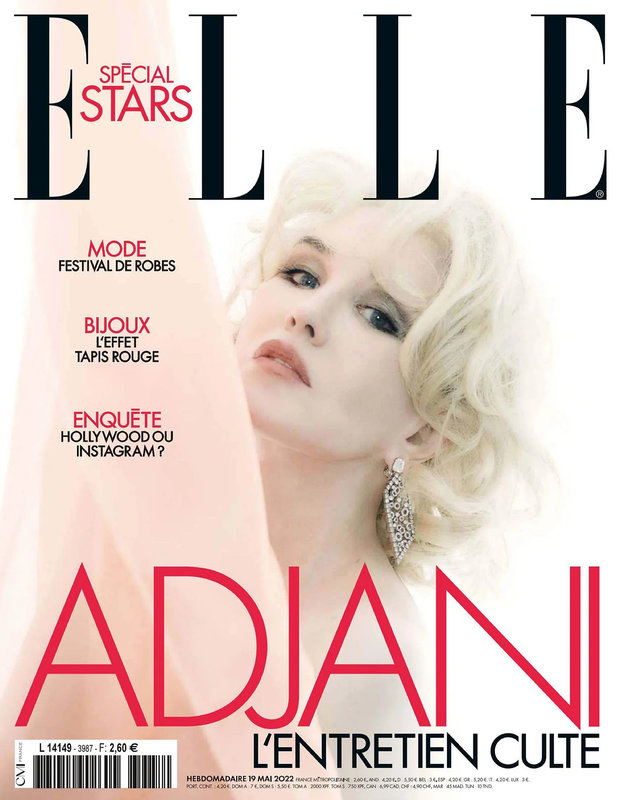 Elle
n°3987

pays: France
semaine du 19 mai 2022
En couverture: Isabelle Adjani se met dans la peau de Marilyn Monroe façon "Last Sitting" de Bert Stern
> sur le blog le magazine Elle - 19/05/2022
---
Isabelle Adjani : « À Cannes, on vous place entre blondasses et bombasses »
> en ligne sur elle.fr
Sur scène, elle dialogue avec Marilyn, à Cannes, elle défendra les films de François Ozon et de Nicolas Bedos. Et, comme à chaque fois, Isabelle Adjani se réinvente jusqu'au vertige. Pour nous, elle rejoue la mythique séance photo signée Bert Stern, en 1962, et se confie le temps d'une rencontre, forcément intense.

Il y a des rencontres qui tiennent de la magie, des correspondances secrètes… Quand Isabelle Adjani rend hommage à Marilyn Monroe en une de ELLE, l'alchimie est si forte, si évidente, si naturelle qu'aucune retouche n'est nécessaire. Comme si deux copines se retrouvaient en cachette. Isabelle et Norma Jeane, c'est une longue histoire de mots croisés que la première évoque dans un extraordinaire seule en scène, en tournée cet été : « Le Vertige Marilyn ». Mais avant cela, il y a Cannes, le Festival, un autre vertige. Et deux films très différents : celui de François Ozon, « Peter von Kant », hommage à Fassbinder. Et celui de Nicolas Bedos, « Mascarade », « un collier de petits cauchemars de jeunesse », comme il aime à le définir. Dans chacun, Isabelle se joue du cliché de la diva divine et dévorante… et gagne ! Car Isabelle déjoue, aussi. Avec le même sérieux, ce désir de bien faire, ce côté « bon petit soldat » que l'on prêtait à Marilyn, elle répond d'abord à une première salve de questions par mail. Puis, une fois ce travail méticuleux accompli, tard dans la nuit, elle propose de nous retrouver pour un café. Casquette de gavroche, lunettes fumées, « crème » et croissant matinal à portée de main, elle est craquante (et insomniaque ?).
Mélange d'impertinence nonchalante et de profondeur. Chaque phrase est une piste sur le chemin de la liberté. Et quand elle convoque Cocteau pour parler de femme « interrompue », la formule nous reste longtemps en tête. Adjani est une cérébrale, on ne se refait pas, aimantée par une bonne étoile.
Elle – Vous posez pour nous en Marilyn Monroe: pourquoi ce choix et qu'est-ce qui vous rassemble, toutes les deux ?
Isabelle Adjani – Oh là, là ! Je ne pose pas en Marilyn Monroe, c'est Madonna ou Kim Kardashian qui prennent la pose, non ? [Rires] Moi, je me pose là, en tendre admiratrice, à la veille de l'anniversaire des 60 ans de sa mort. Sur le tournage de "Tout feu tout flamme", de Jean-Paul Rappeneau, avant chaque scène, Yves Montand me serinait que je lui faisais penser à Marilyn ! J'étais très pudique et tout sauf peroxudée, alors je ne comprenais rien à ce qu'il voulait me dire. Je voyais qu'il était ému, mais à l'époque j'ai dû me raconter qu'il se servait de son "aura Marilyn" comme piège à filles ! [Rires] Plus tard, lors d'un shooting pour le magazine "Egoïste", le grand Richard Avedon m'avait mis à même le corps, sur les épaules, la veste en mouton retourné qui avait appartenu à Marilyn et dans laquelle il l'avait photographiée. Mon premier contact physique et mystique avec elle, c'était ça, presque peau à peau... Aujourd'hui, c'est cette longue robe Dior photographiée en 1962 par un autre grand, Bert Stern, et dont je porte la copie conforme à mon tour sur la scène du "Vertige Marilyn", texte d'Olivier Steiner, qui tient du dialogue rêvé entre elle et moi et du poème théâtral. Il imagine qu'il y a eu entre nous, au cours des années, des points de contact, comme des frôlements, des synchronicités, des chuchotements qui auraient fini par tracer un chemin invisible, un lien de sororité, dans mon existence. Et puis, Marilyn n'est jamais allée à Cannes, la Croisette n'a pas eu la chance d'avoir miss Monroe, alors quand ELLE m'a proposé cette série avec Jan Welters pour un spécial Cannes, on a tout de suite eu envie de ce clin d'oeil à l'inoubliable shooting culte de Bert Stern, et ainsi de l'emmener faire un tour au Festival, histoire aussi de me sentir moins seule.

Autre hommage à Marilyn sur ces photos, vous portez des bijoux en mode "Diamonds are a Girl's best friend"...
Oui, il s'agit de la marque Courbet, qui s'est donné pour mission de réinventer la joaillerie en respectant l'environnement. J'ai été touchée au coeur par leur procédé de création de diamants, en laboratoire de haute technologie, parce que ce sont de véritables diamants aux mêmes qualités précieuses de pureté et de transparence que ceux extraits des entraielles de la terre, de ces monstrueux cratères qui bousillent l'environnement. Marilyn aurait adoré les avoir comme amis, elle qui aimait la nature. C'est mon instinct.

Quand on pense à Marilyn Monroe, on pense star, sex-symbol, mais aussi solitude, failles de l'enfance, viol de l'intimité... Est-ce que cela vous parle ? Avez-vous parfois l'impression d'être une survivante, d'avoir survécu à ce métier ?
Chez toutes les actrices dont je me sens proche, les failes de l'enfance ont creusé un désir profond, un besoin vital d'être autre. Passer de survivante à "revivante", je crois que c'est ce qu'elles font, c'est ce que j'ai fait, c'est ce qu'a fait Norma Jeane en créant Marilyn Monroe. Les épreuves ne sont pas évitées, mais je crois, moi, en une étoile qui veille et qui permet d'avancer dans la nuit noire. Une étoile faite d'amour, d'esprit, de sang, du big bang de notre naissance. Et même morte, sa lumière continue de voyager et de nous parvenir.

Qu'est-ce qui l'a tuée, selon vous ?
Arthur Miller ? Les lavements aux barbituriques ? Robert Kennedy ? La mort ! Ce qui a tué Marilyn ? La mort. Pour vivre de tout son être, Marilyn elle-même a construit la légende qu'elle est devenue, puis, comme le disait Pasolini, elle s'est "abandonnée à son destin de mort".

le reste de l'article réservé aux abonnés de elle.fr
---
Traduction de l'article et de l'interview - in english:
Isabelle Adjani: "In Cannes, you are placed between blondes and hotties"
On stage, she dialogues with Marilyn, in Cannes, she will defend the films of François Ozon and Nicolas Bedos. And, as always, Isabelle Adjani reinvents herself to the point of vertigo. For us, she replays the mythical photo shoot signed Bert Stern, in 1962, and confides in the time of a meeting, necessarily intense.
There are encounters that take on magic, secret correspondence… When Isabelle Adjani pays homage to Marilyn Monroe on cover of ELLE, the alchemy is so strong, so obvious, so natural that no photo editing is necessary. As if two girlfriends were meeting in secret. Isabelle and Norma Jeane, it's a long story of crosswords that the first evokes in an extraordinary single on stage, on tour this summer: "Le Vertige Marilyn". But before that, there is Cannes, the Festival, another vertigo. And two very different films: that of François Ozon, "Peter von Kant", a tribute to Fassbinder. And that of Nicolas Bedos, "Mascarade", "a necklace of little nightmares of youth", as he likes to define it. In each, Isabelle plays with the cliché of the divine and devouring diva... and wins! Because Isabelle thwarts, too. With the same seriousness, this desire to do well, this "good little soldier" side that we attributed to Marilyn, she first answers a first round of questions by email. Then, once this meticulous work is done, late at night, she offers to meet us for a coffee. Newsboy cap, sunglasses, "cream" and a morning croissant at hand, she is adorable (and insomniac?).
Mixture of nonchalant impertinence and depth. Each sentence is a track on the way to freedom. And when she summons Cocteau to speak of an "interrupted" woman, the formula remains in our minds for a long time. Adjani is cerebral, you can't get over it, magnetized by a lucky star.
Elle – You pose for us as Marilyn Monroe: why this choice and what unites you two?
Isabelle Adjani – Oh dear! I'm not posing as Marilyn Monroe, it's Madonna or Kim Kardashian posing, right? [Laughs] I sit there, as a tender admirer, on the eve of the 60th anniversary of his death. On the set of Jean-Paul Rappeneau's "Tout feu tout flamme", before each scene, Yves Montand told me that I reminded him of Marilyn! I was very modest and anything but peroxide, so I didn't understand what he wanted to tell me. I could see that he was moved, but at the time I had to tell myself that he was using his "Marilyn aura" as a girl trap! [Laughs] Later, during a shoot for the magazine "Egoïste", the great Richard Avedon had put on my body, on my shoulders, the shearling jacket that had belonged to Marilyn and in which he had photographed her. My first physical and mystical contact with her was that, almost skin to skin... Today, it's this long Dior dress photographed in 1962 by another great, Bert Stern, and of which I'm wearing an exact copy my turn on the stage of "Vertige Marilyn", a text by Olivier Steiner, which is a dream dialogue between her and me and a theatrical poem. He imagines that there have been points of contact between us over the years, such as brushings, synchronicities, whispers that would have ended up tracing an invisible path, a bond of sisterhood, in my existence. And then, Marilyn never went to Cannes, the Croisette didn't have the chance to have Miss Monroe, so when ELLE offered me this series with Jan Welters for a Cannes special, we immediately had want this nod to Bert Stern's unforgettable cult shoot, and thus take him for a ride to the Festival, also to make me feel less alone.
Another tribute to Marilyn in these photos, you are wearing jewels in "Diamonds are a Girl's best friend" style...
Yes, it's the Courbet brand, which has made it its mission to reinvent jewelry while respecting the environment. I was touched to the heart by their process of creating diamonds, in a high-tech laboratory, because they are real diamonds with the same precious qualities of purity and transparency as those extracted from the entraielles of the earth, from these monstrous craters that mess up the environment. Marilyn would have loved to have them as friends, she who loved nature. It's my instinct.
When we think of Marilyn Monroe, we think of star, sex symbol, but also loneliness, childhood flaws, violation of intimacy... Does that speak to you? Do you sometimes feel like a survivor, of having survived to this job?
In all the actresses I feel close to, the faults of childhood have dug a deep desire, a vital need to be different. Going from survivor to "reviving", I think that's what they do, that's what I did, that's what Norma Jeane did by creating Marilyn Monroe. Trials are not avoided, but I believe in a star that keeps watch and allows us to move forward in the dark night. A star made of love, of spirit, of blood, of the big bang of our birth. And even dead, her light continues to travel and reach us.
What do you think killed her?
Arthur Miller? Barbiturate enemas? Robert Kennedy? The death ! What killed Marilyn? The death. To live with all her being, Marilyn herself built the legend she became, then, as Pasolini said, she "surrendered to her destiny of death".
the rest of the article reserved for subscribers of elle.fr
---
Séance photos
Photographe ©Jan Welters
Mise en beauté Dior par Maria Olsson.
Coupe et coiffure Cédric Chami avec les produits Davines.
Stylisme déco Samantha Marchesani.
---
© All images are copyright and protected by their respective owners, assignees or others.
copyright text Elle