Lettre dactylographiée datée du 25 septembre 1938, sur du papier à lettres à en-tête "International Correspondence Schools", écrite par "Oncle Art" à Norma Jeane, âgée alors de 12 ans et vivait chez "Tante" Ana Lower (sur Nebraska Avenue, à Los Angeles).
Oncle Art et Tante Allis vivent à San José, en Californie. Ils semblent appartenir à la famille de Grace Goddard et de sa tante, Ana Lower; ils se surnomment eux-mêmes "Oncle" et "Tante" pour Norma Jeane, et semblent bien la connaître par les mots d'affection employés dans la lettre. Ils font référence à leur chien Trinket, dont on peut supposer qu'il est adoré par Norma Jeane.
Typed letter dated September 25, 1938, on "International Correspondence Schools" letterhead, written by "Uncle Art" to Norma Jeane, then 12 years old and living with "Aunt" Ana Lower (on Nebraska Avenue , in Los Angeles).
Uncle Art and Aunt Allis live in San Jose, California. They appear to be relatives of Grace Goddard and her aunt, Ana Lower; they call themselves "Uncle" and "Aunt" for Norma Jeane, and seem to know her well by the words of affection employed in the letter. They refer to their dog Trinket, whom one may assume was adored by Norma Jeane.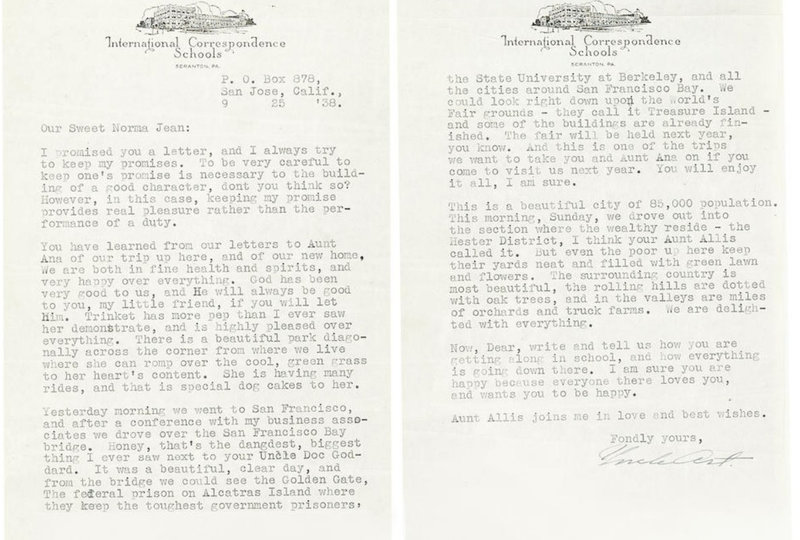 Traduction de la lettre:

Notre douce Norma Jean :
Je t'ai promis une lettre, et j'essaie toujours de tenir mes promesses. Etre très attentif à tenir sa promesse est nécessaire à la construction d'un bon caractère, ne penses-tu pas ? Cependant, dans ce cas, tenir ma promesse procure un réel plaisir plutôt que l'accomplissement d'un devoir. V
Tu as appris par nos lettres à tante Ana notre voyage ici et notre nouvelle maison. Nous sommes tous les deux en bonne santé et de bonne humeur, et très heureux de tout. Dieu a été très bon avec nous, et Il en sera ainsi. Trinket a plus de peps que je ne l'ai jamais vue démontrer et est très satisfaite de tout. Il y a un beau parc en diagonale au coin de chez nous où elle peut se défouler sur l'herbe fraîche et verte à sa guise. Elle fait de nombreuses promenades, et il y a des gâteaux pour chiens spéciaux pour elle.
Hier matin, nous sommes allés à San Francisco et, après une conférence avec mes associés, nous avons traversé le pont de la baie de San Francisco. Chérie, c'est la plus grosse chose que j'ai jamais vue à côté de ton oncle Doc Goddard. C'était une belle journée claire et depuis le pont, nous pouvions voir le Golden Gate, la prison fédérale sur l'île d'Alcastraz où sont détenus les prisonniers gouvernementaux les plus difficiles, l'université d'État de Berkeley et toutes les villes autour de la baie de San Francisco. Nous pourrions contempler le parc des expositions du monde - ils l'appellent l'île au trésor - et certains des bâtiments sont déjà terminés. La foire aura lieu l'année prochaine, tu sais. Et c'est l'un des voyages où nous voulons t'emmener avec tante Ana si vous venez nous rendre visite l'année prochaine. Vous apprécierez tout cela, j'en suis sûr.
C'est une belle ville de 85 000 habitants. Ce matin, dimanche, nous sommes allés en voiture dans le quartier où résident les riches - le district de Hester, je pense que c'est ainsi que ta tante Allis l'appelait. Mais même les pauvres ici gardent leurs jardins propres, remplis de pelouse verte et de fleurs. Le pays environnant est le plus beau, les collines sont parsemées de chênes, et dans les vallées, il y a des miles ou des vergers et des fermes maraîchères. Nous sommes ravis de tout.
Maintenant, ma chère, écris-nous et dis-nous comment tu te débrouilles à l'école, et comment tout se passe là-bas. Je suis sûr que tu es heureuse parce que tout le monde là-bas t'aime et veut que tu sois heureux.
Tante Allis se joint à moi dans l'amour et les meilleurs vœux.
Affectueusement vôtre,
Oncle Art
Letter transcription:
Our Sweet Norma Jean:

I promised you a letter, and I always try to keep my promises. To be very careful to keep one's promise is necessary to the building of a good character, don't you think so ? However, in this case, keeping my promise provides real pleasure rather than the performance of a duty.

You have learned from our letters to Aunt Ana of our trip up here, and of our new home. We are both in fine health and spirits, and very happy over everything. God has been very good to us, and He will let Him. Trinket has more pep than I ever saw her demonstrate, and is highly pleased over everything. There is a beautiful park diagonally across the corner from where we live where she can romp over the cool, green grass to her heart's content. She is having many rides, and that is special dog cakes to her.

Yesterday morning we went to San Francisco, and after a conference with my business associates we drove over the San Francisco Bay bridge. Honey, that's the dangdest, biggest thing I ever saw next to your Uncle Doc Goddard. It was a beautiful, clear day, and from the bridge we could see the Golden Gate, The federal prison on Alcastras Island where they keep the thoughest government prisoners, the State University at Berkeley, and all the cities around San Francisco Bay. We could look right down upon the world's Fair grounds - they call it Treasure Island - and some of the buildings are already finished. The fair will be held next year, you know. And this is one of the trips we want to take you and Aunt Ana on if you come to visit us next year. You will enjoy it all, I am sure.

This is a beautiful city of 85,000 population. This morning, Sunday, we drove out into the section where the wealthy reside - the Hester District, I think your Aunt Allis called it. But even the poor up here keep their yards neat and filled with green lawn and flowers. The surrounding country is most beautiful, the rolling hills are dotted with oak trees, and in the valleys are miles or orchards and truck farms. We are delighted with everything.

Now, Dear, write and tell us how you are getting along in school, and how everything is going down there. I am sure you are happy bevause everyone there loves you, and wants you to be happy.

Aunt Allis joins me in love and best wishes.

Fondly Yours,
Uncle Art
---
Oncle Art écrira d'autres lettres à Norma Jeane pendant l'année 1939 dans lesquelles il l'appelle "Petite chérie" et "Nous envoyons tous de l'amour à notre petite fille." Ces correspondances pleines de tendresse montre que malgré les difficultés liées à son enfance sans parents, Norma Jeane était tout de même entourée de personnes attentionnés, soucieux de son bien être.
Uncle Art will write other letters to Norma Jeane during the year 1939 in which he calls her "Little Sweetheart" and "We all send love to our little girl". These correspondences full of tenderness show that despite the difficulties related to her childhood without parents, Norma Jeane was still surrounded by caring people, concerned about her well-being.
---
source Lettre vendue aux enchères en 2018 par Bonhams
---
© All images are copyright and protected by their respective owners, assignees or others.
copyright text by GinieLand.