18 juin 2022
Cela fait maintenant deux ans qu'on en parle (voir les photos de tournage en 2020) et la diffusion qui a sans cesse été repoussée, mais désormais cela se précise concrètement: le biopic "Blonde" de Netflix sera disponible sur la plateforme de streaming le 23 septembre 2022.
We've been talking about it for two years now (see the filming in 2020) and the broadcast has been constantly postponed, but now it's becoming more concrete: Netflix's "Blonde" biopic will be available on the streaming platform on the 23rd September 2022.
---
Netflix a dévoilé la bande-annonce le 16 juin dernier:
De même que l'actrice qui interprète Marilyn Monroe, Ana De Armas, qui publie sur son compte instagram ana_d_armas quelques photographies officielles:

As well as the actress who interprets Marilyn Monroe, Ana De Armas, who publishes on her instagram account ana_d_armas some official photographs:
La page instagram de FANDOM allant même jusqu'à faire une comparaison en images de Ana VS Marilyn:
The FANDOM instagram page even makes an image comparison of Ana VS Marilyn: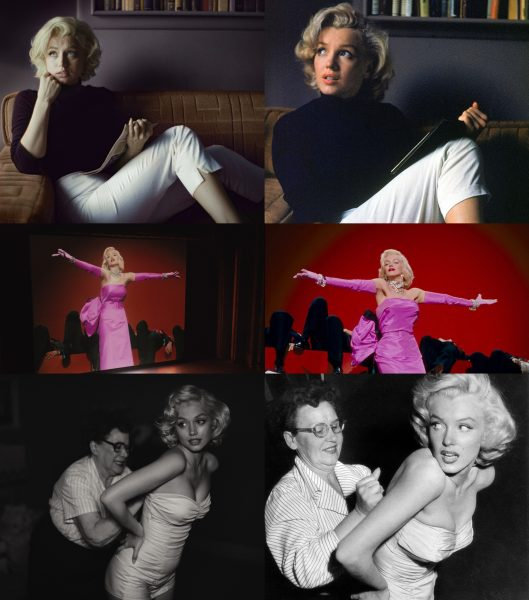 ---
Inspiré du roman éponyme de Joyce Carol Oates, le biopic relate la partie plus intime de la vie de l'actrice. Telle est la description du synopsis: «Blonde est une relecture audacieuse de la trajectoire de Marilyn Monroe, l'une des icônes hollywoodiennes les plus atemporelles. De son enfance tumultueuse à son ascension fulgurante et à ses histoires d'amour complexes, de Norma Jeane à Marilyn, Blonde brouille la frontière entre réalité et fiction pour explorer l'écart de plus en plus important entre sa personnalité publique et la personne qu'elle était dans l'intimité.»
A noter que:
- Le livre Blonde de Oates est un roman (2000), et non une biographie réelle de Marilyn Monroe et qu'il a déjà été adapté à l'écran (pour la télévision) en 2001 avec Poppy Montgomery dans le rôle de Marilyn (> le Film Biopic Blonde );
- Ce biopic mouture 2022 a reçu aux États-Unis la classification NC-17, soit une interdiction aux moins de 17 ans, un classement qui a donné au film une réputation sulfureuse.
Inspired by the eponymous novel by Joyce Carol Oates, the biopic chronicles the most intimate part of the actress's life. This is the description of the synopsis: "Blonde is a bold reinterpretation of the trajectory of Marilyn Monroe, one of Hollywood's most timeless icons. From her tumultuous childhood to her meteoric rise and complex love stories, from Norma Jeane to Marilyn, Blonde blurs the line between fact and fiction to explore the ever-widening gap between her public persona and the person she is. she was intimate."
To note that:
- The book Blonde by Oates is a novel (2000), not an actual biography of Marilyn Monroe and that it was already adapted for the screen (for television) in 2001 with Poppy Montgomery in the role of Marilyn (> the Film Biopic Blonde hair );
- This 2022 biopic has received the NC-17 classification in the United States, i.e. a ban on those under 17, a classification which has given the film a sulphurous reputation.
---
Dans un communiqué de Netflix, Ana De Armas a déclaré que « L'ambition d'Andrew Dominik était très claire dès le départ : mettre en scène le parcours de Marilyn Monroe en adoptant son point de vue à elle. Andrew souhaitait que les spectateurs comprennent non seulement ce que Marilyn pouvait ressentir en tant que star, mais aussi en tant que Norma Jeane. »
« J'ai trouvé que c'était l'approche la plus courageuse, la plus décomplexée et la plus féministe sur la trajectoire de cette femme que j'aie jamais vue.»

In a statement from Netflix, Ana De Armas said that "Andrew Dominik's ambition was very clear from the start: to portray Marilyn Monroe's journey from her point of view. Andrew wanted viewers to understand not only how Marilyn felt as a star, but also as Norma Jeane."
"I found it to be the bravest, most uninhibited and feminist take on this woman's journey that I have ever seen."
---
Casting:
- Andrew Dominik: scénariste et réalisateur

- Ana De Armas : Marilyn Monroe
- Adrien Brody : Arthur Miller
- Bobby Cannavale : Joe DiMaggio
- Julianne Nicholson : Gladys Pearl Baker
---
>Sur le web: article "Through her eyes" le netflixqueue
---
© All images are copyright and protected by their respective owners, assignees or others.
copyright text by GinieLand.
Lettre de 4 pages du 14 janvier 1945 (datée par erreur en 1944) écrite par Norma Jeane Dougherty (Marilyn Monroe) à Grace McKee Goddard, qui était partie vivre avec son mari Ervin 'Doc' Goddard et la fille de celui-ci Bebe Goddard à Huntington, dans l'Etat de Virginie.
Norma Jeane n'a que 18 ans, mariée depuis deux ans et demie avec Jim Dougherty souvent absent (il est engagé dans la Marine marchande), et elle se sent seule: sans doute est-ce pour cette raison qu'elle s'est payée un manteau, alors qu'elle ne gagne pas beaucoup d'argent. Elle fait aussi des cadeaux à Grace puisqu'elle lui demande si le peignoir est à sa taille.
Elle raconte aussi à Grace que l'usine où elle travaille, Radioplane, a congédié (temporairement, pour deux semaines), l'ensemble des ouvriers et ouvrières (sans leur verser de salaire), certains étant même licensié définitivement.
Elle parle de son retour de l'Est, faisant ainsi référence à sa visite aux Goddard (Doc et Bebe) en Virginie et sa demie-soeur Berniece à Détroit à l'automne 1944.
Il semble que Norma Jeane porte beaucoup d'affection envers Doc Goddard, elle l'appelle "Papa" dans sa lettre.
On ressent surtout l'isolement de la jeune Norma Jeane, terminant sa lettre par son espoir de revoir les Goddard revenir en Californie.

Letter of 4 pages in January 14, 1945 (mistakenly dated 1944) written by Norma Jeane Dougherty (Marilyn Monroe) to Grace McKee Goddard, who had gone to live with her husband Ervin 'Doc' Goddard and his daughter Bebe Goddard in Huntington, Virginia.
Norma Jeane is only 18 years old, married for two and a half years to Jim Dougherty, who is often absent (he is engaged in the Merchant Marine), and she feels alone: ​​no doubt this is why she paid for a coat, although she doesn't earn much money. She also gives Grace gifts because she asks her if the robe is at the good size.
She also tells to Grace that the factory where she works, Radioplane, has dismissed (temporarily, for two weeks), all the workers (without paying them a salary), some of them being even definitively dismissed.
She talks about her return from the East, thus referring to her visit to the Goddards (Doc and Bebe) in Virginia and her half-sister Berniece in Detroit in the fall of 1944.
It seems that Norma Jeane has a lot of affection for Doc Goddard, she calls him "Dad" in her letter.
We especially feel the isolation of young Norma Jeane, ending her letter with her hope of seeing the Goddards back in California.

Traduction de la lettre:
Ma très chère Grace,
Je suis désolée de ne pas avoir écrit plus tôt, mais honnêtement, j'ai été très occupée. En ce moment, j'ai deux semaines de vacances. (sans être payée).
Jimmie n'est pas encore rentré mais s'attend à être à la maison à tout moment. Il m'a envoyé 100 $ pour Noël alors j'en ai mis un peu plus et je suis maintenant l'heureuse propriétaire d'un manteau de singe Gold Coast. Oh c'est tout simplement magnifique ! J'ai obtenu la meilleure qualité possible parce que je pensais que je pourrais aussi bien obtenir quelque chose qui durerait. (Je ne veux pas que tout le monde sache que ça a coûté autant que ça le devait au départ, c'est mon affaire, tu ne crois pas ?
Tout le monde dit qu'ils ne peuvent pas comprendre à quel point j'ai changé depuis que je suis revenue de l'Est. Au travail, ils disent tous que je suis pleine de vie, de peps et de vitalité. Je n'ai pas travaillé très dur, je me suis juste laissé aller, mais j'ai quand même terminé tout mon travail. Radioplane Company a licencié près de la moitié de ses travailleurs. Mais je suis toujours là bien que je sois en vacances maintenant, comme tout le monde dans mon département, ce n'est que pour deux semaines.
S'il te plaît envoie-moi le livre d'anglais et de grammaire, tu avais dit que tu le ferais.
J'espère que tu as aimé ton peignoir. Était-ce la bonne taille ? As-tu mis des chaussons pour aller avec ?
Je suis contente que tu ne travailles pas chez Wildings parce que tu travaillais juste trop dur. J'espère que tu te reposes beaucoup. S'il te plaît, donne mon affection à Papa et Bebe. Vous me manquez certainement tous.
Dan Hill est vraiment génial, je n'ai pas eu beaucoup de temps pour le voir. Mais je l'aime beaucoup.
J'ai hâte de voir Papa en février. Chaque fois que je vois Dan, il n'arrête pas de demander "Quand est-ce que "Doc" revient ?"
Aujourd'hui, je suis allée à l'église et Mme Dougherty m'a accompagnée. Mon Dieu, je peux à peine attendre que vous reveniez tous ici, j'espère que ce sera bientôt.
Tout mon amour,
Norma Jeane,
PS j'écrirai plus tard

Letter transcription:
My dearest Grace,
I'm sorry I havn't written sooner but honestly I've been so busy. At the present time I'm having a two weeks vacation. (without pay).
Jimmie hasn't come home yet but expects to be home most any time. He sent me $100.00 for Christmas so I put some more with it and I am now the happy owner of a Gold Coast monkey coat. Oh its simply beautiful! I got the finest quality obtainable because I thought I might as well get something that would last. (I don't want everyone to know that it cost as much as it did in the first place its my own business, don't you think ?
Everyone says they can't get over how much I've changed since I've come back from the East. At work they all say I'm full of life, pep and vitality. I havn't been working very hard, just sort of taking it easy but I still get all of my work finished. Radioplane Company laxed almost half of its workers off. But I'm still there although I'm Having a vacation now so is everyone in my dept, its only for two weeks.
Please send me the English and Grammar book, you said you would.
I hope you liked your robe. Was it the right size? Did you get slippers to go with it ?
I'm glad you are not working at wildings because you were just working too hard. I hope you are getting a lot of rest.
Please give Daddy and Bebe my love. I certainly do miss all of you.
Dan Hill is really swell, I havn't had much time to see him. But I do like him very much.
I can hardly wait to see Daddy in February. Every time I see Dan he keeps asking "When is "Doc" coming back ?"
Today I went to church and Mrs. Dougherty went with me.
Golly I can hardly wait until all of you move back here, I hope it will be soon.
All my love,
Norma Jeane,
P.S. I shall write later
---
source Lettre vendue aux enchères en 2017 par Freeman's
---
© All images are copyright and protected by their respective owners, assignees or others.
copyright text by GinieLand.