02 août 2022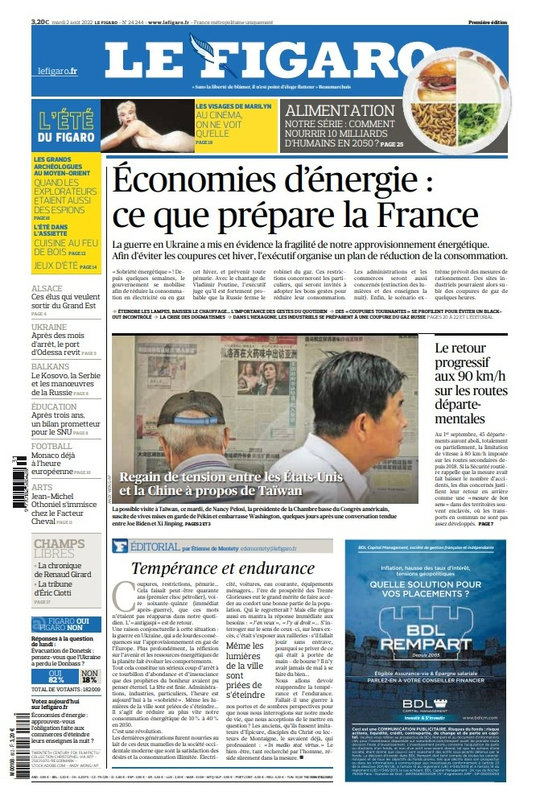 Le Figaro
n°802

pays: France
quotidien du 02 août 2022
prix: 3,20 €
- Portrait de Marilyn Monroe en série de 6 épisodes; soit à suivre du 01er au 06 août 2022 dans le journal.
Dans cette édition, 2ème partie.

Marilyn Monroe en couverture: "Les visages de Marilyn. Au cinéma, on ne voit qu'elle"


Article intérieur de 1 page: "Au cinéma, on ne voit qu'elle".
- article -

---
Marilyn Monroe racontée par Éric Neuhoff: au cinéma, on ne voyait qu'elle
> Par Eric Neuhoff ; en ligne sur lefigaro.fr
LES VISAGES DE MARILYN (2/6) - Si l'actrice n'était pas parfaite, elle était unique. Sa sensualité envahissait l'écran, laissant le public béat.

Son mari Arthur Miller a écrit le scénario de The Misfits, qu'elle tourne avec Montgomery Clift et Clark Gable.
Alamy Stock Photo via Reuters Connect
Il y a 60 ans disparaissait l'héroïne de Certains l'aiment chaud. De Norma Jeane, la pin-up pour calendrier à l'icône peinte par Andy Warhol, en passant par la star de Hollywood, ses multiples facettes ont forgé pour toujours l'image de Marilyn Monroe. Travelling arrière.
L'évidence saute aux yeux. La caméra n'en a que pour elle. À l'image, Marilyn Monroe tient du miracle. La lumière est son élément naturel. C'est un soleil tombé du ciel. L'événement se produit presque contre son gré. Le public fond devant cette blonde suceuse de pouce. À l'écran, elle pétille, tout en affichant une certaine léthargie, une mollesse attirante, un côté somnambule. C'est une tornade de détresse et de sensualité, un prototype dont il n'existera pas d'autre modèle sur le marché.

Dans Quand la ville dort, elle n'est pas au premier plan, mais on se souvient de cette pépée qui n'hésite pas à faire un faux témoignage pour sauver son vieil amant acoquiné avec la pègre. Dans Eve, elle débarque à une soirée au bras de George Sanders, critique de théâtre à la dent acérée. L'apprentie comédienne jette sur l'assemblée un regard désolé (« Ils ressemblent tous à des lapins malheureux »), ce qui ne l'empêche pas de se précipiter sur le producteur : Claudia Caswell réussira à décrocher une audition qui sera calamiteuse. On ne la reverra plus.
La suite de l'article est réservé aux abonnés et/ou dans le Figaro du 02/08/2022
---
© All images are copyright and protected by their respective owners, assignees or others.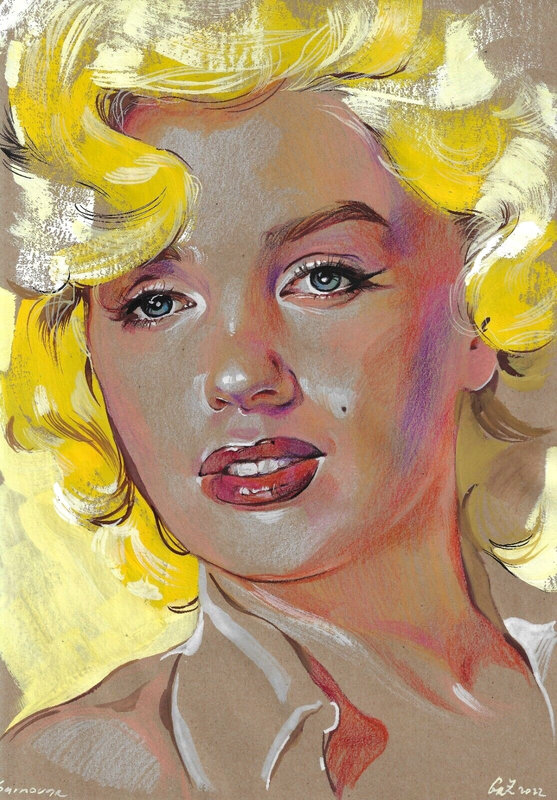 artiste: Hrechanyuk Zoya
Pastel sur papier kraft
en vente actuellement sur ebay
currently for sale on ebay
---
© All images are copyright and protected by their respective owners, assignees or others.