19 octobre 2022
Du 12 octobre 2022 au 11 décembre 2022, exposition Marilyn Monroe 1962 à l'Insitut Lumière de Lyon, France.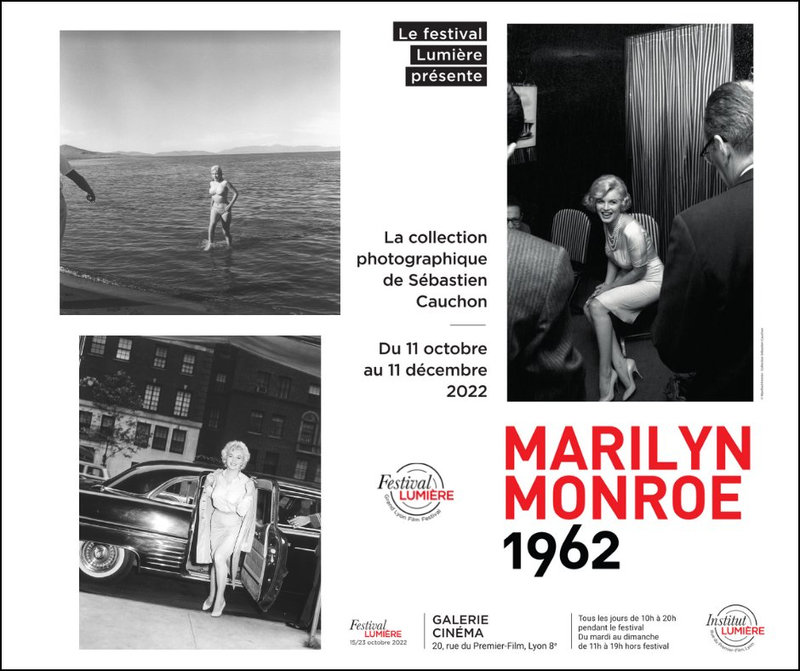 Description: Exposition de la collection photographique de Sébastien Cauchon.
Cinéphile et spécialiste de Marilyn Monroe, auteur du livre Marilyn 1962 (Stock), Sébastien Cauchon est un collectionneur de photographies assidu. Pendant des années, il a traqué les éditions originales, rassemblé les tirages rares de l'icône absolue d'Hollywood. Femme aux multiples visages, actrice engagée, travailleuse acharnée, douée d'une photogénie exceptionnelle et d'une conscience aiguë de son image, Marilyn Monroe demeure, soixante ans après sa mort en août 1962, un mythe toujours vivant, muse de nombreux créateurs contemporains. À l'occasion du festival Lumière, et des 60 ans de la disparition de la star, Sébastien Cauchon dévoile pour la première fois les trésors de sa collection personnelle à travers une sélection de 60 photographies.
Exposition en marge du "Festival Lumière", festival de cinéma de Lyon, du samedi 15 au dimanche 23 octobre 2022.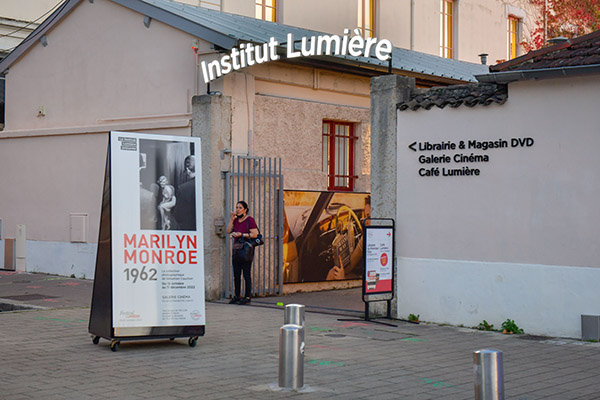 Lieu et adresse: 20 rue du Premier-Film, Lyon 8e (métro : Lumière-Monplaisir) - Galerie cinéma 1
Horaires: Pendant le festival (du 15 au 23/10) : tous les jours de 10h à 20h
Avant et après le festival : du mardi au dimanche de 11h à 19h e Centre d'Art est ouvert tous les jours de 10h à 18h. Dernière entrée 30 minutes avant la fermeture.
Tarifs: > Entrée libre pour les accréditées du festival, les abonnés et Clubs de l'Institut Lumière, les moins de 26 ans, les bénéficiaires du RSA, les visiteurs du Musée Lumière.
> 3 € chaque exposition / 5 € les deux expositions
> 4 € les deux expositions pour les spectateurs du festival Lumière (sur présentation d'un billet)
NB: la 2ème exposition, du 07 octobre au 11 décembre s'intitule "L'Année où le Festival de Cannes avait lieu en juillet" : pendant trois jours, Vincent Delerm a immortalisé la 74e édition du Festival de Cannes 2021 - A la Galerie 2 au 3 rue de l'Arbre Sec, de 11h à 20h

Site Web: institut-lumiere.org

---
© All images are copyright and protected by their respective owners, assignees or others.
> site wallpaperset
---
© All images are copyright and protected by their respective owners, assignees or others.