15 novembre 2022

«Elle était comme un vase brisé» : la lettre inédite d'Arthur Miller sur son mariage «raté» avec Marilyn Monroe
03 novembre 2022 - sur Madame Figaro
Un courrier inédit de l'écrivain, adressé à ses parents, révèle la nature de ses sentiments pour Marilyn Monroe, de leur rencontre à l'échec de leur mariage.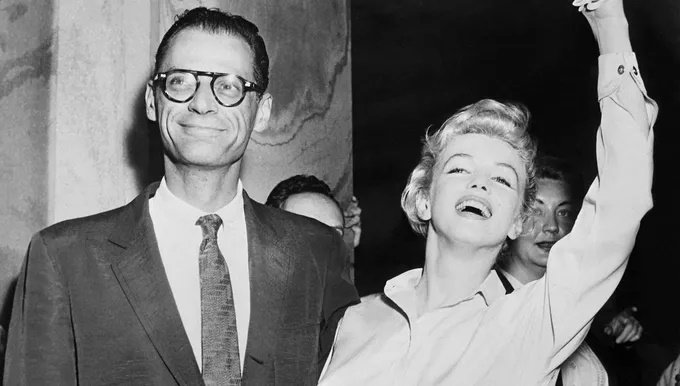 Cette lettre d'Arthur Miller à ses parents est un précieux témoignage des sentiments que portait l'auteur de Mort d'un commis voyageur à Marilyn Monroe. Récemment découverte, elle a été transmise par le neveu du dramaturge à la rédaction du média américain Air Mail ce mois d'octobre 2022.
Arthur Miller épouse Marilyn Monroe le 29 juin 1956. C'est alors le troisième mariage de la comédienne, qui connaît à peine ce nouvel époux : ils sont amants depuis quelques mois seulement. Le mariage, qualifié rétrospectivement de «raté» par Miller, va se conclure par un divorce en janvier 1961, soit un an et demi avant la mort de la star hollywoodienne. «Je dirais que sur cinq, nous avons eu deux bonnes années », déclare-t-il ainsi à ses parents dans sa lettre. «Mais sa dépendance aux pilules et aux drogues m'a vaincu. S'il y avait une clé à son désespoir, je ne l'ai jamais trouvée», semble-t-il regretter.
Car l'idylle entre les deux amants tourne court. Le lien de confiance qui les unit s'effrite dès les premiers mois de leur union. Arthur Miller l'admettra plus tard : ce mariage était une «erreur de débutant».
Le dramaturge et l'actrice se rencontrent par le biais du metteur en scène Elia Kazan dès 1948, soit huit ans avant leur mariage. Mais ils se perdent de vue. Déjà auteur à succès, Miller se souvient : «Elle était inconnue à l'époque, était apparue sur quelques photos mais elle n'était pas une star. Je n'avais certainement jamais entendu parler d'elle. Pour tous les autres, apparemment, c'était une femme sexy. Pour moi, elle avait un visage baigné de larmes, était morte de peur et pouvait à peine parler au-delà d'un murmure. Pour des raisons que je n'ai jamais comprises, je lui ai dit ce que je pensais, à savoir qu'elle serait une grande star», poursuit-il dans ce courrier.

Après plusieurs années de silence, leur relation débute à New York en 1955. Monroe y a emménagé pour suivre des cours de théâtre à l'Actors Studio. Elle est devenue entretemps une star internationale et est en train de créer sa propre société de production. «Elle a plus de courage, plus de décence intime, plus de sensibilité et d'amour pour l'humanité que quiconque j'ai connu dans ma vie », confie Miller, admiratif des talents de Marilyn.

Les médias appuient sur la complémentarité de ce couple star : «le génie et la déesse», «le grand cerveau américain et le grand corps américain»… Pour l'auteur, qui a vécu si longtemps dans un désert émotionnel, Monroe représente une oasis inespérée : «Je suis enfin revenu à la vie et je veux rester comme ça», se souvient-il.
Pour l'actrice, qui n'a pas de gouvernail, Miller se confond alors avec une figure paternelle : elle le surnomme bientôt d'un éloquent «Papa». Dans l'ardeur de leur romance, Miller est d'abord ravi par la gaieté de son épouse. Mais lorsqu'il la voit au travail, au cours d'un voyage à Londres en juillet 1956, il prend conscience pour la première fois des courants profonds et anarchiques qui la traversent, et qu'elle nomme sa «terreur au-delà de la peur». Sous les yeux de son époux, son éclat disparaît, remplacé par le spectacle d'un effondrement, et d'une addiction à la drogue : «Elle était comme un vase brisé. C'est une belle chose quand elle est intacte, mais les morceaux cassés sont meurtriers et ils peuvent couper», finit-il par écrire. Avec un trait d'amertume, non dissimulé.
---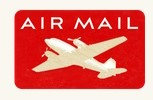 Along Came Marilyn
October 22, 2022 - sur AirMail
A newly discovered letter by Arthur Miller about his young bride, Marilyn Monroe, reveals the playwright's rookie mistake: marrying a bombshell blonde he barely knew.

The egghead and the hourglass.
The avalanche of acclaim that greeted Death of a Salesman in 1949 turned Art Miller into Arthur Miller and invested him with almost oracular prestige. "He lived the life of an established god, and liked it," Elia Kazan wrote, who, as the director of "Salesman" and All My Sons, was both the engineer and the witness of Miller's elevation. The plays may have been a theatrical liberation, but, personally, Miller, who had married just out of university, was "rigid with inhibition," according to Kazan. Success opened Miller's eyes and awoke his appetites. "He had a roving eye but a bleeding heart," Kazan observed.
What made Miller an object of desire to the public also made him an object of envy at home. He was caught in the crosshairs of adoration and hate. "I am wearing out the threshold of the doghouse," he wrote to Kazan in 1950, about the judgmental froideur of his wife, Mary Slattery Miller, the mother of his first two children and the bulwark of his apprentice years. "He was longing for something nameless, a condition I recognized in my own life," Kazan said. "What did he want? It wasn't complicated. Call it fun, a new experience, ease of mind and heart, relief from criticism, happiness. His life, he told me, seemed to be all conflict and tension, thwarted desires, stymied impulses, bewildering and unexpressed conflicts." And then he met Marilyn Monroe.
- - the rest of the article on the website of AirMail - -
---
© All images are copyright and protected by their respective owners, assignees or others.
copyright text by Madame Figaro / Air Mail.